Titanic Turkeys: 10 of the Biggest Sports Card Busts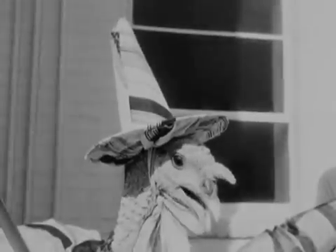 By Ryan Cracknell | Hobby Editor
Sometimes we get it wrong. Sometime we get it horribly wrong.
A big part of the hobby is spotting future stars. In doing so, some get a "can't miss" label or start racking up the magazine covers. But there are times when a can't-miss prospect misses spectacularly. They go from the top of the hot list to a footnote in history.
We joke about what their Rookie Cards used to be worth, probably avoiding the fact that we have a couple tucked away ourselves. Maybe we were lucky and managed to dodge the proverbial bullet, either selling high or avoiding them all together.
But this is a hobby rooted in nostalgia. So even when players go bust and prices bottom out, there can still be some fun in looking back and playfully lamenting our bad choices and poor judgement.
So let's look back on ten of the biggest sports cards busts — players who ruled the hobby for a time but failed miserably in the end.
Biggest Sports Cards Busts
J.D. Drew
Just because your career lasted more than a decade, it doesn't make you immune from hobby bust status. J.D. Drew was a top 5 pick twice. The Phillies took him second overall in 1997. When they wouldn't pay what Drew's agent was asking, he reentered the draft in 1998 where the Cardinals took him fifth overall. Drew made his MLB debut that September and his first cards soared. If you wanted to trade online, the 1998 Leaf Rookies & Stars J.D. Drew was the currency of choice.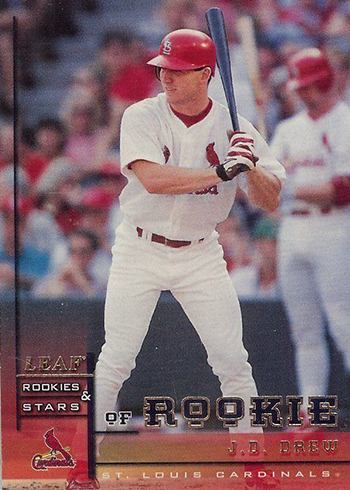 Yes, Drew would go on to have a productive career. He was even an All-Star in 2008. But it was never anything close to the hype.
Rick Ankiel
Just a year after Drew, the Cardinals had the next hot hobby rookie — Rick Ankiel. One could say he was the Next Next Big Thing. Early on, Ankiel lived up to expectations, getting a call-up in 1999 and going on to come in second for NL Rookie of the Year voting in 2000.
But then the 2000 postseason happened. The world witnessed the fastest crash in sports history. Named the Game 1 starter for the National League Division Series, Ankiel didn't make it out of the third inning, walking four and throwing five wild pitches. The same erratic patterns continued over the course of a couple more postseason appearances and it was over. Ankiel was never the same again.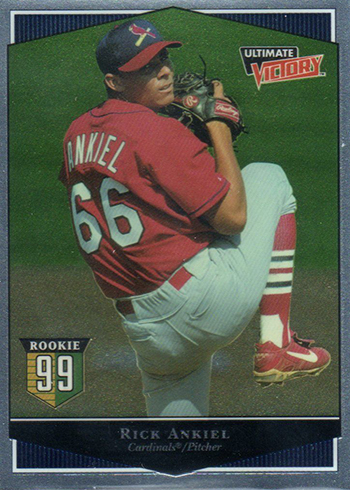 Like Drew, Ankiel ended up have a fairly lengthy pro career. But that was in large part due to the fact that he reinvented himself as an outfielder. He was solid, but never came close to what all the Hot Lists suggested.
Johnny Manziel
The hype surrounding Johnny Manziel still feels raw. Taken 22nd overall by the Cleveland Browns, perhaps we shouldn't have expected as much out of the 2012 Heisman Trophy winner. And yet, he's all we talked out. Flamboyant and controversial, every move Manziel made was covered. But his personal choices got the best of him.
Sure, Manziel will always have a certain level of collectible respect thanks to his Heisman. But unless there's some sort of epic redemption story, it won't come close to warranting the rookie hype he received.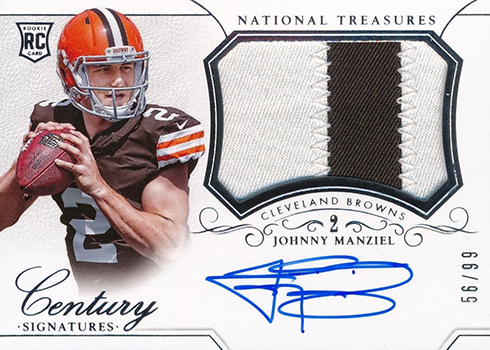 Alexandre Daigle
Alexandre Daigle had the flash. He had the promise. He had the looks and personality. In 1993-94, Daigle's 20-goal rookie season was just a fraction of what Teemu Selanne got the previous year. However, the first overall pick still showed some promise. Unfortunately, that was pretty much as good as it got. Daigle reached the 20-goal plateau just two more times in the NHL and his cards are usually relegated to common boxes.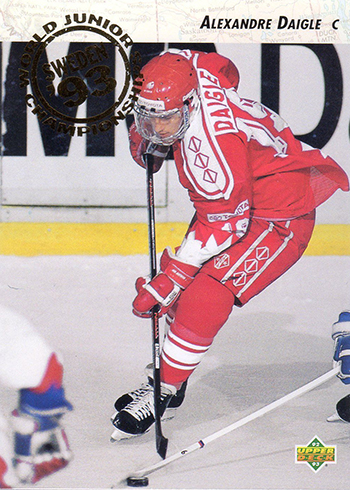 Adam Morrison
Coming out of college, when people talked about Adam Morrison, they were usually gushing about his skills and promise. Today, you're more likely to hear about his hair.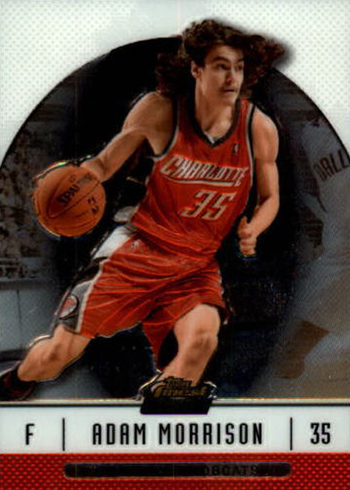 Ben McDonald/Todd Van Poppel
One day we'll learn that pitchers represent a huge risk when it comes to the hobby. Time and time again, an arm rises through the ranks with all the promise in the world. But then an injury happens. Or they don't get 20 strikeouts every time they take the mound.
Traditional hype factors into the bust status for both Ben McDonald and Todd Van Poppel. But there's something else. Their first cards came along at a time when the hobby was at its peak and card collecting was mainstream. That meant an unprecedented number of people were chasing their Rookie Cards.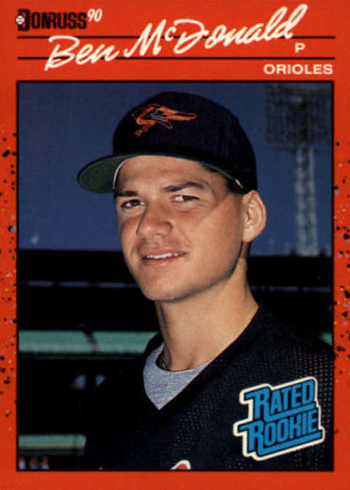 Then, at the same time the hobby slowed, there came the realization that neither of these pitchers were going to be the best ever. Today, many of us probably remember more about the excitement of pulling a Van Poppel out of 1991 Upper Deck or a 1990 Donruss Ben McDonald more than we do their actual careers.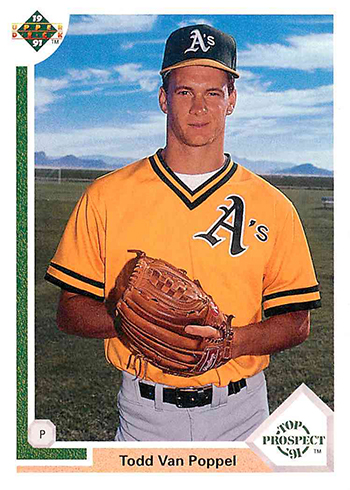 JaMarcus Russell
When you're a quarterback that's taken first overall, expectations are high. When you're a quarterback that's taken first overall and signs a contract worth more than $60 million, they're even higher. But just because a huge portion of JaMarcus Russell's salary was guaranteed, it didn't mean he was going to be an elite NFL quarterback. In fact, he was anything but.
On the hobby side, Russell's fall from grace came at a time when super premium products were really starting to take over too. So rather than seeing a $20 or even $100 card become pretty much worthless, some of Russell's cards dove from much higher places.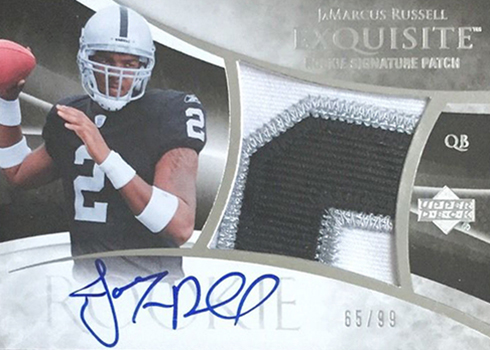 Ryan Leaf
The great debate of 1998 — Peyton Manning or Ryan Leaf. Today, it's a punchline. Back then it was a serious discussion. One went on to be one of football's greatest quarterbacks of all-time. The other has battled serious drug issues and been in and out of prison. But we will always have a memory of the short window where Ryan Leaf cards were held in a similar regard as Manning's.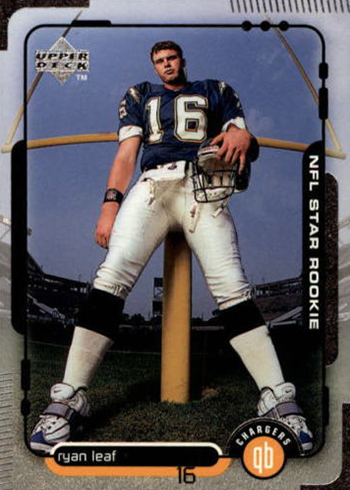 Brien Taylor
Pro tip — if you're a high-profile pitching prospect, particularly one on a high-profile team like the New York Yankees, don't get into a bar fight and mess up your shoulder. That's the legacy of Brien Taylor, the first pick in the 1991 draft. He was going to be good. So good that Topps created an autograph card for him for their 1992 Topps Gold Baseball factory set.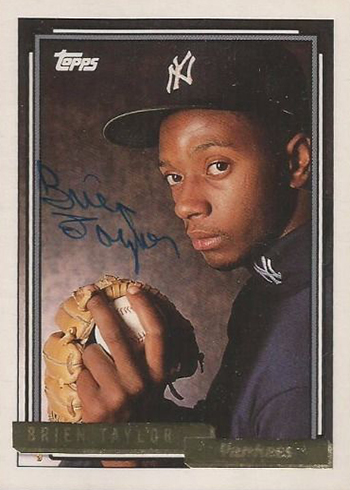 Today, he's one of just two first overall picks in baseball to never make it to the majors, even for a brief time. Bust status cemented.
Who did you have high hopes for in your collection that failed to meet your expectations? Let us know in the comments below or keep the conversation going with us on Twitter.
Comments? Questions? Contact Ryan Cracknell on Twitter @tradercracks.