Big Money Following Carson Wentz – Beckett Pricing Insider
This edition of the Beckett Pricing Insider is brought to you by GTS Distribution. Watch Go GTS Live – The Hobby's Web Show, every Thursday at 9 PM EST.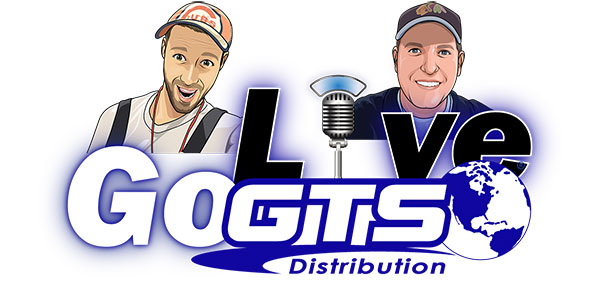 It is good to be Carson Wentz. He just signed an extension worth $128 million with the Philadelphia Eagle. $107 million of that is guaranteed. That's a new NFL record for guaranteed money.
When Wentz is healthy, he is worth the money, capable of putting up MVP type numbers. The Eagles are betting that he will move past his injuries and put up big numbers once again. If he does, collectors might follow suit.
His cards have always sold well but they really skyrocketed when the Eagles went on their Super Bowl run. They have stayed at those high levels ever since.
Here are some Carson Wentz cards that made some people some extra money recently (though, not $107 million).
2016 Panini National Treasures Cardson Wentz #102 /99 BGS 9 – $3,181
This is one of the most sought-after cards in all of football. Even ungraded, it can sell for more money than some 1/1 cards out there.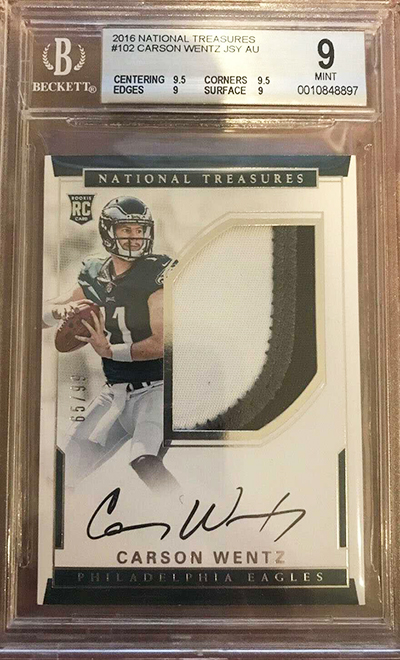 2016 Panini Contenders Championship Ticket Carson Wentz #342 /25 BGS 9.5 – $1,600
Besides National Treasures, Contenders has lots of the autographed cards that everyone wants to get their hands on. 2016 had three different versions for some players. In Wentz's case, this one is the third variation.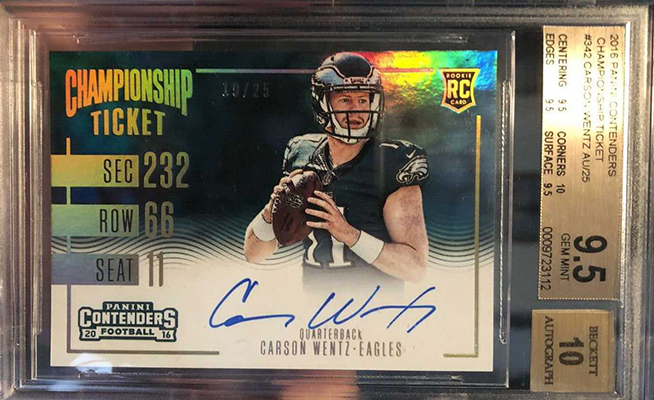 2018 Panini Flawless Veteran Booklet Autographs Shield 1/1 – $1,425
This is just one awesome card. And coming from the most expensive product that Panini makes, you would expect it to be amazing. In addition to the NFL Shield, there's an on-card autograph. It's the kind of card that's a showcase piece, no matter the collection.