Big Bowman Chrome Autograph Sales for Baseball's Newest Rookie Studs – Beckett Pricing Insider
It's finally that time — baseball is here!
Opening Day kicked off this past Thursday with all 30 big league clubs in action. It's a new season and, at this point, every team has a chance.
One of my favorite things about the start of a season is getting to see all the top prospects who made the Opening Day roster. Most of them are guys like Victor Robles and Alex Verdugo who were late-season September call-ups in the past and already have MLB experience.
There were however, a select few top prospects who made their Major League debuts on Opening Day.
In the baseball card world, if you're a prospect collector, Bowman Chrome is likely your go-to product. Many of the autographs are the most desired cards in the hobby.
Here are some of recent Bowman Chrome Autograph sales for the top prospects who made their debut on Opening Day.
Fernando Tatis Jr.
One of the surprises to the start of the season was the Padres including Fernando Tatis Jr on their Opening Day roster. The young shortstop signed with the White Sox in 2015 as a free agent but was traded to the Padres before he ever played in a game. Ranked as the second overall prospect for the 2019 season by MLB.com, it is easy to see why he excites collectors.
His first Bowman Chrome Autograph was inserted in 2016 Bowman Chrome and as you can see with this sale, it's a popular one. While this one numbered to 5 may be out of reach of a lot of collectors, the base version of this card raw is selling from $200-$400.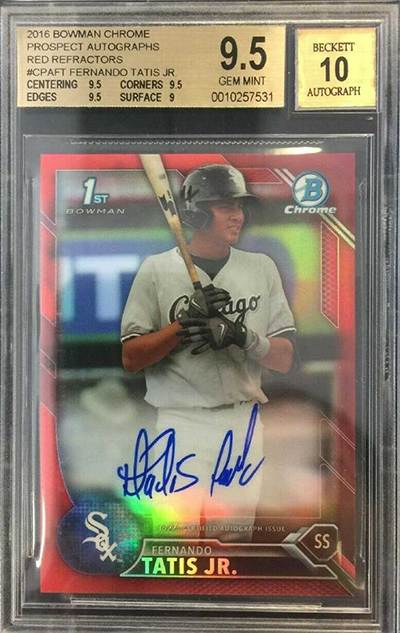 Eloy Jimenez
While Tatis was a surprise, Jimenez was not. After signing a six-year, $43 million deal without having played a game in the majors, it was a forgone conclusion that Jimenez would be with the White Sox to start the season. Also an international free agent, Jimenez signed with the Cubs in 2013 before being traded across town to the White Sox in 2017. He was also ranked just behind Tatis as the #3 prospect in baseball by MLB.com. His first Bowman Chrome autographs are in boxes of 2017 Bowman Chrome and this Blue Refractor (/150) is one of just three to receive a black label. His raw base autograph is selling for about $200-$400.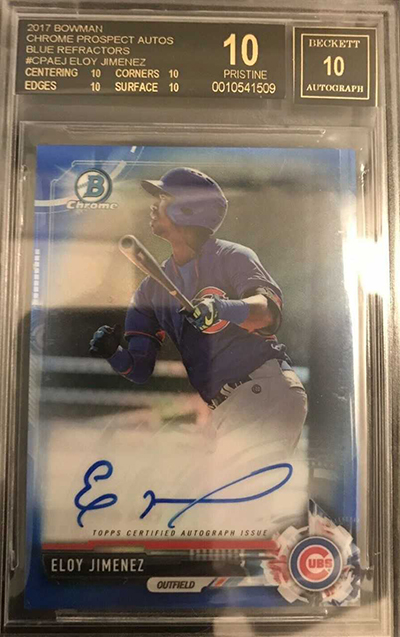 Pete Alonso
After a tremendous spring training where he hit .368 with four home runs, MLB.com's 51st overall prospect played his way onto the Mets' Opening Day roster. His first Bowman Chrome autograph is in 2016 Bowman Draft. Like the Tatis Red Refractor, this card is numbered to 5. Even though the autograph is only a 9, it still sold for a high price. Regular versions are currently in the $100-$250 range.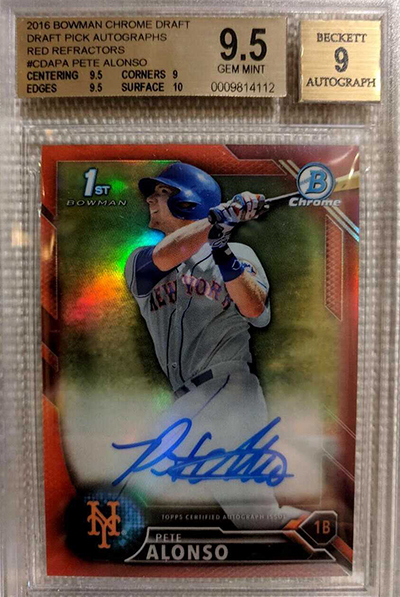 Chris Paddack
Technically he didn't start on Opening Day but Chris Paddack is part of the Padres' the starting rotation. Paddack didn't have your normal path to the Majors. An eighth round pick in 2015, Paddak tore his UCL early in 2016 and had to have Tommy John surgery. He wouldn't pitch again until the beginning of 2018. Despite his time away, he thrived in the minors. Between Single-A and Double-A, Paddack started 33 games and had an ERA of just 1.82. He obviously made an impression as the Padres called him up without ever playing in Triple-A. Another Red Refractor, Paddak's first Bowman Chrome autograph is in boxes of 2017 Bowman Chrome. His base autograph has recent sales from $20-$50.