Big Ben's Big Game – Beckett Pricing Insider
Ben Roethlisberger had a monster night last week against the Carolina Panthers. He threw for 328 yards and five touchdowns in a 52-21 win. It was an exciting game to watch unless you were a Panthers fan.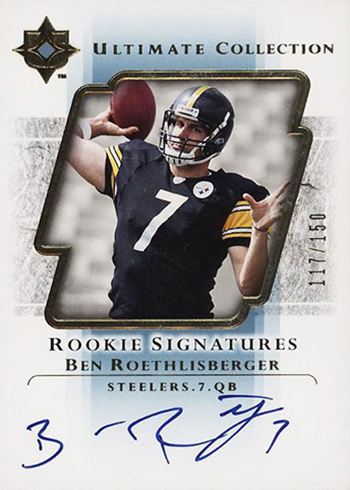 Ben shared the love, throwing his five touchdowns to five different receivers: Antonio Brown, JuJu Smith-Schuster, Vance McDonald, Jesse James, and Jaylen Samuels. Big Ben also achieved a perfect passer rating of 158.3.
On the season, Roethlisberger has 21 touchdowns against seven interceptions. He is also on pace to pass the 4,000-yard mark again this year.
Ben Roethlisberger was drafted in 2004 in the first round by the Pittsburgh Steelers, where he has spent his entire career. He won Rookie of the Year and, the following year, he became the youngest quarterback to ever win a Super Bowl. Roethlisberger has not won an MVP trophy but he is frequently in the conversation. If he keeps playing the way he has been all year, that won't change.
Big Ben has always been a highly sought-after player in the collecting world. There are currently over 8,600 cards for him in the Beckett Online Price Guide. There have not been many times where his cards lost their value. His autographs and rookies have sold near high book value consistently. His more recent autographs are usually among the scarcest in a product, with the most print runs 25 or less. His most sought-after rookie card is the Playoff Contenders card, which just saw its high book value rise $300.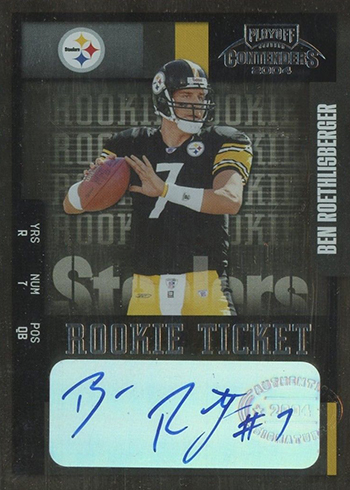 The way this season is going for him, those values could rise even higher.