Big Bellys: 3 Key Cody Bellinger Card Sales – Beckett Pricing Insider
This edition of the Beckett Pricing Insider is sponsored by MVP Sports Collectibles.
Following a 2018 in which Cody Bellinger only hit .260 with 25 home runs and 76 runs batted in, the 207 National League Rookie of the Year has come out of the gate crushing the baseball.
In terms of the hobby, 2017 was all about Aaron Judge and Cody Bellinger. The hobby hit the jackpot by having the two best rookies in the game playing on two of the most collectible teams in the hobby. Outside of, maybe, Mike Trout, no one was hotter.
While Judge and Trout continued to carry their hobby heat throughout 2018, Bellinger cooled considerably as many collectors seemed to be scared off by his sophomore slump. Bellinger currently has over 3,000 cards in the Online Price Guide, including 28 Rookie Cards and over 600 certified autographs.
Some of those who jumped off the Bellinger Bandwagon last season are getting back on thanks to his scorching start. Many of his cards have been hit with up arrows in the first few weeks of the season.
As to be expected, his "too-scarce-to-price" cardboard has been selling for quite a bit in recent weeks. Below, let's take a look three recent big Bellinger sales.
2015 Bowman Chrome Prospect Autographs Gold Refractors #BCAPCBE Cody Bellinger /50 (BGS 9.5) – $8,500
Though not a terribly difficult BGS 9.5 (32 have been given the Gem Mint label), this card has become one of Bellinger's most desirable. We don't see sales of this particular card very often and we haven't tracked one since November, 2018. That copy reportedly sold for $1,610.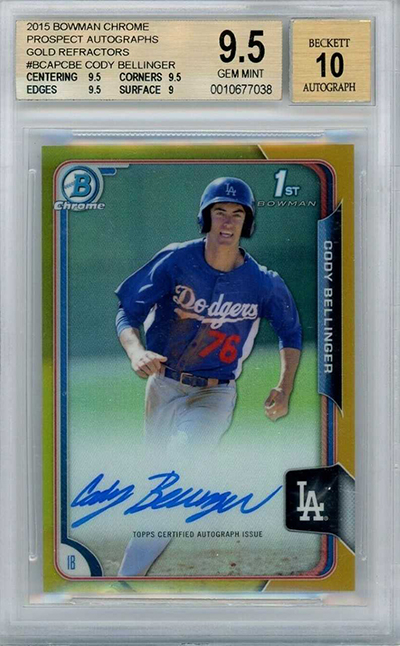 2017 Topps Chrome Rookie Autographs X-Fractors #RACB Cody Bellinger /20 (BGS 9.5) – $900
Outside of his 2015 Bowman Chrome Prospect Autograph card, Bellinger's 2017 Topps Chrome Rookie Autographs have been some of the hottest cards on the market. One of fourteen different parallels, this X-Fractor version is serial numbered to 20. According to the BGS Pop Report, this is one of seven BGS 9.5s.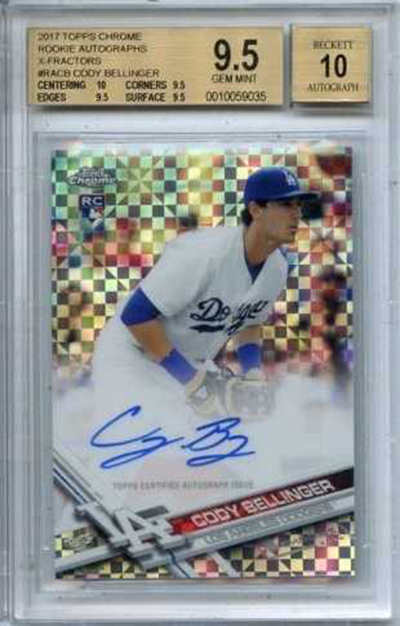 2018 Topps Transcendent VIP Party 2018 Topps Preview #42 Cody Bellinger 1/1 – $499
Topps issued a whole bunch of 1/1 stamped parallels at the 2018 Topps Transcendent VIP party. Bellinger had nine different cards alone. This is Transcendent VIP stamped version of card his 2018 Topps Future Stars card #42.