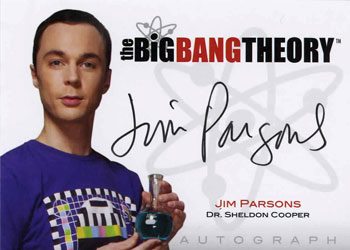 By Susan Lulgjuraj | Contributing Editor
Despite being nerdy and not in touch with our reality, the characters on Big Bang Theory are some of the most lovable out there.
Now, fans of the show will be able to relive some of the best moments by collecting Big Bang Theory Trading Cards.
Cryptozoic Entertainment has been working on this set for quite a while, but the company is ready to release the product on Feb. 14 – perhaps a nice Valentine's Day gift for the big fans out there.
Jim Parsons, Johnny Galecki and Kaley Cuoco highlight the autograph set from the Big Bang Theory Trading Cards. The show, which premiered in 2007, has been a highly rated program, jumping up to the fifth in the country this season.
To get fans pumped for the upcoming release, Cryptozoic has released autograph cards from the five main characters. A hobby box retails for around $60. There are 24 packs in a box and five cards in each pack. While odds are not out yet, there are autograph and memorabilia cards available in the set.
Susan Lulgjuraj is a contributing editor for Beckett Media. You can email Susan here. Follow her on Twitter here.