Bidding on a Magic: The Gathering Alpha Black Lotus BGS 9.5 tops $30,000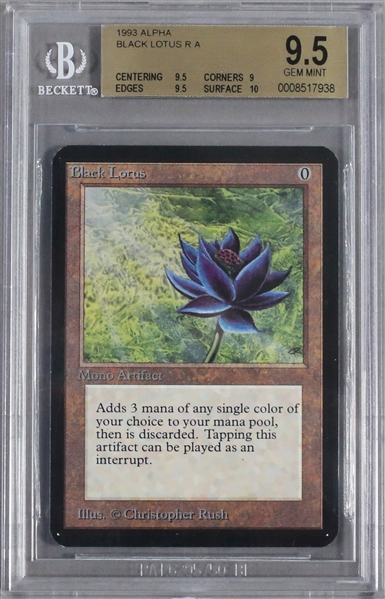 By Ryan Cracknell | Hobby Editor
The 1993 Magic: The Gathering Alpha Black Lotus is the holy grail of gaming cards. As far as importance and value goes, it's comparable to the T206 Honus Wagner and 1952 Topps Mickey Mantle in sports card circles.
Want proof? Bidding on a BGS 9.5 copy of the card has topped $30,000.
The card is currently up for bid through Beckett Auctions. With bidding slated to continue until October 25, the current high bid is $30,390. And that doesn't include the card's five-percent buyer's premium.
And while that's high, the final price could be much higher.
"It wouldn't shock me if it could reach in between the $50,000 to $100,000 range," said Matt Bible, Beckett Gaming Analyst. "The fact that most Magic Alpha cards weren't processed in the best shape makes a gem mint Lotus highly sought after."
According to Bible, it's estimated that about 1,100 Black Lotus cards were originally made. Given the amount of time that's passed and the fact that they were originally made to be played with rather than collected, he figures about only half of the original cards are still around in reasonable shape.
The Black Lotus is part of a group of Magic: The Gathering cards called the Power Nine. These are considered some of the game's most powerful cards. And as the game has evolved, they're no longer allowed to be used in regular game play. Today, the Black Lotus is allowed to be used in tournaments but only in special vintage ones.
Black Lotus and other Power Nine cards were only available in the Alpha, Beta and Unlimited sets back in the earliest days of Magic: The Gathering. Wizards of the Coast has said these will not be reprinted.
If you want to learn more about early Magic: The Gathering cards and see a rare starter box break, here's a Beckett Box Busters with Bible and Adam Cai.