BGS Vintage Challenge: Ryan Cracknell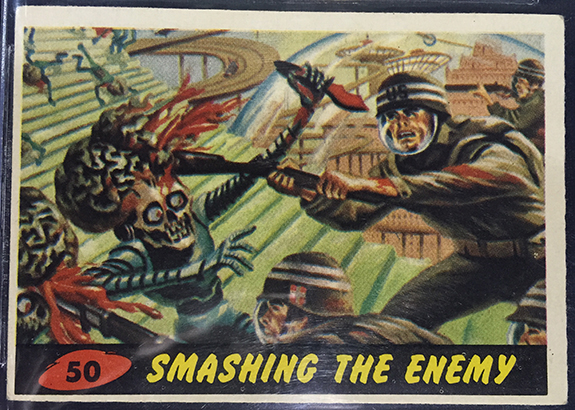 During the 36th National Sports Collectors Convention in Chicago, Beckett Media's editorial staff were asked to hit the floor and bring back a vintage card to be graded. Each staff member participating in the project will present the results of their hunt to readers during the show.
The Card: 1962 Mars Attacks #50

Name: Smashing the Enemy
The Cost: $35
The Cost to Grade: $15 at show
Find out more about the card and its final grade after the jump.
Why I Picked It: Mars Attacks is one of the most iconic entertainment sets of all-time. Equal parts beautiful and disgusting, it delighted kids and outraged parents. And like any time a parent says, "No!" kids did the opposite.
Over the years, interest in Mars Attacks has continued to grow. It gained it's level of notoriety early on and hasn't lost any of its mystique.
But it's not just the rebel mentality that makes Mars Attacks great. Capitalizing off of Cold War fear, its invasion story is a simple one but perfect to introduce the concept of horror to some children.
It's beautiful to boot. The painted images are detailed, gory and filled with detail. For a lot of people too much detail.
Because Mars Attacks is so popular, it's not cheap. Most cards in decent shape start around $20 raw. Spread that over an entire set and factor in that several cards command significant premiums and it adds up very quickly.
As a result, it's not a set I've delved into until now. This particular card struck me because of the image. It has the classic Martians, some wince-inducing blood spatter and some nice eye appeal.
Some obvious flaws stood out as soon as I picked it up. The corners are nice but not perfect. Same with the edges. So I'm not looking at a 10. Or a 9. Or even an 8.
How It Graded: Despite it's eye appeal, the Mars Attacks card came back as a BVG 5. Of the four "Smashing the Enemy" cards inspected by Beckett Grading Services, it's the only one to get a 5. The other three all rank higher with the best being an 8.5.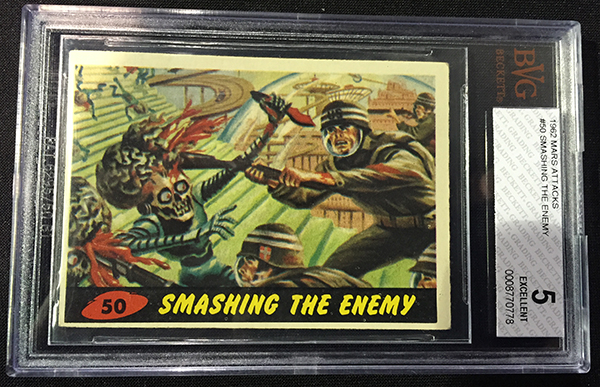 Currently, the 1962 Mars Attacks population report has 277 cards. None have come back a perfect 10 and just one has been graded a 9.5.
The Grader's Comments: "With Mars Attacks, the most common flaw is the centering. Cards in high grade of that set bring a premium. That seemed to be the biggest flaw of this card," said Beckett Grading expert Andy Broome.
Book Value Now: $40