BGS Diary: Rookie Cards, Moneyball & Watergate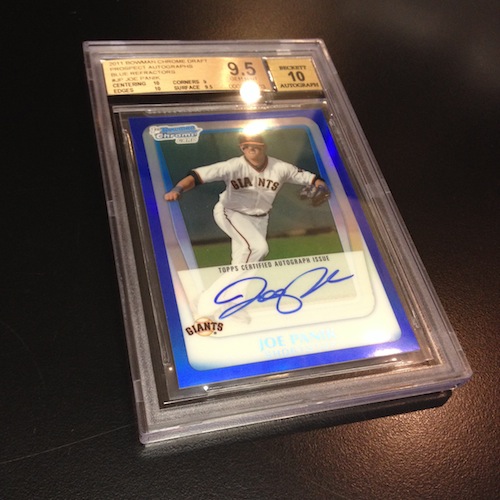 By Chris Olds | Beckett Baseball Editor | Commentary
Card grading is big business for the companies involved as well as for many collectors and dealers who supplement their hobby or their business by slabbing.
The reasons collectors slab cards vary as much as their tastes in cardboard. Some, like myself, do it to primarily protect cards that they they value. Some do it to make it easier to sell — and potentially get more for their money. Some do it for their registries and their interest in pop reports. All of these things are valued in varying ways by various collectors.
For the last few months, I've submitted five cards a month to Beckett Grading Services to finally get some of the cards I like into slabs. Selecting which cards to submit has been easier said than done — and the results can be interesting, too. Today, I got back my batch of five cards from October, so I figured it might be a time to try creating a BGS Diary entry. See which five cards I decided to submit … after the jump.
1. Joe Panik — 2011 Bowman Chrome Draft Prospect Autographs Blue Refractors #JP
I've never been the typical kind of Bowman-buyer — I only do a box or two a year — so my experiences pulling color autographs are very limited. In fact, this card might be my only colored Refractor I've ever pulled. This wasn't a natural choice for me to grade — I realized I had this card of the San Francisco Giants infielder only after I dug through one of my autograph boxes. Turns out, he's played pretty respectably in his rookie season.
Pop Report: Only 150 copies of the card exist but 61 copies have been graded. Mine was the 50th to receive a 9.5 — and only four graded higher. The remaining seven are BGS 9s. (Before anyone comments, emails or tweets … none of my BGS Diary cards are going anywhere but home to my collection.)
—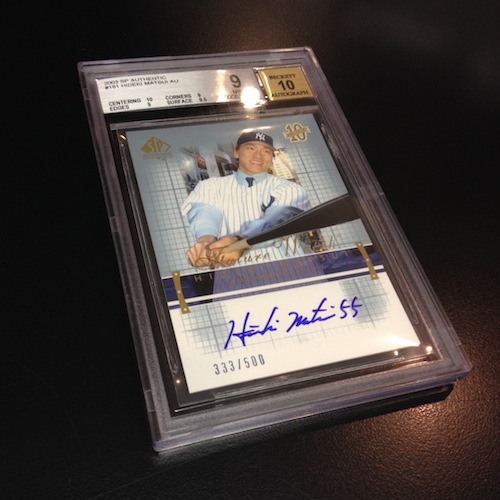 2. Hideki Matsui — 2003 SP Authentic #181
I've never been a New York Yankees fan, but I always seem to land key players' cards from wax packs. I've had this one for a decade or so, pulling it from a hobby pack bought during a late-night grocery run at a Walmart. (Yep, I was surprised to see SP Authentic hobby packs there, myself — that's why I bought some.) Matsui's career has come and gone, but interest in this card apparently hasn't. Since it was worth a lot more than I thought I figured I needed to slab it up.
Pop Report: Only 43 copies of the card have been graded by BGS with my 9 joining the most-common ranks. Seventeen of the cards have been 9s, while only 11 have graded higher (nine 9.5s, two Pristine 10s).
—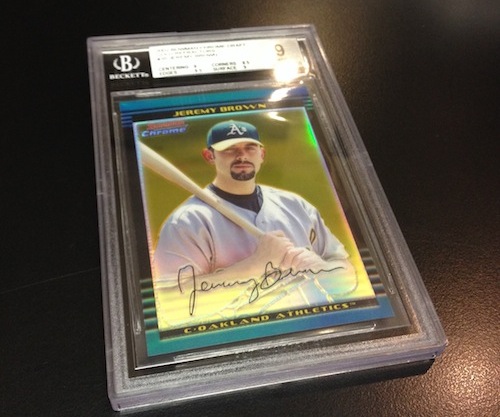 3. Jeremy Brown — 2002 Bowman Chrome Draft Gold Refractors #35
Why is this one slabbed? Purely team colors. In this case, Brown was the University of Alabama catcher who caught the eye of Oakland A's General Manager Billy Beane so much so he drafted him much higher than he would have been expected to go. The discussions about drafting him are a key chapter in the book Moneyball, which later became a film. I'm an Alabama grad who was working the front page of The Tuscaloosa News' sports section the day he was drafted — and I'm also a long-running Oakland A's fan. This one needed slabbed even though the slabbing probably cost more than the card is worth. It's his best card from a landmark set, so I figured why not?
Pop Report: Apparently, I'm the only one since my card is the first of this set graded — however there are 14 other Brown cards from different sets in slabs. (Interestingly, not a single one is a 10 — and that's in no way a reference to his corduroys.)
—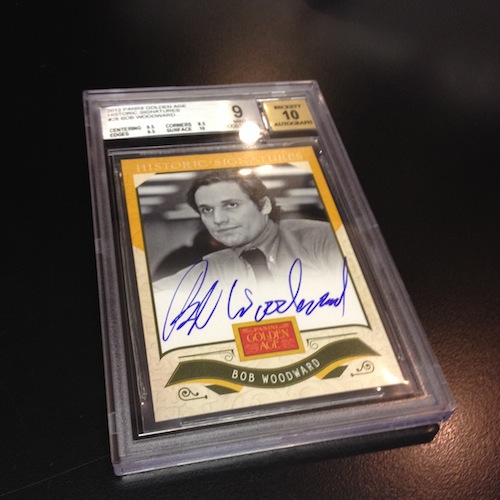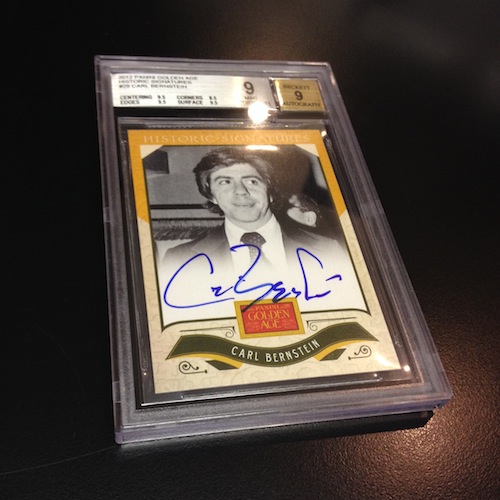 4-5. Bob Woodward & Carl Bernstein — 2012 Panini Golden Age Historic Signatures #BWD and #CB
When Panini America announced its Golden Age baseball set back in 2012, there were two autographs immediately on my want list from this one. It took some time for me to find my second of the two Pulitzer Prize-winning Watergate reporters, but there wasn't any hesitation of submitting them both for grading — but they had to go together — when I heard the news that another influential journalist, their editor Ben Bradlee, had died on Oct. 21. That news was what prompted me to send in these two — and that one will be an autograph I'll add to my journalist — real and fictional — auto-mem collection via a cut autograph at a later time.
Pop Report: Both of these cards (which might be rarer than you think — it took me that long to find one of them) had never been graded by BGS before.
So, there's my first BGS Diary … let me know what you think, or if you want to see more, in the comments below.
Chris Olds is the editor of Beckett Baseball and Beckett Sports Card Monthly magazines. Have a comment, question or idea? Send an email to him at colds@beckett.com. Follow him on Twitter by clicking here.