BGS Diary Predictor: What will he submit?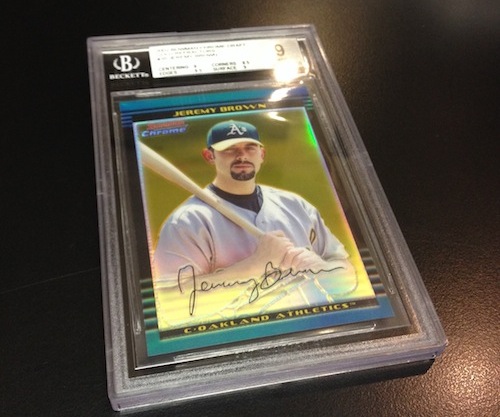 We recently introduced the BGS Diary (click to read) and it seems like a few of you liked hearing about what — and why — Beckett Baseball Editor Chris Olds submitted what he did for grading.
That was last month's BGS submission. For this month, we're getting a bit interactive. He's prepared his five cards for grading and we want to see if you can predict which of his cards will end up slabbed. Of the 10 cards listed below, five are headed to BGS today for his next BGS Diary.
Can you predict which ones they will be?
—
November BGS Diary Predictor: What will Olds submit?
1980 Topps #482 Rickey Henderson RC (17%, 86 Votes)
2011 Topps Stickers #21 Nick Swisher (12%, 63 Votes)
1981 Topps #216 Joe Montana RC (12%, 60 Votes)
1957 Topps #35 Frank Robinson RC (12%, 59 Votes)
2010 Bowman Chrome 18U USA Baseball Refractors #18BC8 Bryce Harper (11%, 57 Votes)
1986 Donruss #39 Jose Canseco RC (11%, 56 Votes)
2005 Topps All-Time Fan Favorites Autographs #JBE Dr. Jim Beckett (10%, 50 Votes)
2013 Topps WWE Diva Centerfolds #1 AJ Lee (8%, 39 Votes)
2001 Topps Heritage #316 Cal Ripken SP (5%, 26 Votes)
1971-72 Topps #4 John Johnson RC (3%, 15 Votes)
Total Voters: 159
Loading ...