BGS Diary: Saban, Cerrano, Hawk, Animal & practice
For the last few months, I've submitted five cards a month to Beckett Grading Services to finally get some of the cards I like into slabs. Selecting which cards to submit has been easier said than done — and the results can be interesting, too.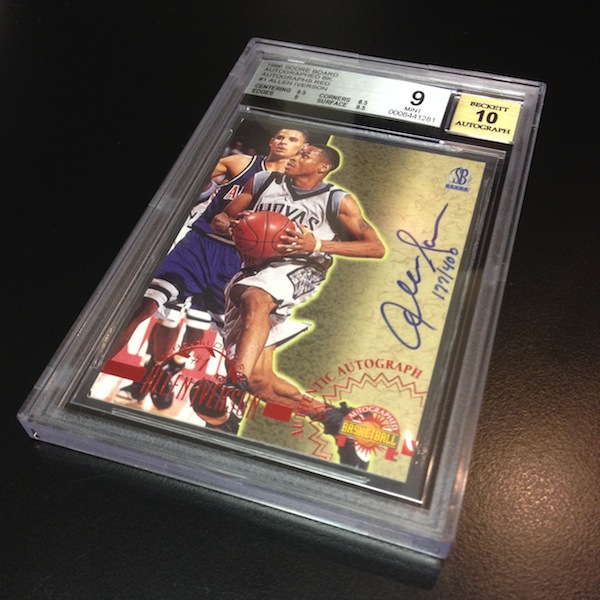 Here is the batch I got back from BGS for December — so here is my latest BGS Diary entry. See which five cards I decided to submit … after the jump.
1. 1996 Score Board Autographed BK Autographs Red #1 Allen Iverson /400, $150 (above)
When Classic/Score Board arrived on the card landscape years ago, I couldn't help but shred packs looking for the autographs of The Next Big Things like Shaq, Drew Bledsoe, Brien Taylor and countless others. Some were — and most the autographs that I found weren't. The only Big Thing I ever pulled was a small one — but a big talent who just loved practice. I've held onto this one for years and decided it was time for a slab.
Pop Report: Only 12 copies of the 400 made have been slabbed by BGS. My card is one of only two in this condition — which isn't topped in the pop report.
—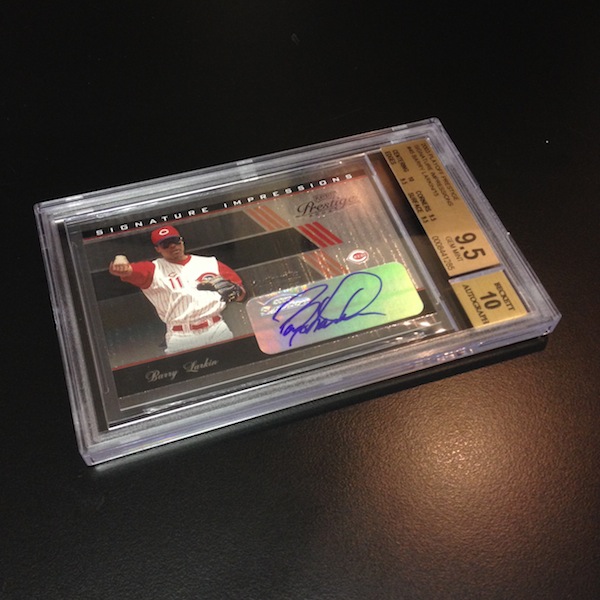 2. 2003 Playoff Prestige Signature Impressions #46 Barry Larkin /15, $N/A
For years, this was the rarest card that I had ever pulled from a pack. It's an etched foilboard creation with a silver autographed sticker — a lot of sensitive things printing-wise that should lead this Hall of Famer's card to a lower grade but didn't.
Pop Report: It's the first and only copy of the card that's ever been slabbed.
—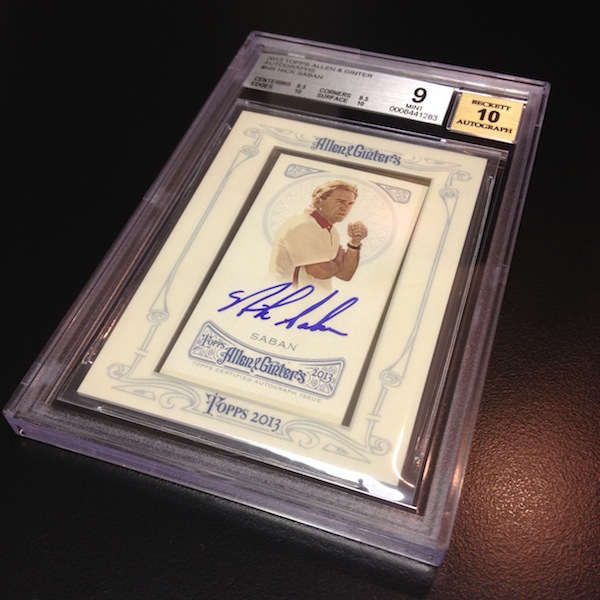 3. 2013 Topps Allen & Ginter Autographs #NS Nick Saban, $200
If you know me, then you know this is the time of year where the focus switches to one football team away from baseball. You should have known this one would be in a slab the second you saw the BGS Diary Predictor earlier this month. (Based on the voting, many of you did.)
Pop Report: Sixteen copies of this card have been slabbed with none higher than a 9.5. My card is among nine 9s that exist.
—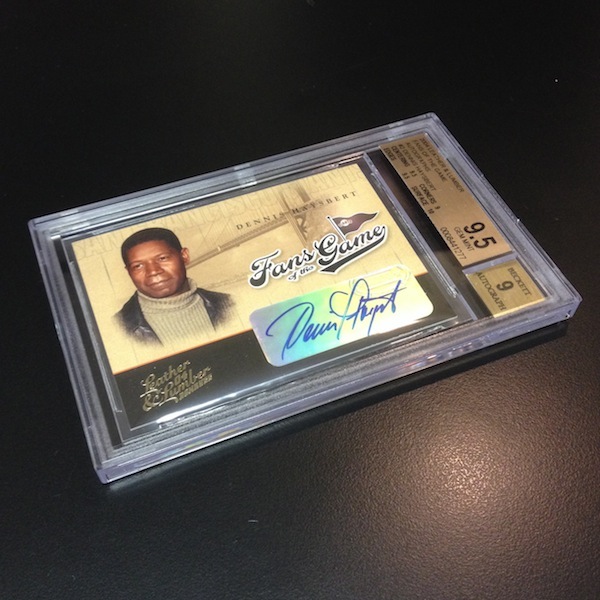 4. 2004 Leather & Lumber Fans of Game Autographs #2 Dennis Haysbert, $30
If you know my collecting obsessions niches, then you know where Major League stands. Haysbert, aka Pedro Cerrano, is my favorite on that roster and he's among a few Major Leaguers who signed for Fans of the Game cards from Donruss/Playoff in the past. I'll go on the record saying that line needs to make a comeback — there's still a ton of potential there.
Pop Report: Only two copies of this card have ever been graded — and only one (a 9.5) is higher.
—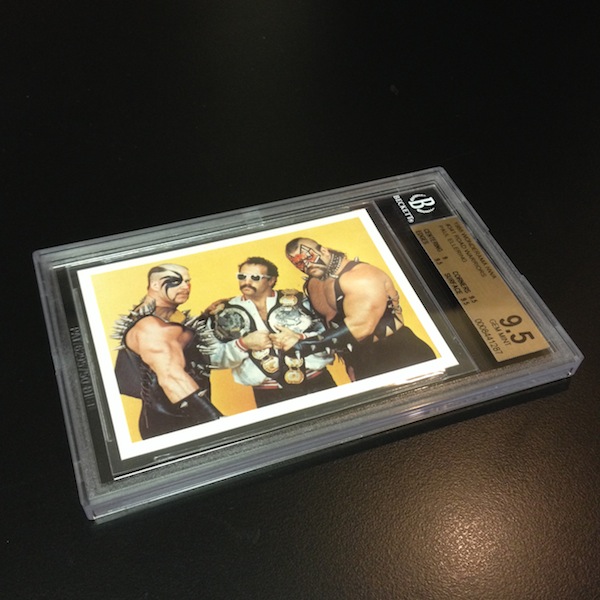 5. 1988 Wonderama NWA #341 Road Warriors, 60 cents
You might look at the value of this card and ask "Why?" I look at the photo on this card and say "Why not?" Hawk and Animal (with manager Paul Ellering) are the only team in pro wrestling history to hold the AWA, NWA and WWF/WWE belts and this is among their earliest standard-issue cards. This card is awesome — and you can't deny it. If you do, you simply don't know what a rush The Legion of Doom provided back in the day.
Pop Report: I was shocked — shocked! — to see that six copies of this card had been graded. Three are 9.5s like my card, while the rest got a BGS 9.