BGS Diary (July): Digging vintage, Kris Bryant, 'Eight Men Out,' minis and The Dude
When you click on links to various merchants on this site, like eBay, and make a purchase, this can result in this site earning a commission.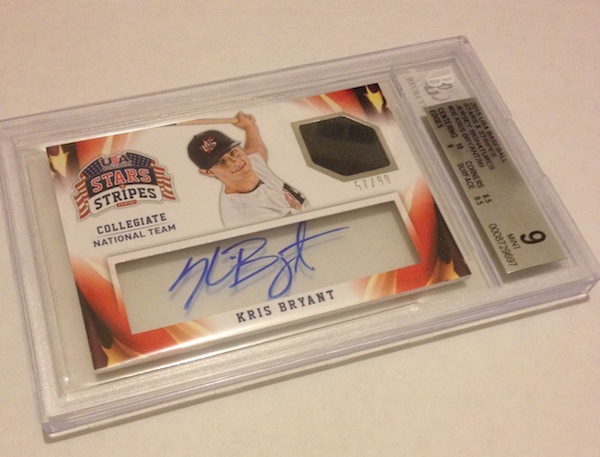 By Chris Olds | Beckett Sports Card Monthly Editor | Commentary
For the last few months, I've submitted a few cards a month to Beckett Grading Services to finally get some of the cards I like into slabs. Selecting which cards to submit has been easier said than done — and the results can be interesting, too.
Here is the batch I got back from BGS for June — so here is my latest BGS Diary entry. See which cards I decided to submit … after the jump.
2015 USA Baseball Stars and Stripes Jersey Signatures #56 /99 Kris Bryant (above)
I pulled this one from my first box of Stars & Stripes this year — a pleasant surprise considering he's pretty much been The Guy among rookies this season. Since I pulled it, he's been promoted and smacked 12 homers with 51 RBI in 79 games and been named an All-Star, too. Getting memorabilia cards graded can be an extra challenge because they simply get handled more during manufacturing and more things can go wrong, but I figured this card was a must for a slab, anyway.
Pop Report: It's the only copy — of the 99 copies of this card — that's been graded.
—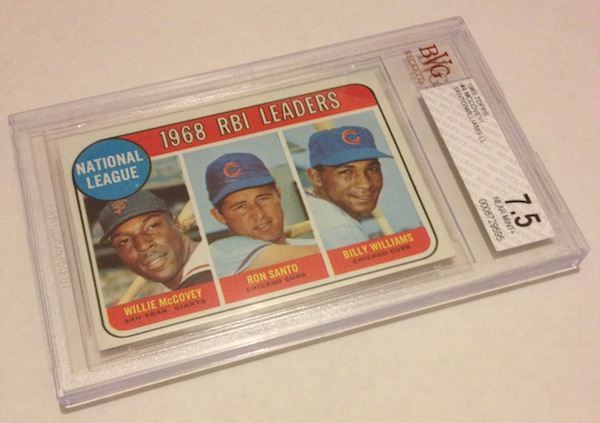 1969 Topps #4 NL RBI Leaders (Willie McCovey, Ron Santo, Billy Williams)
With three Hall of Famers on the front and a price tag at less than $10, this card has a few ways it might appeal to collectors. Simply put, leaders cards from the 1960s are a great way to collect big names on a small budget. When I found this card in a bin at my local card shop with its razor-sharp edges and super-bright pink back, I knew I needed to get it graded. The centering and some very minor chipping — with the missing fibers found inside its penny sleeve — brought its grade down a tad but it's a card that looks better than its grade says if you ask me. (I had thought it would get an 8 — something that's not that easy in vintage.)
Pop Report: While 38 copies of this card have made their way into a BVG slab, only six have a better grade than mine does. The highest is an 8.5.
—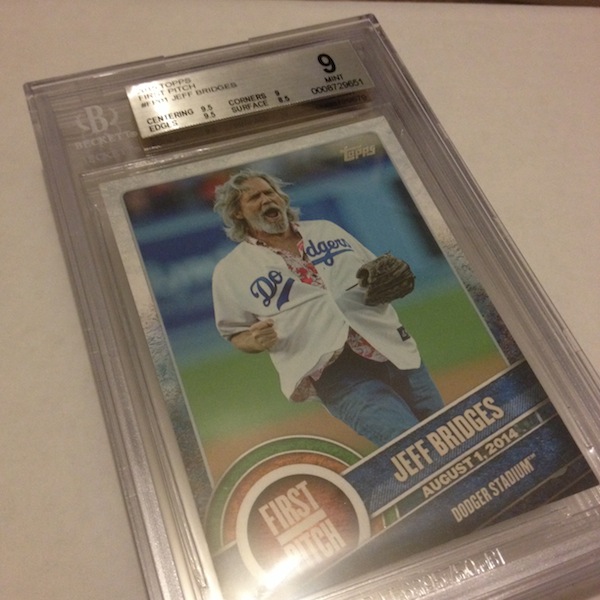 2015 Topps First Pitch #1 Jeff Bridges
When I saw these celebrity ceremonial pitches were going to be found in packs of 2015 Topps, I knew they would be a big deal simply because of their unique twist on something seen pretty regularly in baseball but not on cardboard. This Hollywood veteran has been in many films but I like him best as The Dude in The Big Lebowski. This photo carries a bit of that spirit if you ask me — and that's why I wanted my copy in a slab despite it being an inexpensive card. (Had that card been marked an 8 there would have been a world of pain. Or something.)
Pop Report: Eight total cards from the set have made their way into slabs — and my card is trumped by a BGS 9.5 out there somewhere. No First Pitch cards have received a perfect 10 score.
—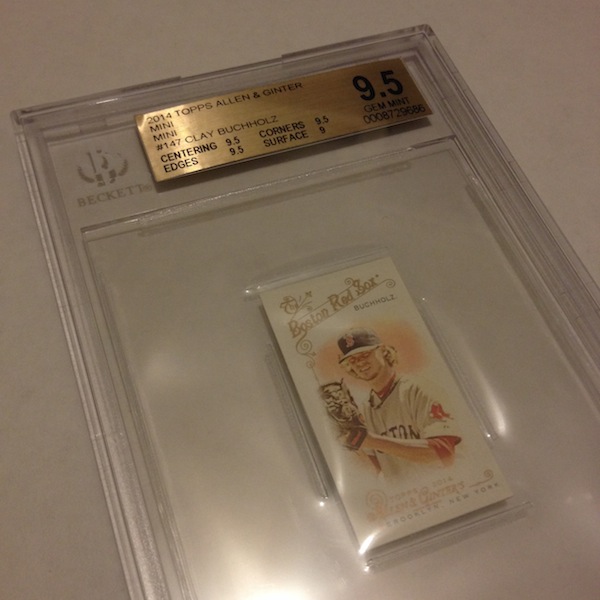 2014 Topps Allen & Ginter Mini Mini #147 Clay Buchholz /1
If you know what this is and where it came from, then you know that I ripped into a double Rip Card and a Mini Rip Card to pull this … and it was not a player I was hoping for inside. Nonetheless, this tiny card is a mere 2 inches tall (if that) and is a one-of-a-kind creation. It should have been a Nick Swisher, but either way it needed to be in a slab.
Pop Report: It's the only copy of the card made. Only four total Mini Minis have been graded — and there are no 10s. (The others graded are Roberto Clemente, Adam Jones and Bo Jackson.)
—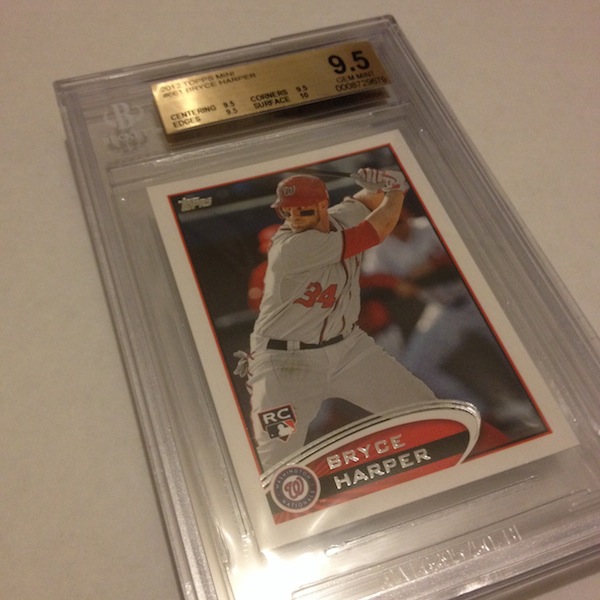 2012 Topps Mini #661 Bryce Harper
With Harper's strong season so far, I figured I would get one of his Rookie Cards — probably my favorite one — into a slab. Of the three I own, I examined them closely and selected this one to be encased. The 9.5 surprised me — I figured a BGS 9 — but I'll take it. At some point, it's two brothers will get slabbed up, too.
Pop Report: A total of 68 copies of this card have been slabbed with only five getting the perfect 10 grade. A heavy majority of the cards — 56 copies — have gotten this grade and the other seven copies all got a BGS 9.
—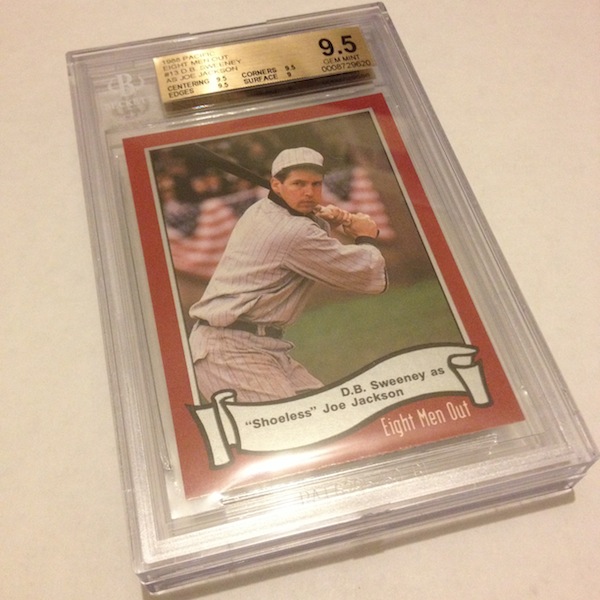 1988 Pacific Eight Men Out #13 D.B. Sweeney as "Shoeless" Joe Jackson
Probably a decade ago, I went on a major baseball DVD kick and Eight Men Out was one film that ended up in my DVD player for weeks at a time as something playing while I sorted cards or wrote stories. At one point back then, I found a bulk lot of 25 factory sealed sets on eBay and a single $25 bid later I had even more cards to sort. I didn't expect to win them, but I did. I cherry-picked the key cards from these sets for some BGS candidates — tougher than you might think for 1988 and simple packaging — and figured I'd start with the best player in the 1919 Black Sox lineup.
Pop Report: This is the first copy of this card graded by BGS — and it's a half-grade higher than the only other card from the set (Charlie Sheen) that's made it into a case. This won't be my last.
—
Also graded this time but not shown: A 2015 Topps Heritage Nick Swisher gum stain (BGS 9) and a 2010 Topps WWE Blue Maryse (BGS 9). Both are the only copies of those cards ever slabbed by BGS.
—
That's my latest BGS Diary … let me know what you think, or if you want to see more, in the comments below.
Chris Olds is the editor of Beckett Baseball and Beckett Sports Card Monthly magazines. Have a comment, question or idea? Send an email to him at colds@beckett.com. Follow him on Twitter by clicking here.
—
How did Beckett readers do with predicting this batch? Look for a new BGS Diary Predictor next month.
—
BGS Diary Predictor (July): What will Olds submit?
2015 USA Baseball Stars & Stripes Jersey Signatures #56 Kris Bryant (16%, 91 Votes)
2015 Topps Heritage Gum Stained Back #377 Nick Swisher (13%, 72 Votes)
2012 Bowman Chrome Prospects Refractors #104 Joc Pederson (12%, 67 Votes)
2015 Topps #616 Kris Bryant (11%, 63 Votes)
2015 Topps WWE Blue #32 Maryse (8%, 47 Votes)
2012 Topps Mini #661 Bryce Harper (8%, 44 Votes)
1988 Pacific Eight Men Out #13 D.B. Sweeney as Joe Jackson (7%, 37 Votes)
1969 Topps #4 NL Leaders (McCovey, Santo, Williams) (6%, 34 Votes)
2015 Topps First Pitch #1 Jeff Bridges (6%, 33 Votes)
1987 Donruss #46 Mark McGwire (6%, 32 Votes)
2014 Panini Prizm Gold Prizms #293 A.J. McCarron (4%, 21 Votes)
2014 Topps Allen & Ginter Mini Minis #147 Clay Buchholz (3%, 15 Votes)
Total Voters: 164
Loading ...
—
PAST BGS DIARY POSTS
— October: Rookie Cards, Moneyball & Watergate
— November: Vintage, booklets Dr. Beckett & more
— December: Saban, Cerrano, Hawk, Animal & practice
— January: Bull Durham, Star hoops, "Macho Man" … and Bill Murray's baseball card?
— February: Chasing Amy, metal minis, USA Baseball green and, of course, Crimson Tide
— March: WWE Divas, The Killer, Koufax and a cardboard icon 
— April: Seeing gold, stickers … and furry autographs?
— May: A lone BGS 10 Michael Jordan, another Lana, a rare Yankee & one USA Baseball lineup
— June: Vintage Pudge, Atomic Paige, Cooperstown autographs, Canseco and more