2015 NHL Draft: Beyond Connor McDavid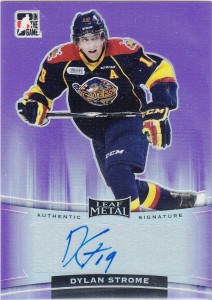 By Eric Norton | Beckett Hockey Analyst | Commentary
The beginning of the Connor McDavid era was launched last Friday night when he was selected first overall in the NHL Draft by the Edmonton Oilers. That was not surprising to anyone who follows the sport, and neither are the price tags on his cards in the secondary market.
Beyond McDavid, there is a bevy of other players that were selected  in the first round that collectors should be aware of as well. Some are no-brainers, then there are those whose asking price may be less than expected and worth investing in.
Dylan Strome, C, Drafted 3rd Overall by Arizona Coyotes:
To call Strome, the other guy from Erie that was drafted just would not be fair. Strome had an exceptional season in the OHL where he racked up 129 points (45-84-129) as he set Otter franchise records for both assist and points. Collectors are not unfamiliar with him either as he has had a strong presence in Leaf products during the 2014-15 campaign.  The rarities demand a premium at this point,  but that's not to say he is completely unaffordable.
Cards to Grab:
2014-15 ITG Leaf Metal Prismatic Purple #BADS3 /15, $40
2012-13 ITG Draft Prospects Autographs Gold #ADS /20, $30
2014-15 ITG Heroes and Prospects Draft Prospect Autographs #DPADS2 /15, $60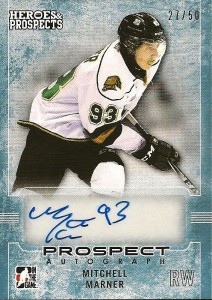 Mitchell Marner, C, Drafted 4th Overall by Toronto Maple Leafs:
Marner was second in the OHL in scoring last season with 126 points (44-82-126) just behind Strome.  He comes from a lineage of London Knights that includes names like Patrick Kane, John Tavares, and Corey Perry that have scored over 100 points in a single season and the Canadian is poised to make his mark in Toronto.  Just like Strome, Marner can be found in Leaf products as well from last season. Considering the strong fan base in Toronto, this is a player whose secondary market value could be on the rise very soon.
Cards to Grab:
2014-15 ITG Heroes and Prospects Prospect Autographs #62 /50, $25
2014-15 ITG Leaf Metal Prismatic USA Star #BAMM4 /10, $30
2014-15 ITG Leaf Metal Prismatic Green #BAMM4 /10, $50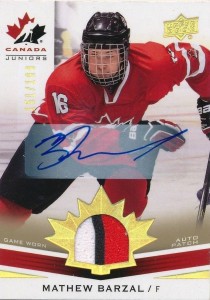 Mathew Barzal, C, Drafted 16th Overall New York Islanders:
Barzal was ranked 11th on the NHL's Draft Prospects big board and slipped a bit due in part to a knee injury that kept him sidelined for a poriton of the WHL season, although he was still able to come back and score 57 points (12-45-57) for Seattle.  Barzal was a top 10 talent until the knee injury occurred and that was evident in international play where he was a part of  Canadian gold medal squad, alongside  Strome and Marner, in the 2014 Ivan Hlinka Memorial. Collectors can find his name in Leaf products and Upper Deck's 2014-15 Team Canada Juniors boxes as well.
Cards to Grab:
2014-15 Upper Deck Team Canada Juniors Patch Autographs #168 /199, $20
2014-15 Upper Deck Team Canada Juniors Jumbo Swatch Gold #JS10 /30, $20
2014-15 ITG Leaf Metal Prismatic Canada Leaf #BAMB2 /10, $30
Be sure to get your Hockey OPG to stay on top of updated pricing information on all the 2015 NHL Draftees.
—
Loading ...
—