Better Than Szechuan: Rick and Morty Season 1 Autographs – Beckett Pricing Insider
Wubba Lubba Dub-Dub!
Cryptozoic' 2018 Rick and Morty Season 1 trading cards arrived with a couple firsts.
This is the first mainstream trading card release for the insanely popular animated television series. It is also the first time that Cryptozoic has released a completely serial-numbered autograph set with all coming in at 100 copies or less. This combination is making for some incredible activity on the secondary market.
Obviously, the most popular autographs right now are that of Justin Roiland, who voices Rick, Morty, Mr. Meeseeks, Mr. Poopybutthole and a plethora of other minor characters. He's also one of the show's creators. Roiland has four different autographs that are randomly inserted into packs. They are:
Justin Roiland as Morty Smith /50
Justin Roiland as Mr. Meeseeks /50
Justin Roiland as Rick Sanchez /50
Justin Roiland as Wildcard /10
The Rick Sanchez is easily the most sought out. The most recent sales for this gem are $900 and $600, respectively.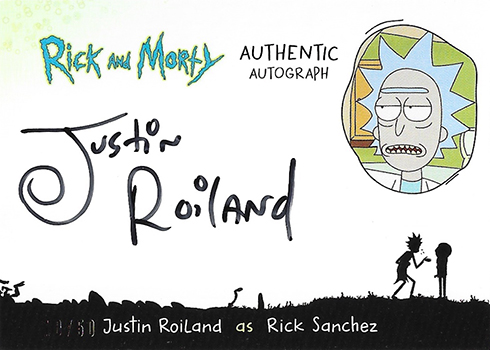 The Morty Smith version is close behind with recent sales of $800 and $750. The Mr. Meeseeks autograph has enjoyed the most sales and is currently listed in the Beckett online price guide at $300-$450.
The Wildcard is the most scarce. This one is unique because it not only includes Roiland's autograph but also a drawing/sketch of one of the many characters he voices on the show. So, you could end up with Rick, Morty, Mr. Meeseeks or, quite possibly, Mr. Poopybutthole.
While Roiland is the main draw, the other autographs are not be overlooked. Saturday Night Live alum, Chris Parnell, has two autographs each numbered to 100 ($100-$200).
Tom Kenny has six different autographs, all numbered to 50. Kari Wahlgren has a total of seven different cards. These are all numbered to 50 as well. Prices vary on these two with a range as low as $15-$40 and as high as $150-$300.
There are also several convention exclusives, which are slated to be released. They include:
Jess Harnell as Scary Terry /100
Maurice LaMarche as Abradolf Lincler /100
Ryan Ridley as Trunkman /50
Tom Kenny as Pizza #1 /50
While it is still early, there is no reason to believe the demand for these will wane. Rick and Morty is one of the most popular shows on television and, with the limited quantity of these cards, there is room for them to go up.
And that's the wayyyyyy the news goes!