Better Late Than Never: Topps Baseball High Number Regulars of the 1950s, '60s and '70s
Infielder José Pagán, the Puerto Rican glove artist and trusty pinch-hitter for three major league teams, compiled a baseball career through two decades that is periodically cited but usually forgotten in historical recollections of the game.
Accounts of Pagán's 15 years in the majors often underline his World Series appearances, as the versatile player who covered every position in the infield landed on two Series teams. Pagán played for the runner-up San Francisco Giants in 1962 and the victorious Pittsburgh Pirates in 1971. A lifetime .250 hitter, he hit .368 in 19 at-bats for the Giants in the '62 World Series and his double off the Orioles' Mike Cuellar in the eighth inning of the final game of the '71 World Series drove in Willie Stargell with the eventual Series-clinching run.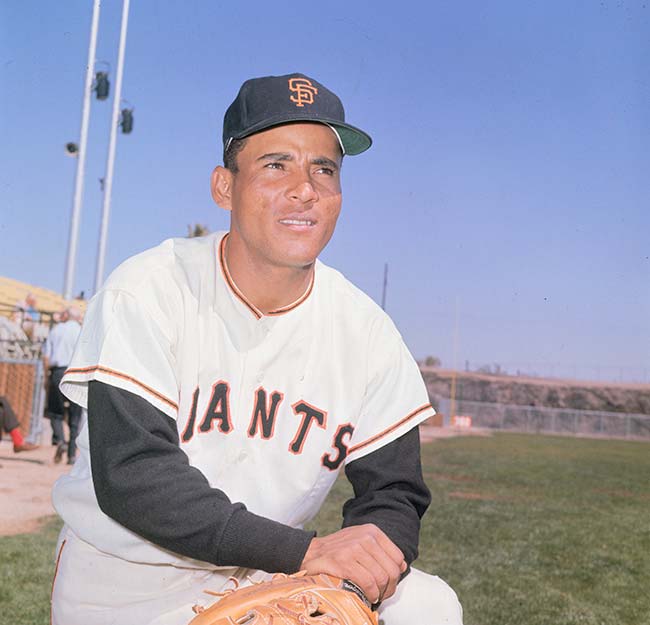 It was truly heady stuff for the son of a sugar-cane plantation foreman, but Pagán's exploits remain ignored despite being selected as the Giants' top shortstop of the 1960s. "People talk about shortstops and don't mention Pagán," said Orlando Cepeda upon his old teammate's death in 2011. "He was a hell of a shortstop." Both Pagán and Cepeda were signed by the same scout, Alejandro "Alex" Pompez.
But one particular group with virtually no connection to Pagán, other than an appreciation for baseball and perhaps a dedication to his teams, the Giants, Pirates or Phillies, will never forget the player.
For baseball card set collectors from the 1960s and early 1970s, Mays, Mantle and Aaron have nothing on Pagán as far as being the most elusive card in the yearly pursuit of a complete set.
During the time when Topps – the only major card com- pany in the land during Pagán's career – issued its flagship set in various stages, known as "series," Pagán far outnumbered any other player in terms of appearing in the most-elusive series of the year.
For many of those years, that series is the final one, known as the "high number series." Often issued near the end of the baseball-card collecting year, it was offered in fewer quantities than the previous lower-numbered series because the finale didn't sell as well when young collectors turned their attention to the new school year and football.
The phenomenon of the "high number series," sometimes even affixed to difficult-to-find series that landed in the middle of a set, not the end, lasted from 1952-73, although not every Topps set contained a more difficult series to track during that time. That "high number" phenomenon ended when Topps stopped issuing sets in series in 1974.
Eliminating sets such as 1957 Topps, in which the tough series is in the middle of the set, there are 18 high-number series toughies from the '50s through the early '70s.
Pagán appears in the high numbers eight times when including his In-Action card in 1972 Topps. That total is by far the most for any player appearing in a Topps set during that period.
In researching which players landed in the high number series the most, vexing collectors year after year, a surprising number showed up frequently, as many as three times. In fact, there are so many players with at least three high number appearances that they will not be mentioned among the all-time leaders here, except for a few notables: Gus Bell, Roy Face, Donn Clendenon, Jackie Jensen, Mike McCormick, Don Mincher, Jimmy Piersall and Bob Uecker.
Card features that regularly appeared in the high numbers, such as the All-Star team subsets and rookie parade cards, were discounted for this exercise as certain all-star players either received "an unfair advantage" (all of Hank Aaron's appearances in the high numbers are exclusively All-Star subsets) or did not technically emphasize the sole player, as in the case of multiple-prospect rookie cards.
These are the series being considered for the purpose of this article:
1952: cards #311-407
1953: 221-280
1955: 161-210
1959: 507-572
1960: 507-572
1961: 523-589
1962: 523-598
1963: 447-576
1964: 523-598
1965: 507-598
1966: 523-598
1967: 534-609
1968: 458-598
1969: 589-664
1970: 634-720
1971: 644-752
1972: 657-787
1973: 529-660
Some may quibble with excluding the '57 middle-number series or note that the 1968 final series wasn't all that tough. In 1972 the fifth and sixth series were issued at the same time, making each tricky. But a collector attempting to complete the '72 set today will encounter much higher prices for sixth series cards over fifth series cards. The same goes for the final series in '73 Topps. It may not be as taxing as, say, the '67 Topps highs, but this writer encountered plenty of resistance finding the last few high number cards to finish 1973 (*shakes fist again at the Dave Concepcion card*).
The 1956 set was excluded since the "high numbers" are approximately half the set, making them hardly exclusive and not noticeably more difficult to obtain than the first half of the set.
So, with those rules in place for the high-number club, here are the most difficult-to-track players from that time:
José Pagán (1959-73)
High-number appearances(8): 1962 (#565), 1963 (#545), 1964 (#575), 1968 (#482), 1970 (#643), 1972 (#701), 1972 (#702-In Action card), 1973 (#659)
Pagán served as the Giants' starting shortstop between 1961-64 but his declining hitting skills relegated him to utility roles by the mid-'60s. Traded by the Giants to the Pirates during the 1965 season for short- stop Dick Schofield, Pagán carved out a reputation as a reliable pinch-hitter. He batted .442 in a pinch role in 1969, the best in the majors.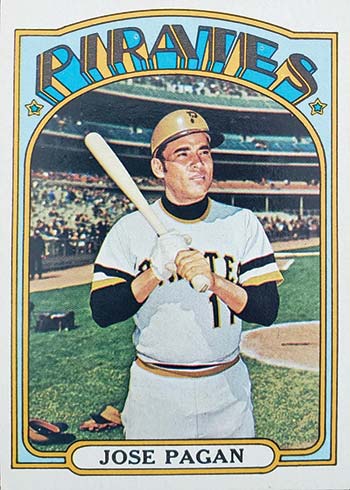 Jim Kaat (1959-83)
High-number appearances (5): 1964 (#567), 1966 (#445), 1972 (#709), 1972 (#710-In Action card), 1973 (#530)
Hall of Fame pitcher Jim Kaat is the only other player, without adding the All-Star subsets, to appear in the high numbers at least five times. He very nearly appeared a sixth time, finishing eight numbers away from a spot in the '68 high numbers.
Kaat's 1973 Topps high number is the well-known batting action shot, which came out the same year that the designated hitter debuted in the American League.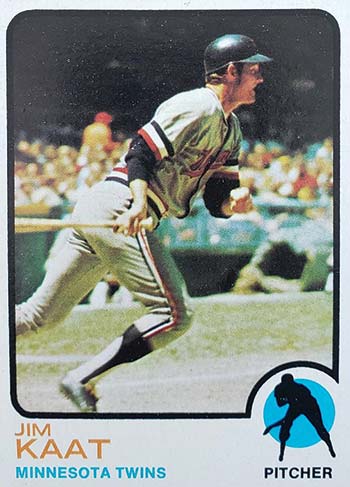 Cleveland Indians Team Card
High-number appearances (5): 1962 (#537), 1963 (#451), 1967 (#544), 1970 (#637), 1973 (#629)
Although it's not a player card, but a collection of players, the team card was just as necessary as any player's card for the completion of a set, or a team set, during the high- number era. The Cleveland Indians team card made a whopping five appearances in the high numbers. But it is not the only one to show up repeatedly in the high numbers.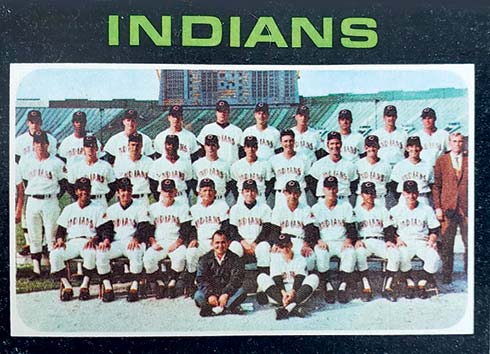 Tony Cloninger (1961-72)
High-number appearances (4): 1964 (#575), 1965 (#520), 1970 (#705), 1972 (#779)
While achieving more than four visits to high-numbers territory is rare, there are several players who showed up four times.
Starting pitcher Tony Cloninger became the answer to a trivia question that applies today when he hit two grand slams in a Braves 17-3 victory over the Giants in 1966, still the only pitcher to hit slams twice in one game.
Cloninger also missed joining Kaat with five high-number cards as his #490 card in the 1967 set misses the cut by a few dozen cards.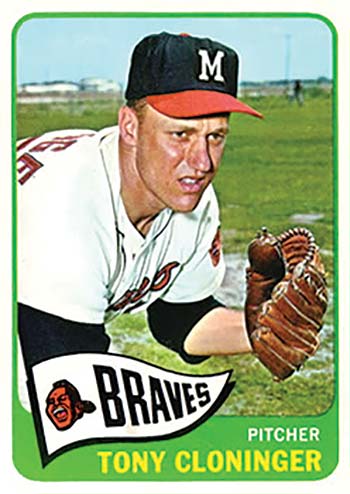 Johnny Klippstein (1950-67)
High-number appearances (4): 1961 (#539), 1963 (#571), 1964 (#533), 1967 (#588)
Pitcher Johnny Klippstein also shows up in 1957 Topps' taxing middle numbers at card No. 296, so for those wishing to add the middle numbers from '57, Klippstein is in exclusive company with Kaat and Pagán.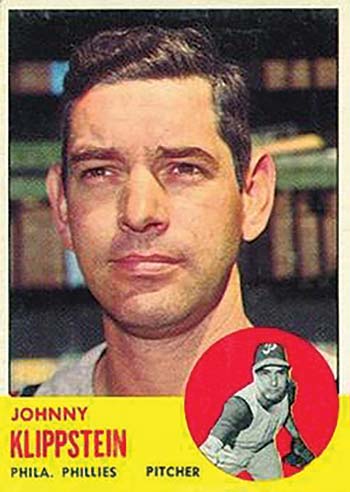 J.C. Martin (1959-72)
High-number appearances (4): 1963 (#499), 1967 (#538), 1971 (#704), 1973 (#552)
One could make a case for a fifth appearance for the well-traveled J.C. Martin, who is card number 639 in the 1972 set, which is the fifth series and very close to the sixth.
Martin and other players who frequently switched teams often show up more than players with more stability as Topps reserved the high series to catch recently-dealt players in the uniforms of their new teams.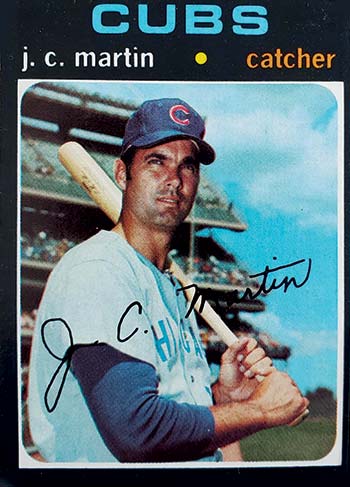 Denny McLain (1963-72)
High-number appearances (4): 1966 (#540), 1971 (#750), 1972 (#753-Traded subset), 1973 (#630)
Denny McLain shows up on a technicality as the Traded subset in the '72 set is counted for this purpose as a one-off final-series subset from Topps.
McLain's late-career off-field issues and being shuffled from team-to-team means he landed in high numbers a lot in the back-end of his career. During his Tigers glory days, he showed up in the highs just once, in 1966.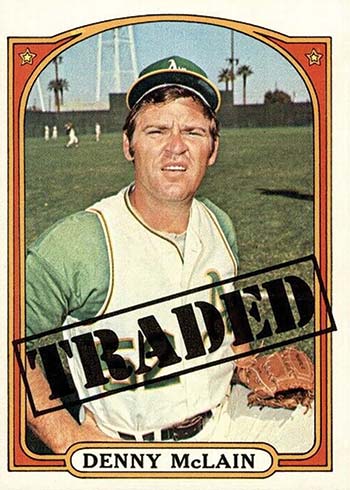 Bill Monbouquette(1958-68)
High-number appearances (4): 1960 (#544), 1961 (#562), 1962 (#580), 1963 (#480)
Red Sox hurler Bill Monbouquette surely drove Boston fans to distraction in attempting to land his card as he showed up in the high numbers four consecutive years between 1960-63 while with Boston.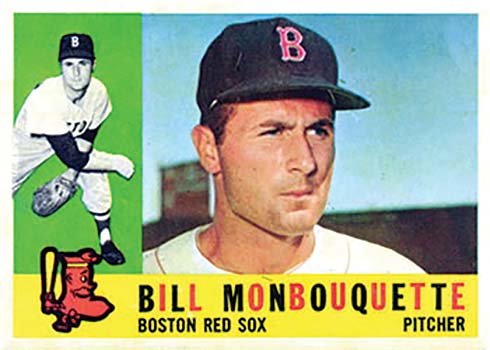 Boston Red Sox Team Card
High-number appearances (4): 1960 (#537), 1964 (#579), 1967 (#604), 1973 (#596)
More Fenway faithful frustration during the high-numbers era. Boston's team card showed up four times, including sharing a high-number spot with Monbouquette in 1960.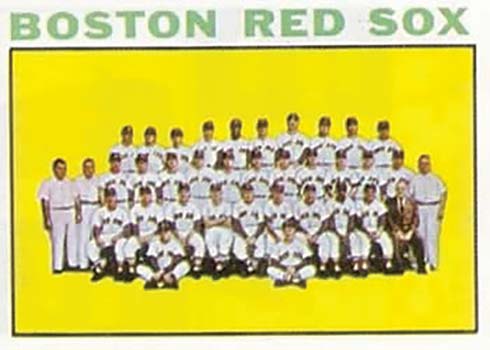 Russ Snyder (1959-70)
High-number appearances (4): 1963 (#543), 1966 (#562), 1968 (#504), 1971 (#653)
Russ Snyder made the most noise as an outfielder with the Orioles as is evidenced by the quote from 1960 Baltimore manager Hank Bauer, who said that nobody notices Snyder "until he beats their brains out."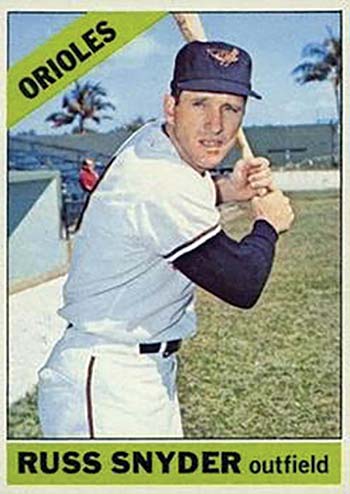 Minnesota Twins Team Card
High-number appearances (4): 1961 (#542), 1962 (#558), 1966 (#526), 1973 (#654)
The '61 team card is the Twins' first in franchise history, but it shows a collection of Washington Senators as the photo was taken prior to the move to Minnesota.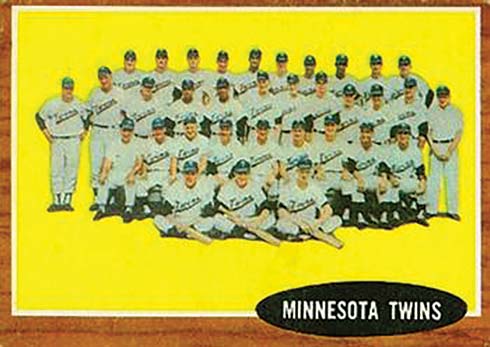 Hoyt Wilhelm
High-number appearances (4):1952 (#392), 1961 (#545), 1962 (#545), 1972 (#777)
Hall of Famer Hoyt Wilhelm covers nearly the entire high-numbers era with a challenging card in the first high-number Topps series in 1952, all the way to the final card of his playing career, the not-quite-as-challenging Dodgers card in 1972.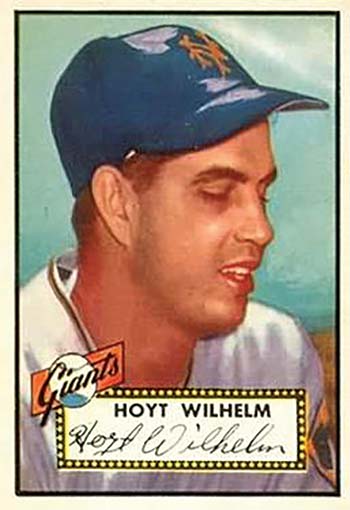 Several other players of the time could qualify as chief high-number "offenders" by adjusting the rules. Johnny Podres showed up in the tough middle numbers in 1957 plus three other traditional high-number positions in 1953, 1964 and 1969 (the famed "Podres Padres" card).
Adding players' appearances in the All-Star subsets that wrapped up Topps sets in the late 1950s and early 1960s bump some noted stars into the high-number club. Mickey Mantle appears in high numbers four times, including three All-Star cards. Same with Ernie Banks, Al Kaline, Bill Skowron and Nellie Fox. Willie McCovey received three high-number spots plus a fourth with an All-Star subset appearance.
Factor in All-Star subset appearances for Luis Aparicio, Willie Mays and Bill Mazeroski and they each hit high numbers five times.
But even with subset help, none of those stars reached a total of eight separate appearances in the high numbers.
Only one man can stake claim to that status. José Pagán.
The most elusive player for set collectors for a generation.