The Best Card Investments Under $250
There are many different levels of collectors. Sure, we'd all love to be the guy who can buy an Aaron Judge Rookie Card for $16,000, but most of us don't have that kind of money lying around. Instead, here are some less expensive cards that you can invest in with potentials for high returns.
2013-14 Prizm Giannis Antetokounmpo BGS 9.5 Rookie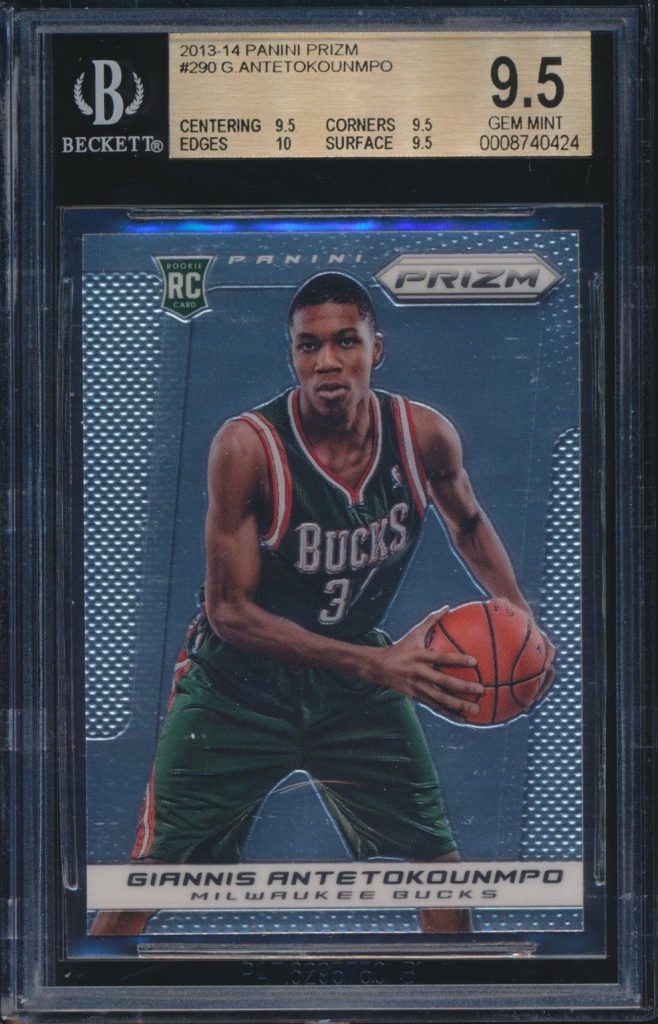 The Greek Freak has established himself this season as one of the top five players in the league by averaging over 27 points-per-game and leading his team in rebounds and assists. He continues to get better each season and is still only 23-years-old. One of his most popular cards is his Prizm rookie, which sells for $100-115 at eBay auction. This card should only steadily increase yearly. Top players are always great investments, once Giannis adds an MVP to his resume or carries the Bucks to a Playoff run, this particular card in a BGS 9.5 should reach the $250 mark.
2008 Topps Update Clayton Kershaw Gold Foil Rookie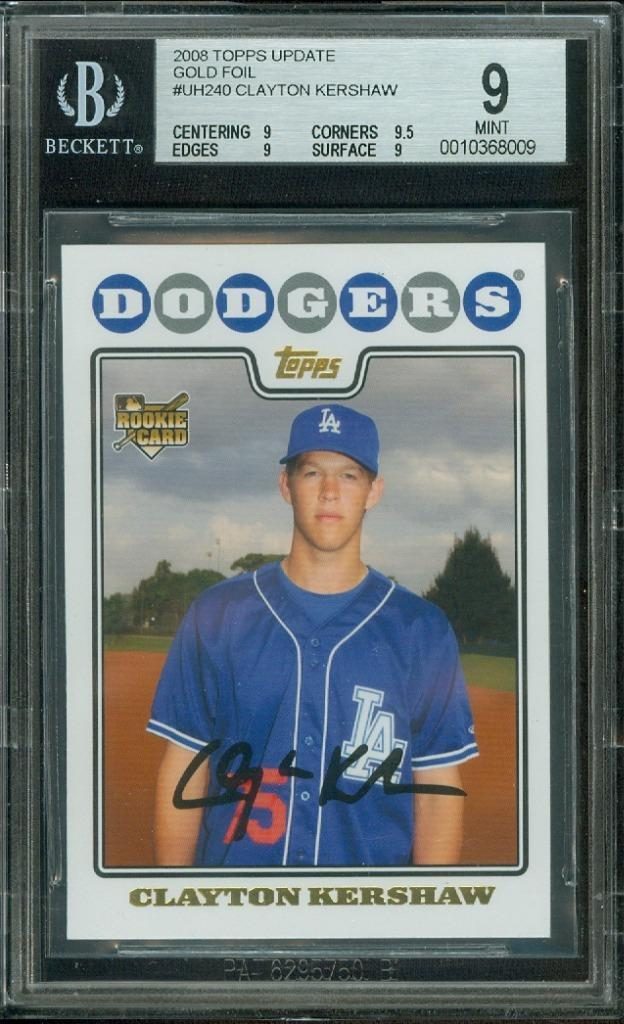 Clayton Kershaw is considered by many baseball fans and experts to be the best pitcher in baseball. Only 30-years-of-age and he's already established as an all-time great and a future Hall of Famer. Kershaw has won 3 NL CY Young awards, an NL MVP and has a career ERA of 2.36. His accolades are insane for a pitcher, with only a few pitchers standing out in baseball amongst the elite, you can't go wrong with investing in Kershaw. One of his most popular rookie cards is his Topps Update rookie which sells for $60-100 range at eBay auction. I would try to find the Gold Foil version which is twice as rare and sells for $175 in a BGS 9.
2003 Bowman Heritage Robinson Cano Auto Rookie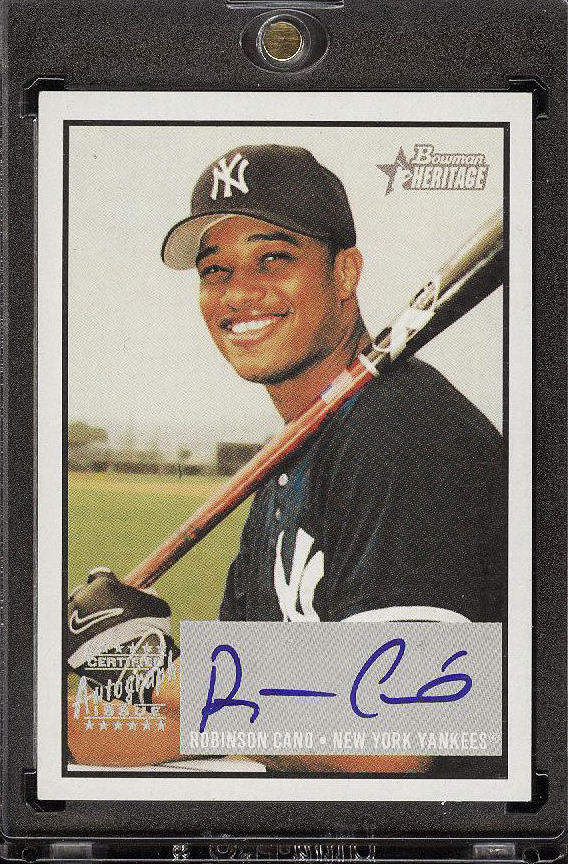 Robbie Cano…Ah Don't Cha Ya Know! He has been one of the main staples as a second basemen in baseball since 2005. A career .305 hitter with 301 homeruns and 2,376 hits he's bound to be a first ballot Hall of Famer. One card that sticks out amongst the rest of Cano's cards is his 2003 Bowman Heritage Autograph Rookie. The card is very tough to find in mint condition, mint copies in a BGS 9.5/10 Auto or PSA 10 are very limited and feature a low popular report. Ungraded centered copies of the card have sold this past month for $175 at eBay auction. This is a perfect card to have graded if the card appears mint with nice centering and corners. A PSA 10 in this card has sold as high as $700 this month. This type of investment could pay off huge in the short term or long run if you're able to find a mint copy for under $200 and able to achieve that high grade.
2002 Bowman Chrome Ed Reed Bowman Chrome Auto Rookie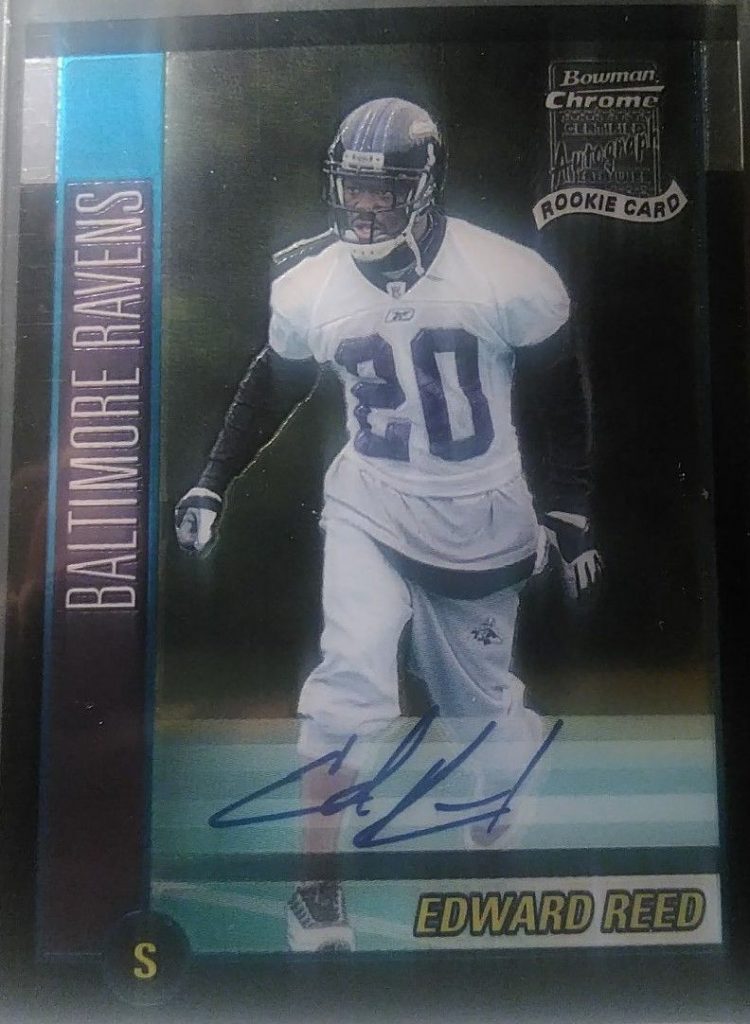 Ed Reed was one of the most elite defensive players in the game. He is 7th in all-time interceptions with 64 and made First Team All-Pro team five times. He is projected to be a first ballot Hall of Famer in 2019, which makes now the time to strike and purchase one of his rarest autographed rookie cards. One of Reed's toughest cards is his 2002 Bowman Chrome Autograph, which can be difficult to find at times but a very underrated card. This particular card sells for $75 at eBay auction ungraded. Since this card is so tough to find, look for it to steadily increase from now until his name is called in Canton in 2019.
2015-16 Upper Deck Connor McDavid Young Guns Rookie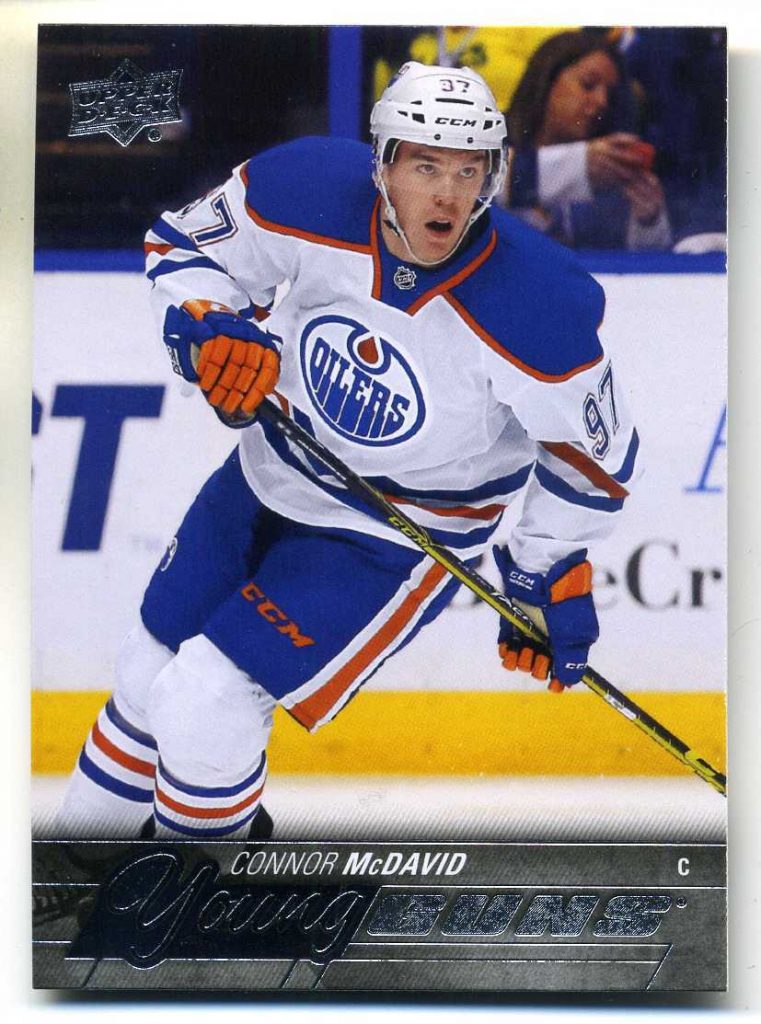 McDavid is only 21-years-old and already one of the best players in the NHL. He ranks first amongst points in the NHL with 96 points and has 38 goals this season. He's one of the fastest skaters on the ice as well. With Sidney Crosby's Young Gun rookie in the $600 range ungraded, McDavid is bound to reach those same parameters in the coming years. McDavid's Young Guns Rookie ranges in the $225-285 ungraded range this season at eBay auction. This is a great card to have graded and ups the value to $350-400 if you receive a BGS 9.5. McDavid is one of the safest Hockey investments and bound to increase very quickly.
2007-08 Topps Chrome Kevin Durant BGS 9.5 Rookie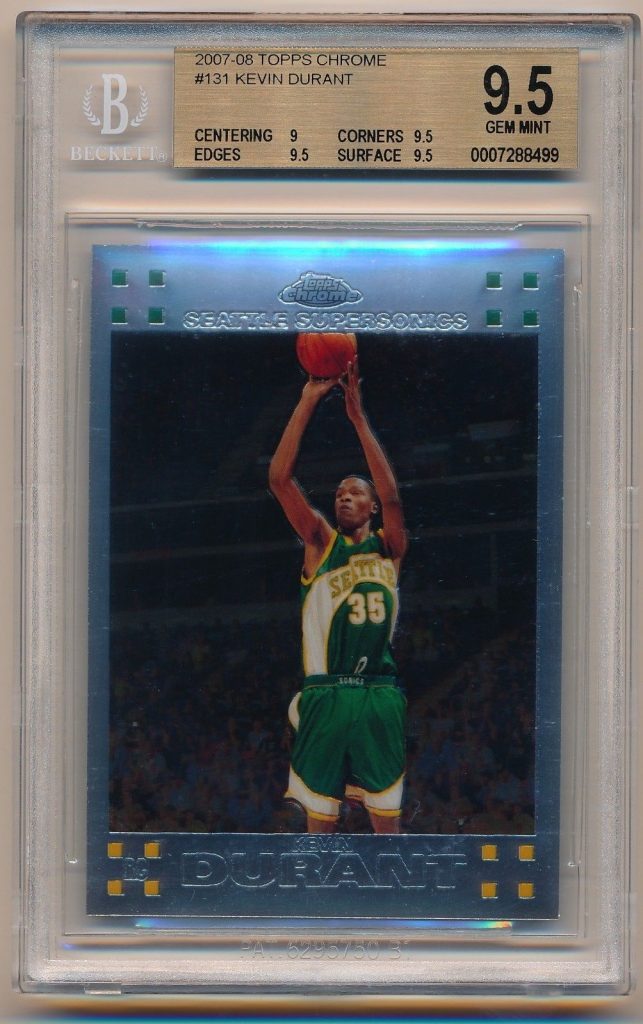 Kevin Durant has established himself as one of the best players in the NBA for a number of years. Last season he took his game to a whole new level when he won NBA Finals MVP and his first championship. He'll go down in history as one the best pure NBA scorers of all-time. Durant is widely considered to be the second best overall player in the NBA only behind LeBron. With LeBron James Topps Chrome rookies being so high, Durant is the next man up to increase. KD's Topps Chrome rookie in a BGS 9.5 sells for $200-215 range at eBay auction. Now is the time to invest in KD before it's too late. During the NBA Finals last season this card reached the $350 range. Look for a repeat of that this June if the Warriors are able to reach the Finals and repeat.
2012-13 Playoff Contenders Klay Thompson Playoff Contenders Auto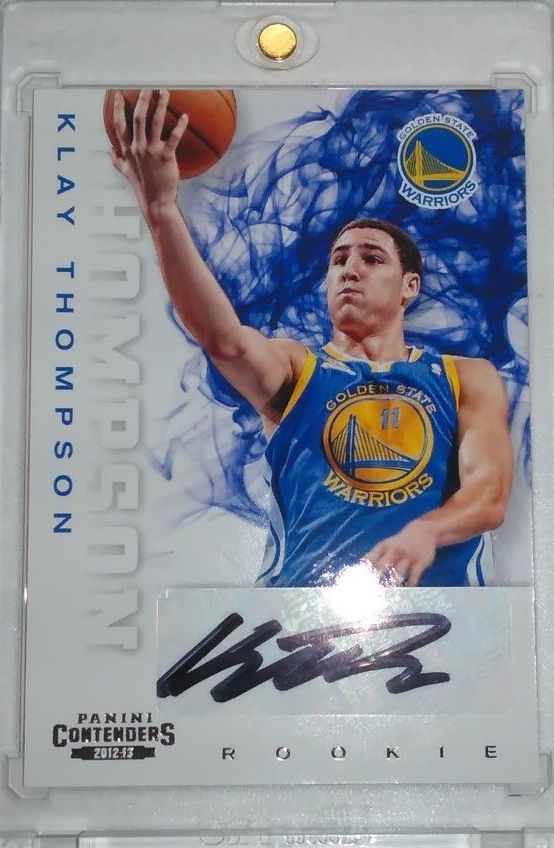 Thompson is widely regarded as one of the most underrated players in the NBA. He's often overshadowed by other stars on the Warriors like Durant or Curry, but Klay is no joke. He is considered one of the best two-way players in the league on both offense and defense. We have seen flashes of Klay being able to go off at any moment including one performance where he had 37 points in one quarter and a career high of 60 points in game. His 2012-13 Playoff Contenders Autographed Rookie remains as one of the most underrated basketball autographs in the hobby, which sells for just $75 at eBay auction. Autographed rookies of NBA stars are pretty pricy but this particular card of Klay is still very obtainable and can easily double in value very quickly. Invest in Klay now before the Warriors repeat as Champs.
1970 Topps Thurman Munson Rookie – PSA 8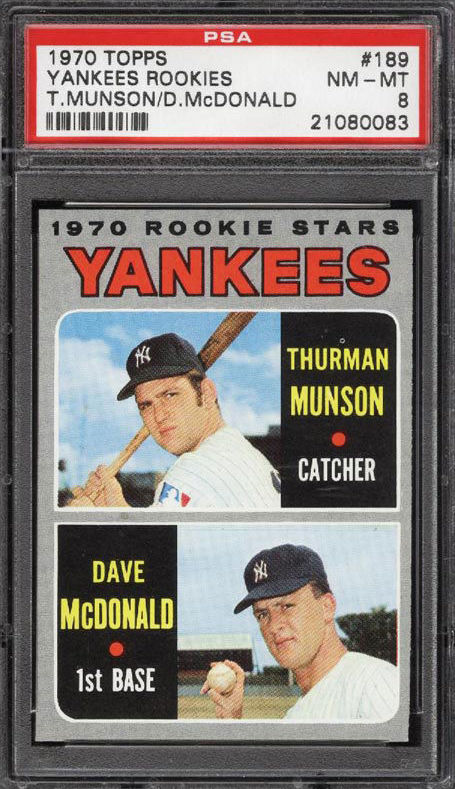 A few voting changes to Major League Baseball's Hall of Fame Era's Committee may give Munson another shot at the Hall after all. In 2016 the Hall of Fame changed their Veterans committee voting which is now known as the Era's Committee. This allows players like Munson to still have a shot to be elected to the Hall of Fame even if they weren't originally voted in by the writers. Earlier in 2018, Jack Morris and Alan Trammell were elected to the Hall of Fame this way. Many baseball experts consider Munson to be one of the greatest catchers in baseball during the 1970s era. He is often still talked about amongst baseball and remains as one of the most popular players during the era that he played in. His death is still widely considered to be one of the most stunning events in baseball history. His most sought-after card remains his 1970 Topps Rookie card which sells for $200-230 in a PSA 8 rookie at eBay auction. This is a great investment and could pay off huge if Munson is elected by the Era's Committee.
2011 Playoff Contenders JJ Watt Auto Rookie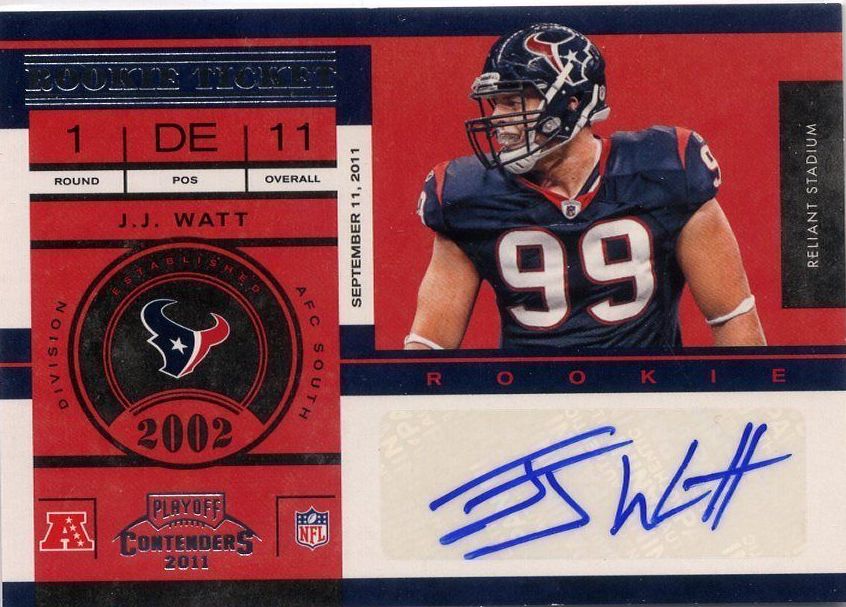 Watt has already obtained 76 career sacks in his career and won Defensive Player of the Year three times. He is coming off two injury-plagued seasons the past two years but now is the time to strike if you're still a Watt believer. One of his most sought-after cards is his 2011 Playoff Contenders Rookie which sells in the $80-115 range at eBay auction. Watt is already considered to be a future Hall of Famer so you can't go wrong investing in him. This card should double in value when Watt returns to his dominant form.
2012 Bowman Chrome Auto Joey Gallo Auto BGS 9.5/10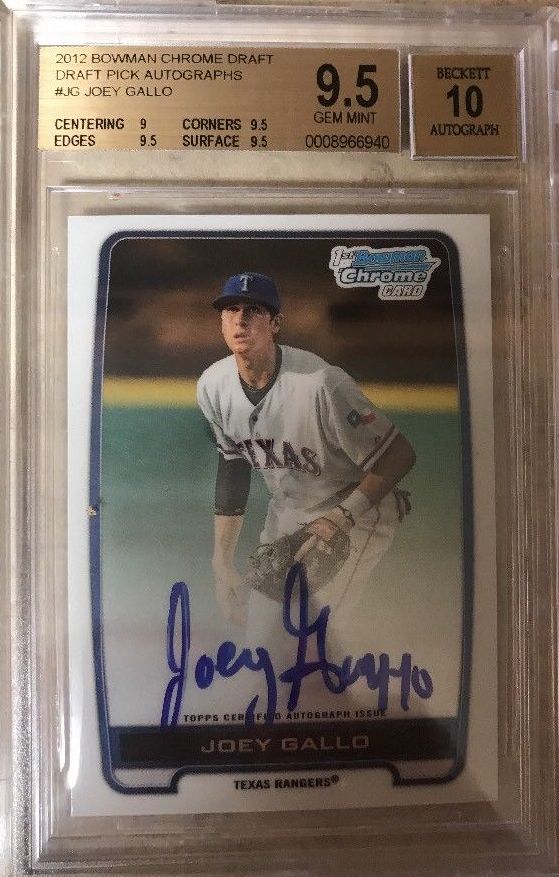 Collectors are always looking for the next best young player to invest in and Gallo may be just that guy. Prospecting is always somewhat unpredictable. Gallo hit 41 home runs last year but batted just .209. His power is well-known, and many baseball experts believe he is only going to get better. There are several young power hitters who are extremely difficult to obtain, like Aaron Judge, so Gallo may be your guy to invest in. He is only 24-years-old and his most sought-after card remains his 2012 Bowman Chrome Autograph rookie which sells for just $90-115 range in a BGS 9.5/10 at eBay auction. Considering many other young star hitters like Judge and Bellinger sell for triple the value, Gallo is very underrated in the hobby and could pay off huge if he's able to hit for a higher average this season. These types of investments are worth the gamble and can be good in the short and long term.