15 of the Coolest Bo Jackson Cards from the 1980s and Early '90s
When you click on links to various merchants on this site, like eBay, and make a purchase, this can result in this site earning a commission.
Bo Jackson is an icon. His career may have been cut short, but his legacy remains. For a generation of collectors, Bo Jackson cards are a reminder of just how popular he was. There was the power. His two-sport status. The Heisman Trophy. The shoes. And, of course, there was "Bo Knows."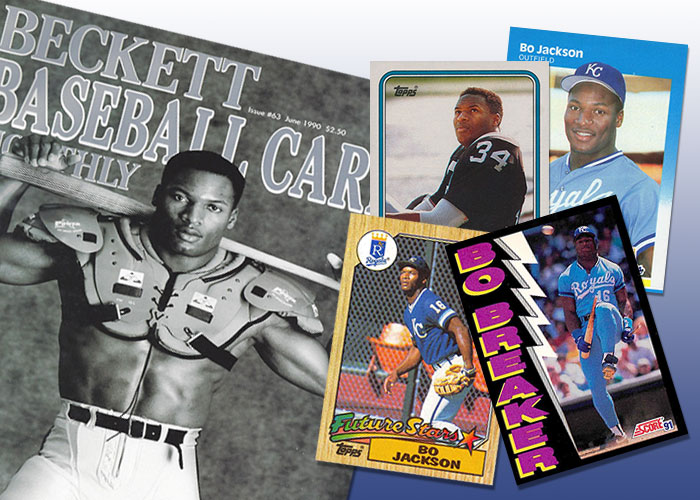 Most of the Bo Jackson cards from his playing days are more about memories than value. Some are creeping up in value but that is still relative when you look at the prices of today's prospects and high-end choices.
Just like watching him live on TV or on the nightly highlights package, Bo Jackson cards can be enjoyed for what they are — fun, fiery and colorful.
Here's a look at 15 Bo Jackson cards from the 1980s and early 1990s that showcase both who he was as a player and where card collecting was at at the time. This is not intended to be a list of the most valuable Bo Jackson cards but rather a reflection on some of his coolest.
15 Awesome Bo Jackson Cards from the 1980s and Early 1990s
1986 Topps Traded Bo Jackson XRC #50T
For many, this is where it all began for Bo Jackson cards. Part of the loaded 1986 Topps Traded Baseball box set, it's one of the highlights on a checklist packed with many '80s favorites. Jose Canseco, Barry Bonds, Will Clark, Bobby Bonilla — the list goes on. Even if many of those players eventually let us down to varying degrees, they're still '80s icons.
The 1986 Topps Traded Bo Jackson remains a beloved card for the generation that grew proclaiming "Bo Knows" just about everything. Jackson does have a few other 1986 cards, but this one is probably seen by most as the biggest. While the regular card is easy to find, there's the glossy Tiffany version that brings added rarity and value.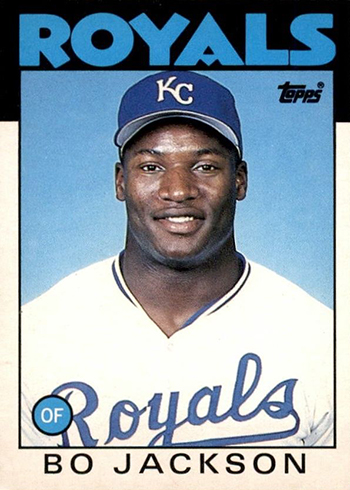 1987 Classic Game Bo Jackson #15
A handful of Bo Jackson cards combine the Heisman winner's multi-sport prowess. The 1987 Classic Game Bo Jackson might not be the most iconic but it's still on the right side of awesome. It's also the earliest in a (somewhat) mainstream set.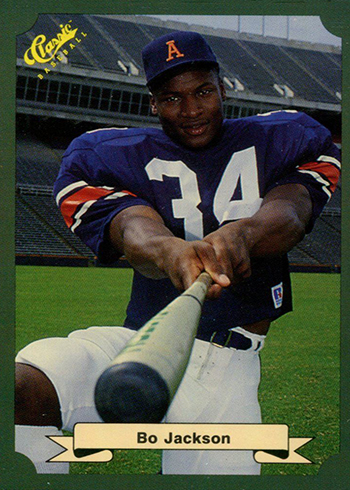 1987 Fleer Bo Jackson RC #369
Sure, it's a Bo Jackson Rookie Card. Beyond that, this is a card where everything just works. Starting with Bo, he's got that grin that is such a big part of his beloved persona. There's also the fact that the 1987 Fleer Baseball design was made for Bo. The borders go perfectly with the blues and white of the Royals uniform.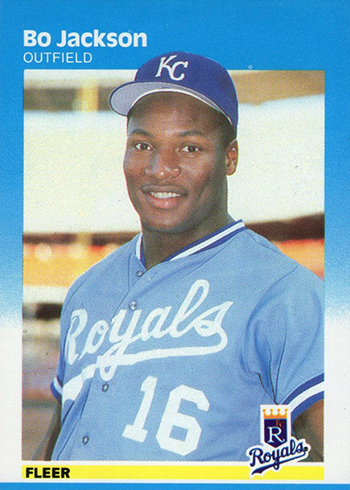 1987 Topps Bo Jackson RC #170
The woodgrain border, the rainbow Future Stars logo, the fact that there was an RC tag next to it when you were checking for an arrow in your 1990 price guide, the 1987 Topps Bo Jackson has plenty nostalgia tied to it. And that nostalgia has only grown as 1987 Topps has cemented itself as one of the most recognizable sets of a bygone hobby era.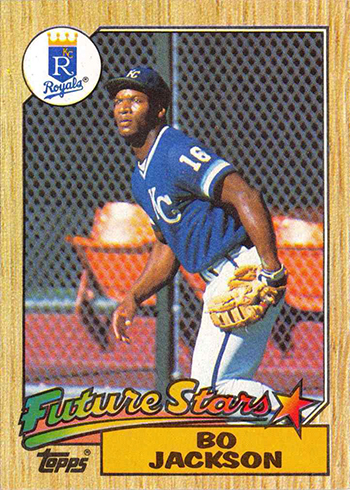 1988 Topps Football Bo Jackson RC #327
Not all of the cool Bo Jackson cards come from baseball. He has some impressive football cards from his playing days as well. 1988 Topps Football is the lone Bo Jackson Rookie Card for the sport. He has other 1988 cards, but they're part of regional sets and others outside of the mainstream.
Part of the Super Rookie subset, it evokes a softer side of Bo. The design has also garnered lots of goodwill over the years, which helps drives the card's popularity versus the number of cards that are out there.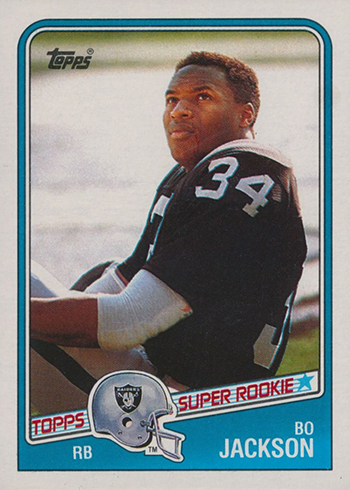 1989 Score Supplemental Bo Jackson #384S
If there's something that seems familiar about this shot, it should. But at the same time, it's a little bit off because it's not "that photo" from the Nike ads and another baseball card (not to mention the cover of the June, 1990 Beckett Baseball Card Monthly).
But it's still two-sport Bo.
From a collecting perspective, 1989 Score Supplemental Football is one of the era's rarer sets. Of course, that's relative, but it gives the card some decent value.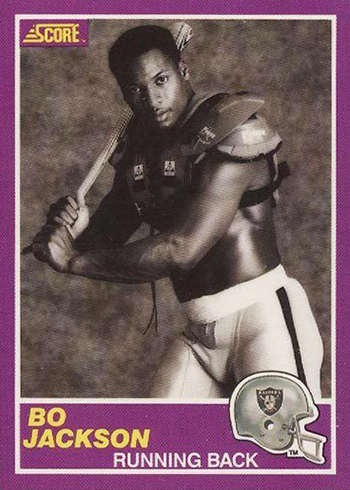 1990 Classic Update Nolan Ryan "Nolan Knows Bo" #T26
So, it's technically not a Bo Jackson card but it's too goofy not to include. And Jackson is on the card, at least in meta form. "Bo Knows" was a catchphrase back in the day. It was everywhere. And like any popular catchphrase, it gave way to plenty of imitators — like "Nolan Knows Bo." The caption isn't where the the awkwardness ends. Ryan's eyes look like they can't wait to wrap it up and get to work. Cementing the card's status are the bright and wild pink borders that struggle to match the other colors on the card.
If a direct-to-video Dolph Lundgren movie were a baseball card, this might be it — so bad it's hard not to look away and love.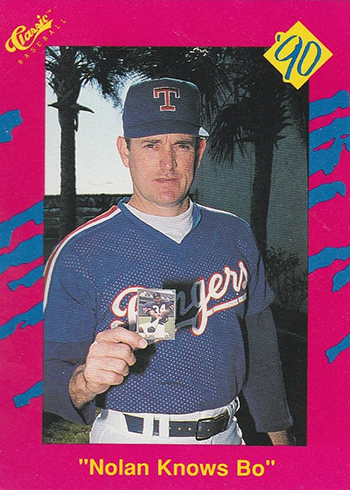 1990 Kenner Starting Lineup Football
Make like Madusa and don't look Bo in the eye on this card. But everything else about this shot is great. The framing is tight and the action is intense. Now imagine it with a more dynamic design in a mainstream set versus an action figure add-in.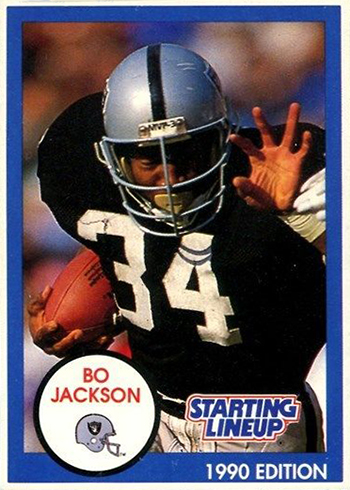 1990 Pro Set Football #155
"Delicate" is not the first word that comes to mind when it comes to describing Bo Jackson. But that's exactly how he appears on the perfectly framed 1990 Pro Set Football card. Jackson looks like a ballerina with the ball, making his way downfield. It's a juxtaposition of smashing, bat-busting, record-breaking Bo we usually saw.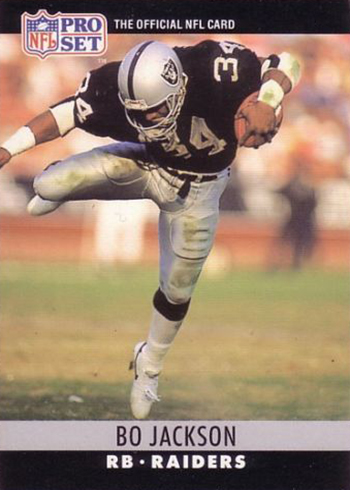 1990 Score Bo Jackson #697
And here it is. The most iconic Bo Jackson photo. Put it alongside the shot of Michael Jordan's free throw line dunk and it's one of the most recognizable sports images of the era. A shot like this needs no words on the front (outside of the Score logo). On the back, it's simply "BO." What more needs to be said?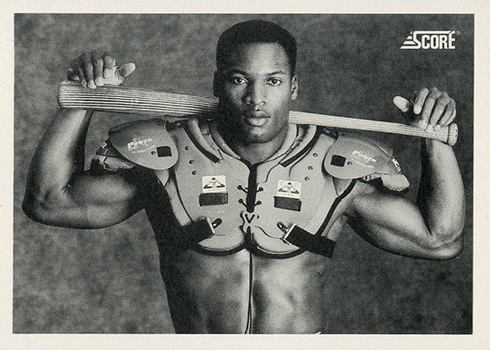 1990 Score Football Bo Jackson "Ground Force" #330
If you grew up collecting Bo Jackson cards, playing Super Mario Brothers on the NES and longing for a pair of Air Jordans, there's a good chance you had a Costacos Brothers poster or four on your wall. You might have even had the "Black and Blue" Bo Jackson poster. The 1990 Score Football Ground Force subset has a definite Costacos vibe with the lightning in the background. Just try and ignore the red and yellow gradient borders that clash and not in a good way.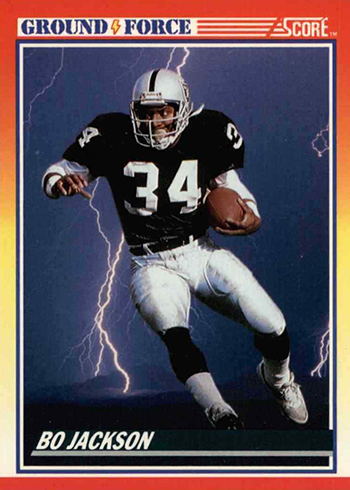 1991 Score Bo Jackson "Rifleman" #412
The athletic beast that he was, Bo Jackson was one of baseball's best outfielders. His fleet feet made shagging flies look easy. And when things were a reach even for him, Jackson became an acrobat. And that arm? Many times it was a dice roll for base runners looking to take another base.
Not many cards in 1991 Score Baseball are even going to be worth much. But that doesn't mean there aren't some fantastic cards within. Rifleman is one of several bold subsets that helped fill the massive checklist. And once you see it, it makes for an unforgettable Bo Jackson card.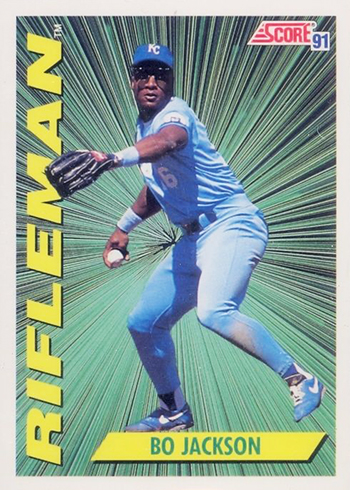 1991 Score Bo Jackson "Bo Breaker" #773
Something Bo really knew was how to break a bat.
But before YouTube came along, the combination of baseball cards and memory were some of the best ways to replay highlights. The loud design and way-too-big font make this another unforgettable Bo Jackson card.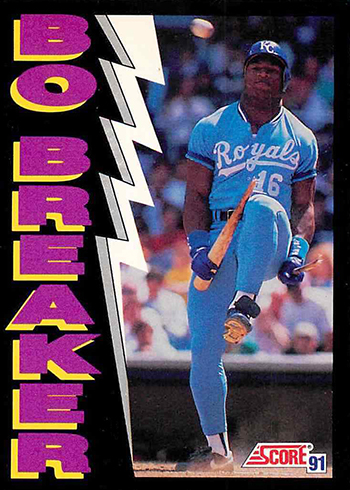 1991 Upper Deck Bo Jackson #744
Sports fans were used to seeing Bo Jackson wearing black. But that was because of the Raiders. When Jackson signed on with the Chicago White Sox, it was weird. This card from 1991 Upper Deck High Number helped many people wrap their heads around the fact that Bo was no longer a Royal. It was also a sign of hope that Jackson would take to his old form following his career-altering hip injury.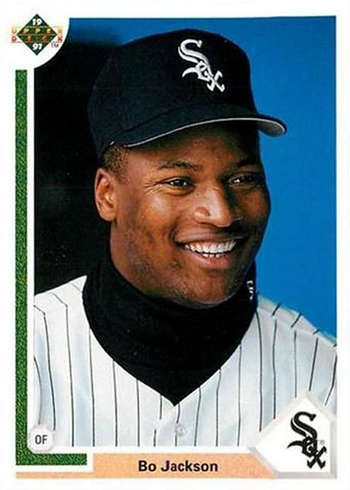 1995 Pinnacle Bo Jackson #208
Bo Jackson standing next to a Navy jet. In the words of the immortal Stan Lee, 'nuff said.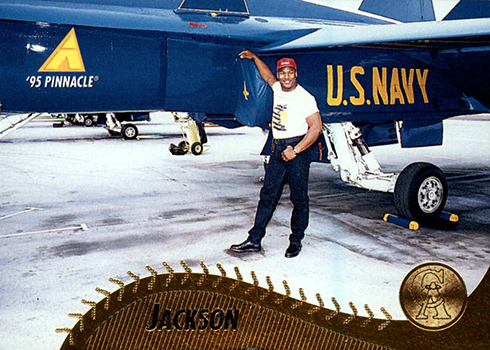 What's your favorite Bo Jackson card? Are there others you'd add to this list? Let us know in the comments below or on Twitter.
Comments? Questions? Contact Ryan Cracknell on Twitter @tradercracks or by email.