Bert Sugar's influence seen far away from just boxing … try baseball card collecting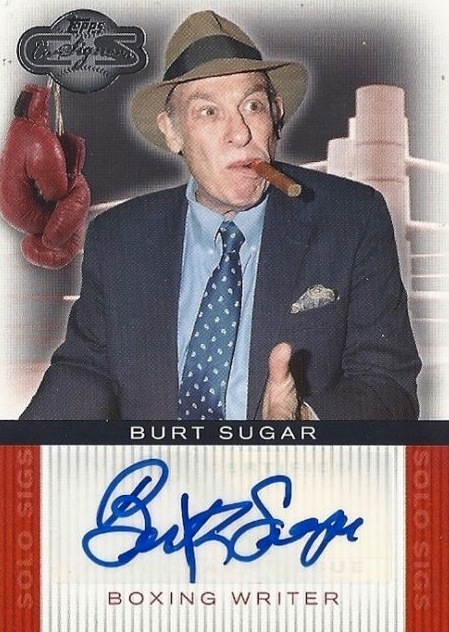 By Chris Olds | Beckett Baseball Editor
Boxing fans probably know Bert Sugar as an eccentrically dressed icon, a Hall of Fame writer, a historian, a character.
But the man who died at age 75 on Sunday was far from just that, particularly when it came to cardboard, though even he appeared on a few cards himself through the years. (His 2008 Topps Co-Signers Solo Sigs card, his only certified auto, is above, complete with his name misspelled — something I'm sure he loved.)
In fact, he's pretty important in helping shape part of what became the pop culture phenomenon of baseball card collecting beginning in the 1970s. But don't take my word for it … watch this touching piece from noted media personality and life-long collector Keith Olbermann from his show on Monday.
—
—
Chris Olds is the editor of Beckett Baseball magazine. Have a comment, question or idea? Send an email to him at colds@beckett.com. Follow him on Twitter by clicking here.