Behold … the greatest baseball card ever made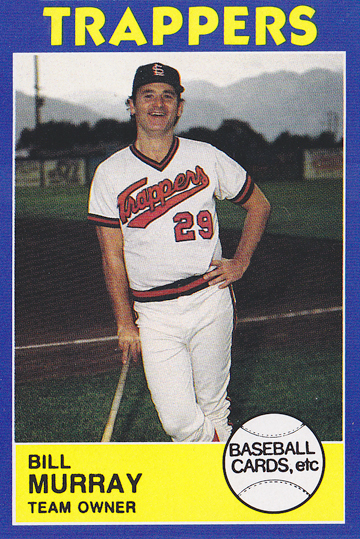 By Chris Olds | Beckett Baseball Editor | Commentary
If it seemed quiet around here this week, it's because I've been neck-deep in the trenches researching items for stories to be found in the upcoming Sports Movies Issue of Beckett Sports Card Monthly.
It's consisted of a lot of writing, a lot of emails, talking to Hollywood types on the phone about props for the movie Moneyball, watching Disney cartoons — you know, the usual kind of stuff. (Oh, and baseball cards, too — you'll see the results soon.)
But I found a little bit of me-time on Monday evening while doing some heavy database searching of Beckett.com when I discovered what is quite possibly the greatest baseball card ever made. In nearly 25 years of collecting, I had never seen the card before. I had no clue that it even existed until I randomly discovered it in a search for "Bill Murray" on Beckett.com while compiling some highlight-worthy cards of actors who also have appeared on collectibles.
I did a double-take when I saw its listing.
"Nah, can't be," I said to myself. "That's a pretty common name."
There were other Bill Murrays to be found — a trainer who did a tour of duty down on the farm has cards, too — but I did some research and found that this really was a card of, well, you know who.
It's a 1988 Salt Lake Trappers Team Issue card of Bill Murray — yes, that Bill Murray — if you can't tell from the ever-so-slightly Murray-esque photo. (It just needs a bit more … how do I say it, disheveled flair?)
"That's Carl Spackler … Peter Venkman," I thought, shaking off mental cobwebs of a long day before some I-must-have-it adrenaline kicked in.
But here on Beckett.com, on card No. 29 of the 1988 Trappers set, he's just Bill Murray, owner.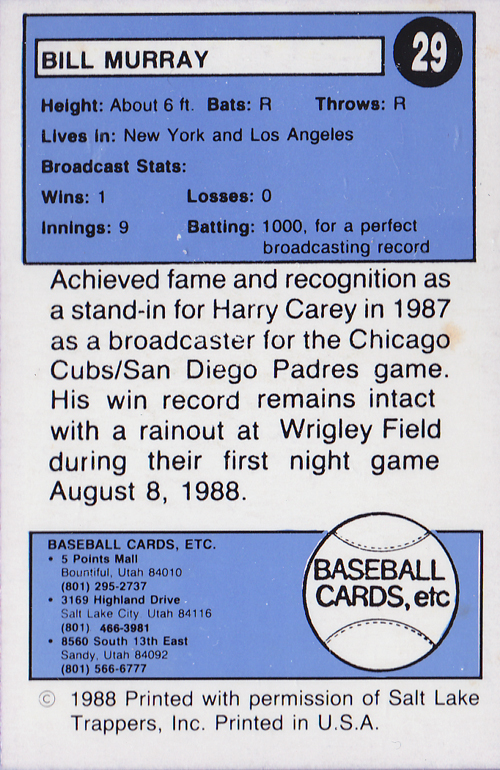 I vaguely remembered reading a story in the past — years ago — about Murray's ownership involvement with a minor league baseball team or two, but I had never thought about him appearing on cardboard. Heck, I admittedly hadn't thought much about Murray in some time other than a Zombieland cameo and a recent sleep-interrupted late-night viewing of the Ghostbusters DVD.
As it turns out, it's not even Murray's lone baseball card — just his first (I soooooo want to call it a Rookie Card …), at least according to what's cataloged. Murray also appears on a 1989 Trappers card, a 1996 Butte Copper Kings card (presuming Bill Murray the trainer didn't make the move into the owner's box), a 1998 Charleston River Dogs card and a 2004 Brockton Rox card, too.  There might be other cards, but these are the only ones listed in the always-evolving (and growing) site as of right now. And I say that knowing that Murray still has some involvement with the St. Paul Saints as co-owner and "team psychologist."
What's the card worth? Didn't matter — I had to own it. I looked in all the typical places and was shot down harder than if I had crossed the streams wearing an unlicensed nuclear accelerator on my back. I checked eBay's completed auctions and found that an entire team set had recently sold for a whopping $3.18 — and that includes a second card of Murray with his brother, Brian, since they actually were co-owners of the Utah-based team.
I felt as hopeless as a guy stuck in a gopher hole.
On a whim, I checked the Beckett Marketplace — a part of the site I haven't used much at all in the past as a buyer, rather just for windowshopping and, whattya know.
There it was.
Without hesitation, I dropped $5 on a single card that I knew could be rather disappointing when I saw it in-person as the quality control for some 1980s cards can be quite brutal. And I could only imagine the QC issues for an independent minor league franchise's team-issued cards. This gem arrived in my possession this evening packing The Magnificence of Murray and some of that added 1980s small-time charm via some rather noticeable edge chipping and a centering issue that's been alleviated here with a simple crop.
But, you know what? Despite the card's flaws, I couldn't be happier as it's a perfectly quirky card complete with an oddball bio befitting a guy without a baseball career and with some inside jokes that, frankly, I didn't get at first glance — probably because I'm not a Cubs fan and it's not 1988. It's also not a card without its errors, either, as the esteemed Harry Caray's name unfortunately is misspelled.
Some might see it as flawed but all that just adds to its whimsy, its charm, its place in a seemingly distant past of collecting that wasn't all about cashing in with a baseball card purchase … but rather creating something fun.
This one, my friends, is Bill Murray's first baseball card.
And it's just plain fun.
Chris Olds is the editor of Beckett Baseball magazine. Have a comment, question or idea? Send an email to him at colds@beckett.com. Follow him on Twitter by clicking here.
Oh, and for more fun …
[youtube]http://www.youtube.com/watch?v=bg8lSyGavc4[/youtube]