By Andrew Tolentino | Football Editor
Perhaps Panini's experience at football's premiere event  (ahem … the freaking Super Bowl) took their gridiron game to the next level — or maybe this is just the latest and greatest National Treasures release.
The company recently released a jaw-dropping gallery featuring the premium pieces and dramatic details from the highest-of-high-end brand. To describe the forthcoming March 21 release with any word other than "Schwing!" would be more inappropriate than the phrase itself.
Unfortunately, the most dramatic addition to 2011 National Treasures — apparently "the longest trading card in history" — will keep collectors in suspense until Panini  makes the big reveal. However, the manufacturer did confirm that this beastly booklet will be comprised of 36 cards featuring "autographed jumbo jersey pieces from every player who attended the 2011 NFL PLAYERS Rookie Premiere." When unfolded, it will span even longer than the height of two average-sized humans. For one lucky collector (assuming  this is a 1/1 hit), that means almost 12 feet of Rookie Card goodness.
Aside from this hype-worthy note, National Treasures comes complete with several more ultra-high-end inclusions.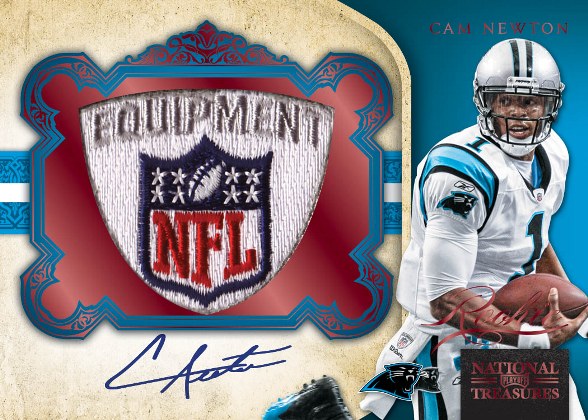 2011 National Treasures comes with just eight cards per box, but the potent hit formula and historical chase always makes for a good reason to splurge.  Each box contains three autographs, three memorabilia memorabilia cards and other pieces from the 336-card base set. Panini went deep with the checklist to include 150 current players, 50 Legends, 100 Rookie Signatures and 36 Rookie Signatures Materials cards.
Booklet cards from the likes of Jim Thorpe and  Knute Rockne, for instance, are supreme showstoppers in the upcoming release.
Other premium components include:
Pen Pals: On-card dual-, triple-, quad- and octo-signed Rookie Cards
Colossal Laundry Tag Signatures: Oversized, autographed laundry tags from game-worn veteran jerseys
Pro Bowl Letterman: Jumbo prime jersey pieces from player-worn Pro Bowl jerseys
1958 Goal Post: Memorabilia cards showcasing pieces of goal post used in the 1958 NFL Championship Game
Quad Signatures Booklets: Autograph pairings from the top players of today and yesterday, numbered to 10 or less
Souvenir Cuts
Ring of Honor Signatures

Emblems of the Hall