Behold 2011 Bowman Sterling Football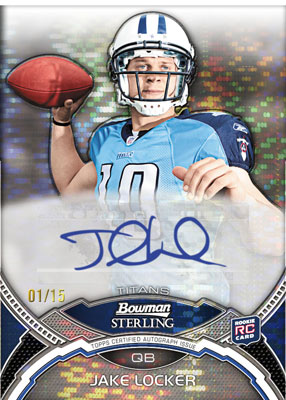 By Andrew Tolentino | Football Editor
With a staple (2011 Topps) and its brand new brand Inception now hitting shelves, Topps football products are in full swing. Today's announcement regarding the 2011 release of beloved Bowman Sterling adds even more steam to the season.
Set to release in mid December, 2011 Bowman Sterling Football features a five-card pack with two Rookie Cards, one autograph and two Relics. Six-pack boxes translate into 12 Rookie Cards, four autographs, two autograph Relics, 12 Relics and one dual Relic box topper. Case chasers can expect to find one dual autograph Relic in the eight-box load.
No stranger to shimmering cardboard, the set's signature nuance comes in the form of  Pulsar Refractors.  Showcasing NFL stars on a refractive background of pulsating pixels, these cards are like snapshots from some futuristic nightlub — which isn't necessarily a bad thing (take a closer look after the jump).
Stay tuned to Beckett.com for more information detailing other inclusions in 2011 Bowman Sterling football.