Behind the scenes at the Perfect Game All-American Classic autograph session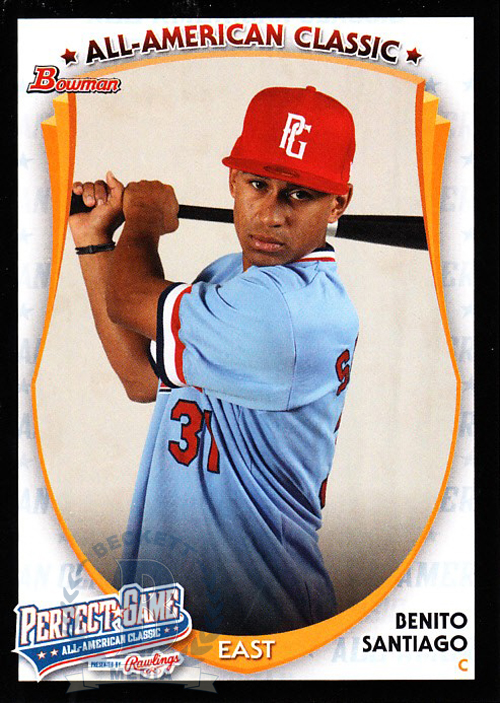 By Theo Chen
SAN DIEGO | For the seventh time in the last eight years, San Diego hosted dozens of the top high school baseball players in the country this past weekend for the Perfect Game All-American Classic where top prospects around the country compete and do one thing to the delight of baseball card collectors.
They sign their first Topps baseball cards for possible inclusion in packs in the future.
In recent years, the East and West team rosters have expanded, and this year was no exception. This year's game featured 25 East players and 26 West players for a total of 51 — the most ever. For collectors, that means more Bowman cards to chase, and for Topps, a bit more work coordinating the annual Thursday photo shoot and Saturday autograph session.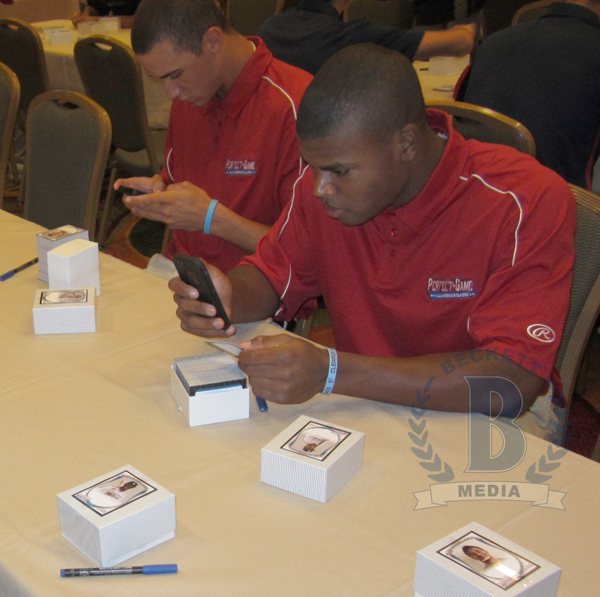 Last year's roster featured two very familiar last names — Biggio (Cavan) and Clemens (Kacey), the sons of Craig and Roger. This year's roster included a familiar name, at least to local fans: Benito Santiago — the son of the former San Diego Padres All-Star catcher who decided to follow his dad's path behind the plate. (He's also not to be confused with Benito Santiago Jr., his older brother who earlier this year completed a college basketball career at the University of the Cumberlands.)
As usual, a couple players arrived in town late for various reasons, one being the Area Code Games played the same week about 90 minutes north in Long Beach. Keven Pimentel, a pitcher from New York, missed the festivities entirely. Those players still had cards made, but with old mugshots instead of brand new shots from the photo shoot. (Pimentel will likely sign later.)
This year's set will be the first with black-bordered cards. As was done last year, Topps printed a separate run of cards for the autograph session — but this time there was a lightened area near the bottom so the signatures stand out. In prior years, there was some confusion because the autograph session cards and giveaway cards were identical, though in the case of the 2011 set, all cards had TOPPS CERTIFIED AUTOGRAPH ISSUE in small print on the fronts.
This year, each player signed 250 cards with blue Staedler markers and 10 cards with red Staedlers. As always, Topps will store each player's cards until he signs a pro contract, at which time his cards can be randomly inserted into packs. If the player never signs with an MLB team, the cards will never see the light of day. For example, 2011 Perfect Game participant Jameis Winston was drafted by the Texas Rangers but decided to attend Florida State, where he's playing both baseball and football. If he's anywhere near as successful as, say, Deion Sanders in either sport, those cards will be in high demand — but they currently can't go anywhere.
The players also signed 10 uncut sheets, each of which featured 102 cards (one complete set of both versions). These uncut sheets will be used for promotional purposes later. For their time and possible writer's cramp, each player received 250 of his own cards for personal use.
Fans who attended Sunday's game at Petco Park received two randomly selected cards. In addition, a limited number of complete 51-card sets were available with a price of 30 game tickets at $5 each. (That's significantly more than what the 2010 or 2011 complete sets currently bring on the secondary market.)
This year's NL All-Star team was loaded with alumni from this game including Bryce Harper (2009), Matt Harvey (2006), Freddie Freeman (2006), Jose Fernandez (2010) and Madison Bumgarner (2006). No one would be surprised if Justin Turner or Zack Wheeler (both from 2008) were selected in the very near future. Archie Bradley (2010) has perhaps the best stuff of any minor league prospect and could debut with the Diamondbacks before this season is over.
—