Before the Endgame: 4 Notable Avengers Sketch Card Sales – Beckett Pricing Insider
It won't be long now.
The world is just a few weeks away from witnessing the final act of Earth's Mightiest Heroes, The Avengers — at least in its current cinematic form. Several teasers and trailers have been released, tickets are selling out across the globe (some even commanding high prices on eBay), and the stars are making one final press tour.
There are also plenty of trading cards to be had on the secondary market. Nearly all of the MCU films have had a trading card product and activity has increased significantly since the beginning the year.
While autographs of all the major stars such as Chris Hemsworth and Tom Holland usually harbor collectors' attention, sketch cards cannot be overlooked. Whether the depictions come from the comics, they are always in demand. Below are key sales from the original MCU Avengers.
Iron Man: 2017 Upper Deck Marvel Premier Quad Panel Sketches by Fred Ian – $750
Fred Ian is one of the top sketch artists out there today. Here, he depicts Tony Stark in his classic red and gold Iron Man armor using the expanded layout of a four-panel card. Ian sketch cards usually command high prices on the secondary market.

Captain America: 2018 Upper Deck Marvel Masterpieces Sketches by Brian Clegg – $275
Here we see Steve Rogers in the classic Captain America uniform getting ready to take on the bad guys. Clegg has only done sketches for 2018 Marvel Masterpieces so there aren't many from which to choose. There have only been three confirmed sales but they have all sold for $100 or more.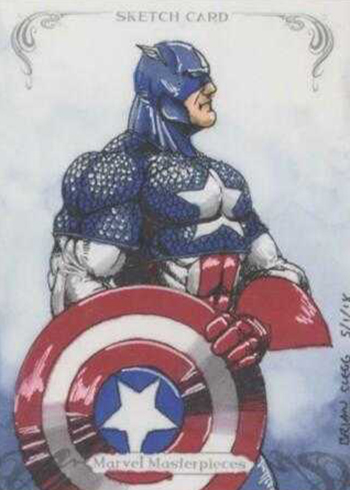 Thor: 2014 Upper Deck Marvel Premier Sketches by Tony Perna – $160
The owner of Perna Studios breathes life into the God of Thunder in this piece. Wielding his trusty Mjolnir, Thor is ready to clobber some bad guys. Overall, Perna sketches have been selling well for years. There have been 25 sales in the past couples months.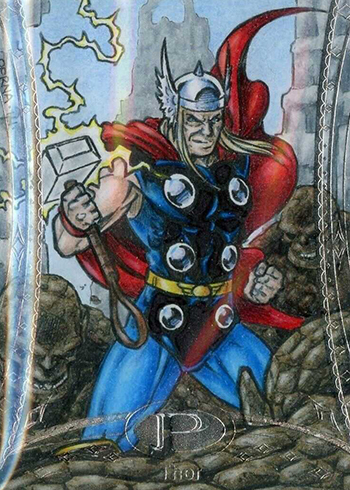 Hulk: 2018 Upper Deck Marvel Masterpieces Sketches by Anthony Tan – $200
Anthony Tan has been a mainstay in the sketch art community over the past ten years. Like Perna, his sales are always consistent and plentiful. Here, he depicts the Hulk in full rage mode as he smashes his way through the bad guys. Tan has had 25 sales recorded online recently.