Beckett TBT: Dinosaurs Attack!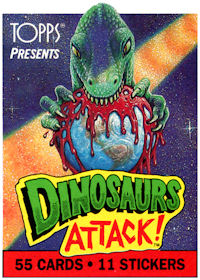 By Matt Bible | Beckett Non-Sports and Gaming Analyst | Commentary
It is considered to be one of the most controversial non-sports sets of all-time.
In 1988, Topps decided to capitalize on Mars Attacks' wave of popularity and produced a prehistoric homage of sorts called Dinosaurs Attack! The basic premise of the series is a scientific experiment gone horrifically wrong and a time portal transports dinosaurs to the modern day world. Hilarity and gore ensue, of course, and we get a slew of scenes that depict every day life, just with giant dinosaurs eating everything and everyone.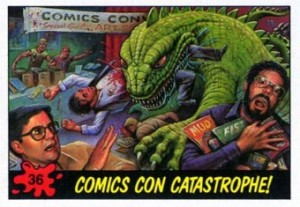 From weddings and comic conventions being invaded by huge lizards to a Major League Baseball stadium being overrun by a T-Rex (let's face it, if this happened to the New York Mets, could things be any worse for them than they are now?), the scenes are extremely graphic — and very nicely done. In fact, one of the best characteristics of this set is the artwork. Extremely detailed and colorful, the artists  involved did a great job at projecting the mantra of classic 50's horror movies.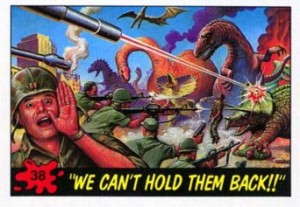 However, sometimes artistic value just can't overcome controversy. As noted before, the scenes are really graphic. The artists didn't hold back on the blood and guts. It seems that no one is safe in the Dinosaurs Attack universe. Some scenes are actually so campy that you can't help but laugh out loud. Then again, there are some scenes that could give children nightmares, the most disturbing of which includes a Parasaurolophus eating a baby right out of the stroller. It's easy to see why a parent might have been disturbed or offended at the imagery back in 1988.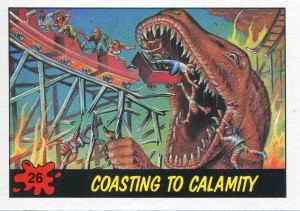 But, to this day, the cult popularity of this product has stood the test of time. And they are very affordable on the secondary market. They can typically be picked up for around $2 – $5/box on eBay. With 36 packs per box and five cards and one sticker per pack, you could walk away with two base sets and two sticker sets. Not bad at all.
With Jurassic World set for a June 12 release and Upper Deck producing a dinosaur set, perhaps this is the perfect time to bring Dinosaurs Attack back to the mainstream. Dinosaurs are hot again and it could be a winner.
Matt Bible is the non-sports and gaming analyst for Beckett Media. Have a comment, question or idea? Send an email to him at mbible@beckett.com.