Beckett Preview: 2016 Gaming Almanac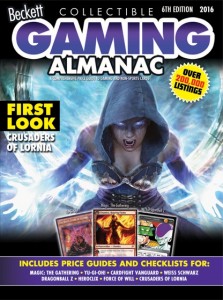 By Matt Bible | Beckett Non-Sports and Gaming Analyst
For the past five years, Beckett Media has produced its annual Gaming Almanac, which provides detailed checklists and pricing of collectible card games and non-sports cards for collectors and dealers alike.
This year, Beckett has produced gaming and non-sports almanacs as their own standalone releases. The non-sports almanac was printed and released in August.
Now, the 2016 Beckett Gaming Almanac is set for release and it could be our best effort to date.
Like the non-sports almanac, the new gaming almanac will follow a bit of a different format. It consists of 360 pages from cover-to-cover and will feature 7 separate sections. They are as follows:
Magic The Gathering
Pokemon
Yu-Gi-Oh
Bushiroad (Cardfight Vanguard, Future Card Buddyfight, and Weiss Schwarz)
Dragon Ball Z
Gaming (all miscellaneous gaming franchises and products)
Figurines (Heroclix and the like)
All of the sections will have their own unique sort order and will include extensive information on booster boxes, booster packs, release dates, updated headers, and updated multipliers.
There will also be a sneak peek at the new product being released by Eternal Relic Games, 2015 Crusaders of Lornia.
Let us know your thoughts about the gaming almanac. Leave a comment below and you could receive some Dragon Ball Z stuff. Two people will be selected to win a box of 2015 Dragon Ball Z Heroes and Villains and one person will be selected to receive two boxes plus a Heroes and Villains playmat.
The 2016 Beckett Gaming Almanac will be released on October 16. Winners of the Dragon Ball Z products will be chosen on the same date. Good luck!
Matt Bible is the non-sports and gaming analyst for Beckett Media. Have a comment, question or idea? Send an email to him at mbible@beckett.com.