Beckett OPG By the Numbers: 2011-12 Fleer Retro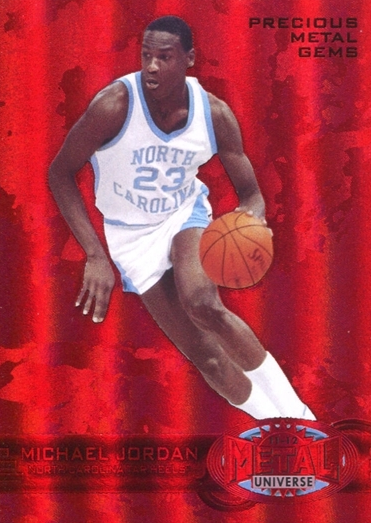 By Chris Olds | Beckett Basketball Editor
The auctions have ended, the numbers have been crunched. The ranges have been tabulated and the OPG has been posted.
The 2011-12 Fleer Retro basketball card set from Upper Deck has arrived on Beckett.com with the favorites, autographs and memories in tow. Let's take a look inside the numbers crunched by Beckett Basketball Senior Market Analyst Rob Springs — and see even more — after the jump.
[youtube]http://www.youtube.com/watch?v=_PjsV7xOIco[/youtube]
Did you miss the recent Box Busters episode? Catch it right here.
—
Total value: $55,158
Average price: $73.54
Highest card: Precious Metal Gems Blue #1 Michael Jordan $6,000-$10,000 … even higher for a uniform-number match.
Other notable cards:
— Precious Metal Gems Red #1 Michael Jordan $1,800-$3,000
— Precious Metal Gems Blue #4 LeBron James $2,000-$3,000
— Jambalaya #1 Michael Jordan $1,000-$1,600
Springs Says: Fleer Retro was one of the most anticipated releases in basketball in a while and it doesn't disappoint.  Yes, the box and pack prices are high — but so are the reported sales and book values on the product.  It's funny, I can't remember the last product where the autographs were just the "additional hits" while the insert package stole the show across the board.  Some other notable twists – Upper Deck did five background variations for each player in the 1961-62 insert set and it looks like there are some silver and gold autograph variants in the base autograph set.  We are still working on getting information from Upper Deck on that one and will add it to the database as soon as possible.
Olds' Opinion: We all knew that the Precious Metal Gems would generate plenty of attention … but this? It's a bit crazy. The prices being paid for relatively attainable inserts — non-auto/mem — are crazy but because it's a product with a high-end price tag, that will help bolster those numbers. The nostalgia from the recent past — the 1980s and the 1990s — has been slowly tapped into by the major card companies of late but a product like this just might open the floodgates for more like it to come. How many other slam dunks can there be? We'll only know when they try …
Chris Olds is the editor of Beckett Basketball magazine. Have a comment, question or idea? Send an email to him at colds@beckett.com. Follow him on Twitter by clicking here.