The list is powerful. Iron Man, Thor, Captain America, Hulk, Wolverine, and Spider-Man.
All of these Marvel heroes at one time have belonged to the superhero fraternity known as The Avengers. However, there are many other heroes in this club who sometimes get overlooked. One of those heroes is Vision.
So, why is Vision significant to the Marvel Universe? For starters he is a key character in the Age of Ultron story line. Last week, Marvel finally revealed the first image of Vision for the upcoming Avengers sequel (above). And, if you're not an avid comic book reader or fan boy, you probably had no idea this character even existed. Well, here is the low down on Vision, including some key collectibles and cards that collectors might want to keep an eye on…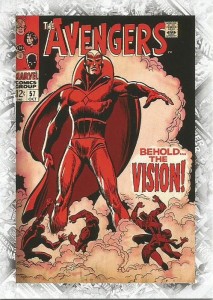 In the Marvel Universe, Vision's first appearance occurs in Avengers #57. A creation of Ultron, he was originally supposed to be an enhanced being that would help Ultron destroy the Avengers, more specifically, Ultron's own creator Hank Pym aka Ant-Man. However, Vision was convinced by The Avengers to become a double agent and turn on Ultron. Now, it's difficult to say how Vision will fit into Marvel's cinematic, but more than likely his role will fit into a similar situation.
However, before the film's release, there are a few Vision items in which collectors may want to indulge themselves. The primary target on that list would be the Funko Pop Vinyl releases of Vision.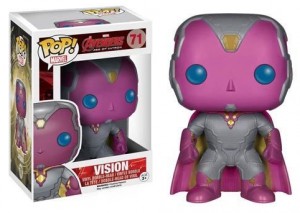 Funko has produced two versions of the Vision Pop Vinyl figurine. The first is a common pop that can be acquired anywhere that is carrying the Age of Ultron pieces. However, the faded Vision Pop Vinyl can only be purchased at Target as an exclusive. It differs from the common in that the bottom half of the figurine is translucent, which is meant to demonstrate the character's ability to phase through matter.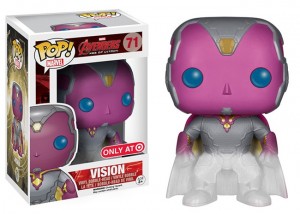 Sketch cards are also a hot commodity when it comes to Marvel characters and Vision is no different in that regard. If you aren't lucky enough to pull one from a pack, there are plenty on the secondary market. Many of the sketches themselves reflect key story lines and relationships that the character shares with other Marvel characters. From his romantic relationship with The Scarlet Witch and mentor/protege connection with Ultron to his affiliation with Thor and other Avengers, there is a wide variety from which to choose. Sketch artists such as Frank Kadar, Charles Hall, and Buddy Prince have really captured the essence of Vision in the past and continue to do so with future releases. With Age of Ultron just weeks away, Vision comic books, cards, and collectibles will most likely see a significant spike in activity on the secondary market.