Beckett Media announces Spring 2016 Sportcard & Memorabilia Expo plans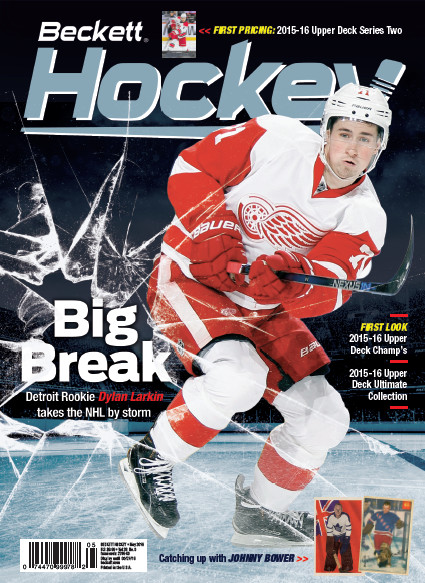 By Stephen Laroche | Beckett Hockey Editor
With the Spring 2016 Sportcard & Memorabilia Expo just a week away, Beckett Media is proud to announce some of the special deals it will have for collectors attending the show. Held at the International Centre in Mississauga, Ontario from April 8 to 10, thousands of hobbyists will be coming through the door and to finish sets, meet trading card company representatives, and more.
Beckett Media's booth will be in the corporate area near Grosnor Distribution and in addition to the May issue of Beckett Hockey that is fresh off the press, there will be a large selection of books and magazines in addition to the opportunity to have your cards examined for Raw Card Review from Beckett Grading Services.
The lineup for magazines at the Beckett booth will include the May issues of Beckett Baseball and Beckett Football in addition to April issues of Beckett Basketball and Beckett Sports Card Monthly. They are available for $13 CDN ($10 USD). Please note that quantities of Beckett Hockey's May issue with Dylan Larkin on the cover will be in very limited supply and is expected to sell out quickly. The Expo is the only place you will be able to get this issue until it is released a week to 10 days later in stores.
We will also have Beckett Media's latest acquisition, Non-Sport Update, at the booth and collectors can pick up the new April/May issue at the Expo. Additional Beckett Media titles available at the Expo include Beckett Card Gamer, COINage, Rock & Gem (including the Gold Panning issue), and Unsolved Mysteries II for $7 CDN ($5 USD) each.
Our lineup of books for this show will be strong – especially with titles that are newly-printed since the last Expo like the Baseball Price Guide, Graded Card Price Guide, and Gaming Almanac. Other available books include the Baseball Almanac, Football Price Guide, Basketball Price Guide, Hockey Price Guide, Vintage Almanac, Racing Price Guide, and Non-Sport Price Guide. All books will be on sale for $10 off the Canadian cover price.
Collectors that wish to participate in Raw Card Review can come to the booth for some show specials. For those wishing to submit one to five cards, the rate is $13 CDN ($10 USD) each. Larger quantities will get price breaks as six to 50 cards are $11 CDN ($8 USD) each while a submission of 51 to 99 cards drops the rate to $10 CDN ($7 USD) per card. For orders of 100 cards or more, the discount moves down to $9 CDN ($6 USD) each. Please note that autograph fees remain at $2 per customer, per card, regardless of currency.
It should also be noted that on the final day of the show, collectors and dealers dropping off cards for Raw Card Review should arrive at the Beckett booth early since a cut-off time will be in effect.
Finally, customers wishing to pay via credit card should note that their cards will be charged at the U.S. price levels.
Stephen Laroche is the editor of Beckett Hockey, Beckett Basketball, and Beckett Sports Card Monthly magazines. Have a comment, question or idea? Send an e-mail to him at slaroche@beckett.com or follow him on Twitter @Stephen_Laroche.