Beckett Media and Maple Leafs from the past and present close out the Fall 2016 Sportcard & Memorabilia Expo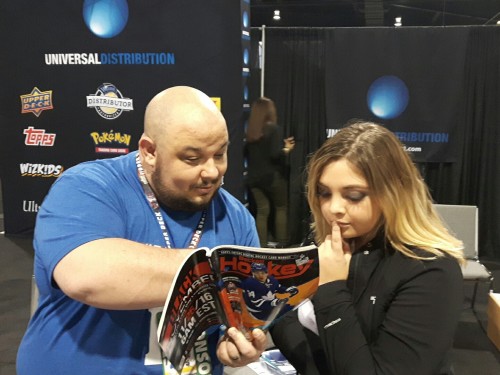 The Fall 2016 Sportcard & Memorabilia Expo draws to its conclusion today and fans in Toronto are excited for the chance to interact with Maple Leafs from the past and present along with other sporting legends.
Held at the International Centre, the event boasts hundreds of dealer tables, opportunities to meet with representative from trading card manufacturers, pick up plenty of reading in the form of our books and magazines, and get your cards examined by Beckett Grading Services.

Autograph Guests
The last day of the Fall 2016 Sportcard & Memorabilia Expo has a promising lineup of autograph guests which draw from a variety of sports – and even an iconic hockey movie which produced some very memorable quotes.
A.J. Sports World will bring in a trio of Hall of Fame goaltenders in Ed Belfour, Tony Esposito, and Johnny Bower. The goalies keep coming with Mike Palmateer and Warren Skorodenski, who is remembered by Chicago Blackhawks fans for his skull-themed mask. Actor Yvon Barrette, best known to many for his role as goalie Denis Lemieux in Slap Shot is coming in to sign and if you ask nicely, he may even repeat a famous line or two from the film – or at least inscribe it on a piece of memorabilia!
Two current stars for the Toronto Raptors are coming to the Expo as well with sophomore Norman Powell and rookie Jakob Poeltl getting ready to meet the crowd. Additionally, Mitch Williams, who shared in one of the most incredible moments in local baseball history by surrendering the World Series-winning home run to Joe Carter in 1993, appears.
"The Golden Jet", Bobby Hull, returns for another day to sign and former NHL coach Mike Keenan makes a rare autograph appearance. Fans will also have a chance to ask "Iron Mike" some questions at a Q&A session that is hosted by author and sportscaster Ken Reid.
Reid, who is a longtime hockey card collector, will be in the autograph pavilion as well and signing copies of his latest book, One Night Only. The book takes a long look at players that appeared in a single NHL game and delivers some great stories.
Four members of the Toronto Maple Leafs will be making their way back from a tough 4-1 loss in Pittsburgh to come and sign for their dedicated fans. Frameworth Sports Marketing will bring in both James Van Riemsdyk and Morgan Rielly, which Frozen Pond delivers goalie Frederik Andersen. Finally, CoJo Sport Collectables rounds out the quartet with veteran Matt Martin.
Unfortunately, Ric Flair's appearance at the Expo has been postponed until a later date, but you can still read all about the "Nature Boy" in the December 2016 issue of Beckett Sports Card Monthly.
Redemption Programs
Upper Deck has a few fun activities planned for the last day of the Fall 2016 Sportcard & Memorabilia Expo, including the conclusion of its wrapper redemption and case breaking promotions. Leaf Trading Cards is also there with redemption packs being given for breaking boxes of 2016-17 Leaf Ultimate. There is also an opportunity to chat with reps from President's Choice Trading Cards about new products that are coming out soon.

Beckett Booths
It would be a good idea to head to Beckett Grading Services in the Grosnor Distribution Break Zone as soon as the doors open as the team will be working hard before having to head back to Dallas. Raw Card Review is available, but also ask about how you can submit your cards to be slabbed.
Over in the Universal Distribution booth, there is a large assortment of the latest magazines and books to add to your collection. Supplies on some of them are quite limited.