Beckett Grading Launches New Single Grade Service
When you click on links to various merchants on this site, like eBay, and make a purchase, this can result in this site earning a commission.
Beckett Grading Services recognizes that different collectors have different reasons for wanting to get their sports cards and trading cards graded. As such, BGS has launched a new single grade service that doesn't have final sub-grades. The new BGS single grade service doesn't replace the standard sub-grades. Rather, it's an alternative grading option that's a little bit cheaper.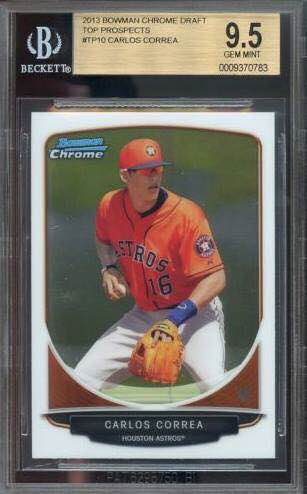 Here's a letter from Jeromy Murray, Director of Beckett Grading Services, to explain the new BGS single-grade service:
Dear Beckett Grading Customer and Collectors,
Beckett Grading has always valued the product and services that we provide to our customers and the collecting world.  The appearance/security of our cases, our unique inner sleeve, our guaranteed turnaround times, and our sub grades are just a few of the things that keep us the top grading service in the industry. We are proud of these unique characteristics and the company that we have built using those as our foundation.
The market and its demand change though. In my 16 years with the company, I have seen booming years, tough hobby years, and years like 2016 which are unique, in a good way! The industry is in a good place right now and with that boom, comes more demand for card grading. After much discussion internally and with hobby collectors, dealers, and customers, Beckett Grading has decided to add a new service that we think we help the demand of graded Beckett cards.
Starting on July 11, 2016, Beckett Grading will be offering a single grade service for a BGS card — that means no sub grades. Before you revolt, yell at us, or refuse to use Beckett Grading anymore please read on. We are not getting rid of the sub grades! The sub grades are one of our foundations so if you love the sub grades, feel they are a necessity, or don't want to change the look of your BGS card collection, then you will still be able to receive that service. The new service simply gives the customer an option to possibly save a little money on their grading fees while just get a single, overall grade for the cards they submit.
With the new single grade option, the cards will still be graded with the same high standards Beckett has always provided as the same graders will still look at each card you submit. You will still receive the most secure case in the industry, the same inner sleeve, the same foil label, and the same guaranteed turnaround times.  The cards will still be in our pop reports and you can still look up the unique serial numbers at www.beckett.com/grading.  The only change is that there would not be sub grades on the label.
Bottom line, this is simply a new service Beckett Grading is going to offer. Our plan with this move is to give each collector and submitter a product that meets their grading needs. The demand for this type service has been a long time in the making and with the current hobby conditions, now is the time to introduce it to the collecting world. To find out more about this service, or find out how you can submit your cards to Beckett (either with sub grades or without), please contact the sales team in your area.  I truly hope you enjoy the new product/services we are rolling out and if it is not for you, then I hope you continue to enjoy and trust the same service we have always provided. Thank you for taking time to read this and we look forward to helping you with your grading needs soon!
Sincerely,
Jeromy Murray
Director, Beckett Grading Services