Beckett Grading Heads to China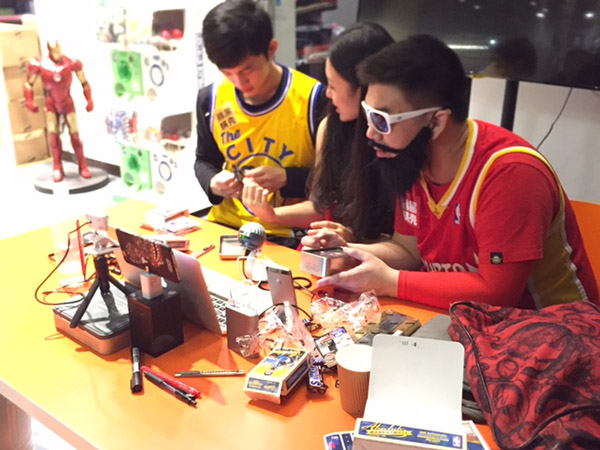 It can be easy to forgot that card collecting is global. It might look different in some countries and continents, but it happens. Three members from the Beckett Grading team witnessed this firsthand with a recent trip to China. There, the BGS team was able to see what's happening in the industry there and some of the ways it hopes to grow in the years ahead.
"When I started here, 16 years ago, there is no way that I could have imagined us traveling out of our comfort zone to China to grade cards and take submissions onsite, but we did it," said Jeromy Murray, Director of Beckett Grading and Authentication. "In fact, if you would have asked me last year, I might not have seen us walking around China on behalf of Beckett Grading.But it happened."

As part of the trip, the Beckett team was invited to a two-day event hosted by 23ing Collectibles in Shanghai celebrating their first year in business.
Visits to local shops were also a major focus of their six-day trip.
One thing that stuck out to Murray was the passion the people working in these shops had. "The staff loved their jobs and the industry they worked in. This is crucial for any shop and we were thrilled to see it existed in this new marketplace," he said.
Another characteristic of one the shops they saw was the constant activity happening in them.
"From gaming tournaments, to people opening box after box of wax product, to famous models and photographers taking pictures or signing autographs, the shop always had people in it or waiting to get in as we encountered each morning," noted Murray.
They didn't have to look far to see how the hobby will expand in China in the years to come. Murray said he spoke with a local card manufacturer with plans to produce cards for the Chinese basketball leagues. He also met with shop owners who hope to expand to more than 50 stores.
The Chinese card market is as varied as the North American market. That said, basketball and soccer are the dominant sports there.
"With this initial trip, Beckett opened up the possibility to expand its name and our grading services into a market that is excited about sports cards," said Murray. "We are excited about this market and the partnerships and friendships that were formed on our first trip to China"