Beckett Football Turns 25!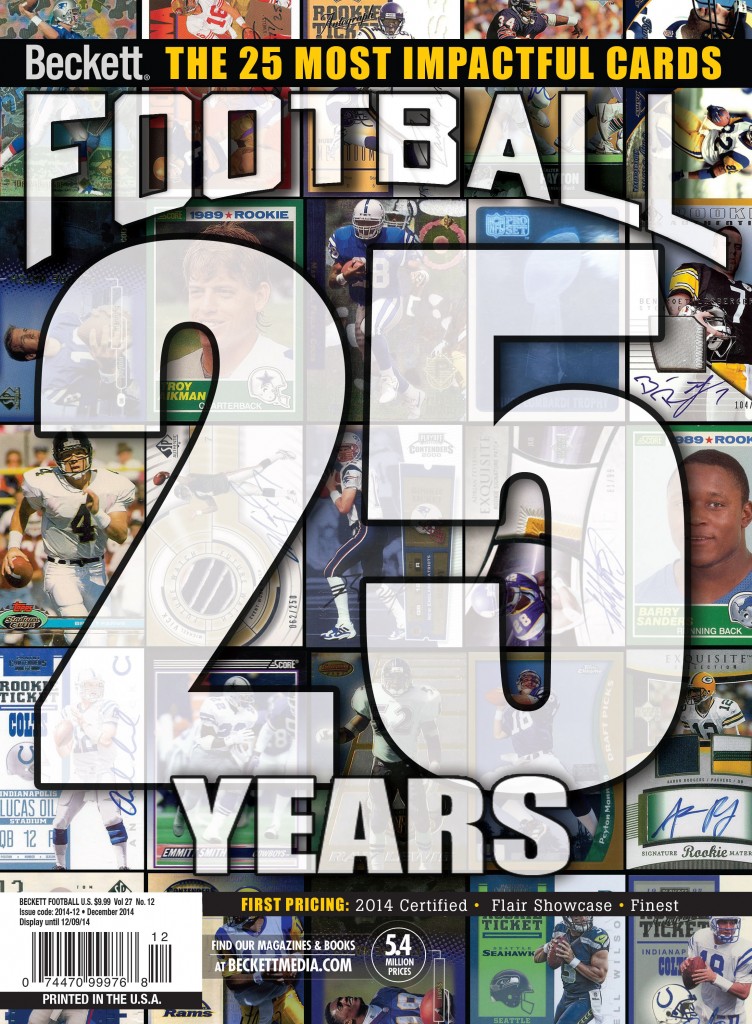 The first issue of Beckett Football Card Magazine was published 25 years ago this month. That iconic picture of Bo Jackson staring you down on the cover is one of the most recognized images in the industry.
A quarter of a century is very long run in the publishing business (287 issues). The magazine has carried the name of Beckett Football for 10 years, and it has presided over nearly every major change, innovation, controversy and flop in the football card hobby. So much changed 25 years ago in 1989. Score and Pro Set burst on the scene after decades of dominance by Topps. It was becoming clear that rookies would fuel the hobby, and they have ever since. The 1990s saw rapid growth, and tons of new brands and ideas. Some had staying power and others, well, not so much. It's interesting to look through those early issues and see price changes moving up or down by 20 cents or a dollar.
There have been so many incredible cards since 1989. To celebrate 25 years of Beckett Football, and 25 years of countless hobby innovations, the December issue (on sale now) presents the 25 most impactful football cards since 1989. It was not an easy list to come up with. Most of the cards are no-brainers, but many key cards had to be left off. It's a fascinating trip through two and a half decades of hobby evolution. This also inspired this month's cover pictured above.
We hope you enjoy this milestone issue. This is a fantastic hobby we enjoy, and Beckett Football is honored to have served it for 25 years, and many more to come. Of course we want to hear what cards have made the biggest impact on you as a collector over the last quarter-century. What has been your favorite innovation? Comment below, shoot me an email or a message on Twitter.
David Lee | Editor
Beckett Football
footballeditor@beckett.com
Twitter: @FreeEnergyDude