Beckett Exclusive: Panini Unveils Immaculate Sneak Peek Cards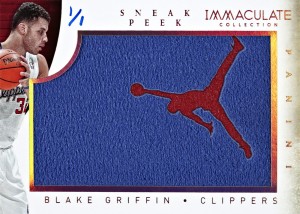 By Stephen Laroche | Beckett Basketball Editor
The release of 2013-14 Panini Immaculate is just around the corner and Panini America has given Beckett Basketball an exclusive preview of some of its all-new Sneak Peek cards that are certainly going to capture the attention of collectors once the product hits store shelves this Friday.
With an oversized piece of game-worn sneakers from many of the greatest names from the past and present, this collection of 1/1 cards is perhaps the largest of its kind in the history of the trading card hobby. The roster includes such stars and legends as Kobe Bryant, Scottie Pippen, Shaquille O'Neal and Kyrie Irving.
Take a look at the Beckett-exclusive images after the jump.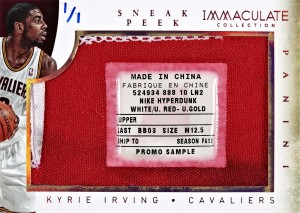 "The sheer amount of different swatch colors, materials and patterns is truly a unique and exciting development for the entire trading card category. We believe these cards will not only be sought after by basketball collectors but by sneaker heads as well," said Panini's Senior Director of Product Development, Jim Stefano.
With only a couple of NBA products left on their 2013-14 release schedule, Panini America has managed to take some well-established concepts to new levels. Putting together a set of this magnitude with roughly 150 jumbo memorabilia cards can be a laborious and intense challenge for card company employees, but Stefano is very impressed with the end result.
"This was truly a great experience to develop and execute with the various departments within Panini America," he said. "It was a true team effort that has resulted in one of the most singularly spectacular sets of trading cards ever created. We believe collectors will feel the same way and will love Sneak Peek. We already have plans to expand the concept moving forward."
For even more images from this revolutionary new memorabilia set, please visit Panini and also Kicks On Fire.
Stephen Laroche is the editor of Beckett Hockey and Beckett Basketball magazines. Have a comment, question or idea? Send an e-mail to him at SLaroche@beckett.com. Follow him on Twitter @Stephen_Laroche.