Beckett Covers cards return at National Sports Collectors Convention with autographed twist
One part of the big-show experience is the cool stuff made only for the event — cards or memorabilia that can only be collected there. At this year's National Sports Collectors Convention in Chicago, Beckett Media will once again release a Beckett Covers set that can be collected simply by visiting the booths of dealers and group-breakers on the show floor.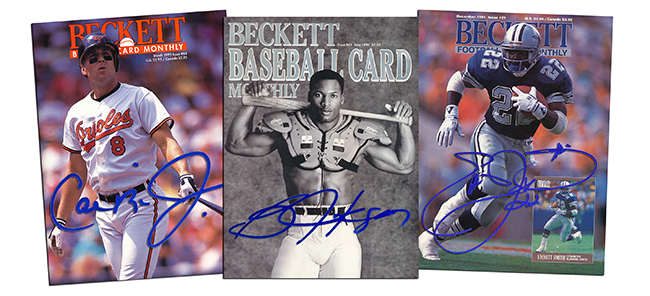 This year, though, there's an added twist — an autographed prize for those who take the challenge and complete the set during the show.
If you are one of the first 200 fans to collect all 15 Covers cards and present it at the Beckett booth for documentation (all cards will be serial-numbered), we'll have one blind-wrapped and BGS-slabbed autograph card for you. The card will be one of 10 different covers not found in the standard set and each of them will be signed by the star appearing on the past magazine cover.
Who's in the set and whose autographs will be found during the show from July 29 to Aug. 2? Find out … after the jump.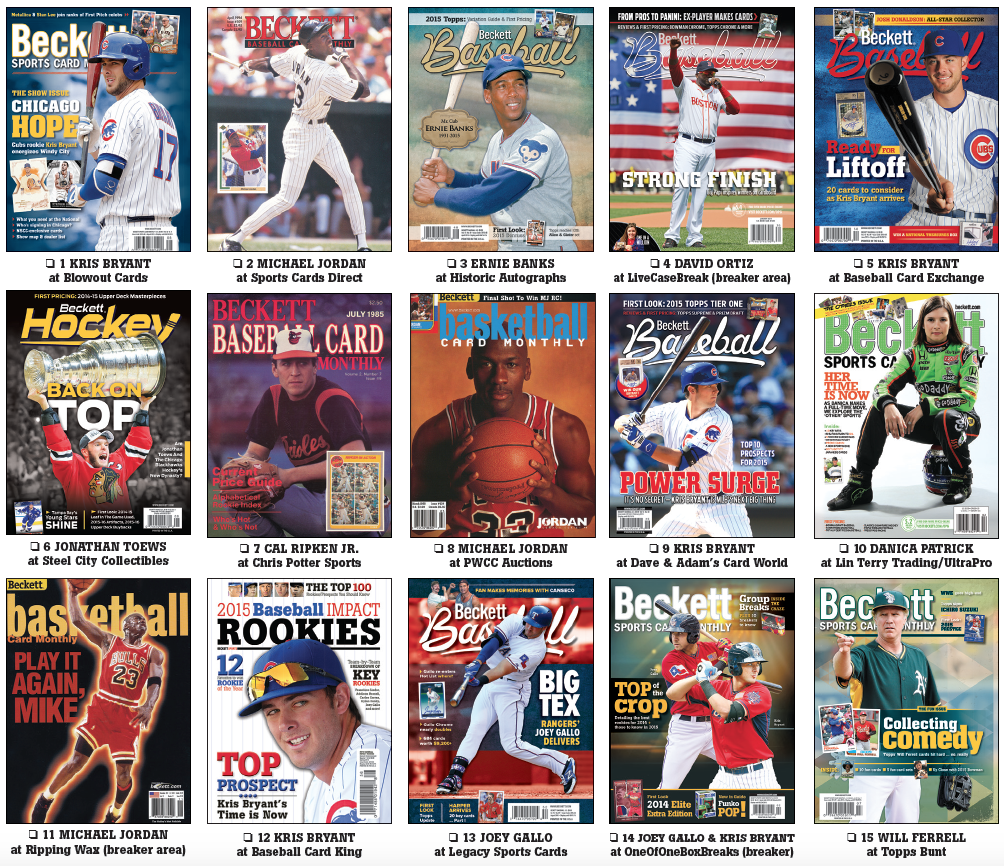 There will be a limit of 50 autographed cards awarded per day beginning on Thursday, July 30, for what might be the ultimate scavenger hunt at the NSCC — an extra attraction and project for collectors spending time at the show.
This year's standard set is headlined by Chicago Cubs rookie Kris Bryant who appears on five of the 15 covers along with Michael Jordan as a member of the Chicago White Sox and also with the Chicago Bulls — all seen just as they appeared on their past issues of various Beckett magazines. Others included are Baseball Hall of Famer Ernie Banks, Boston Red Sox star David Ortiz, Chicago Blackhawks star Jonathan Toews, Hall of Famer Cal Ripken Jr., NASCAR star Danica Patrick, Texas Rangers rookie Joey Gallo and one-time MLB spring standout and comedy legend Will Ferrell. There also will be a cameo by golf star Jordan Spieth on one card — find the August issue of Beckett Sports Card Monthly for more on that.
Who can be found on the first full autograph checklist for the third NSCC Beckett Covers set? Here's a rundown …
1 — Emmitt Smith, Dallas Cowboys icon and Hall of Famer
2 — Bo Jackson, multi-sport star and iconic Nike pitchman
3 — Frank Thomas, Chicago White Sox star and Hall of Famer
4 — Cal Ripken Jr., Baltimore Orioles icon and Hall of Famer
5 — Pete Rose, Cincinnati Reds icon and all-time hit king
6 — Stan Musial, St. Louis Cardinals icon and Hall of Famer
7 — Mike Modano, Dallas Stars icon and Hall of Famer
8 — Jose Canseco, Oakland A's star and first 40-40 player
9 — Dennis Rodman, Chicago Bulls star and Hall of Famer
10 — Mike Tyson, boxing legend and Hall of Famer
Look for full details and instructions on where to go during the show at the Beckett Media booth.