Beckett Covers cards: Get 'em while you can at the National Sports Collectors Convention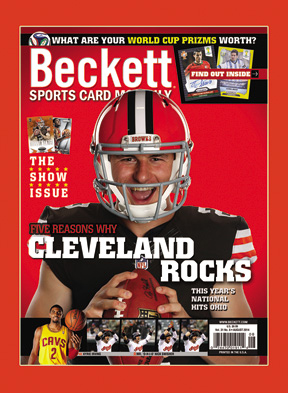 By Chris Olds | Beckett Sports Card Monthly Editor
Beckett Media has it covered — and it all starts today.
Collectors at this year's National Sports Collectors Convention can revisit 16 past and present covers of Beckett magazines in a different way — collectible reprints of covers found at trading card size at several locations on the show floor.
A selection of Hall of Famers and other notable names make up this year's Beckett Covers set, a collection that can begin with a card found at the entrance to the show.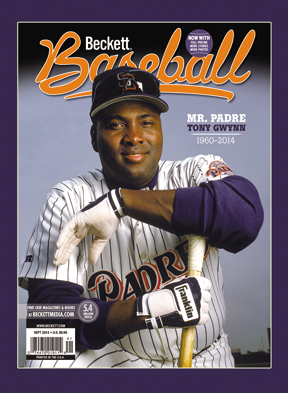 The current issues of Beckett Sports Card Monthly and Beckett Baseball made the cut for the set with Johnny Manziel and Tony Gwynn on the covers that also appear on cards. Other cards in the set will feature past covers showcasing past greats of the game just as they appeared on past issues of those two titles as well as Beckett Basketball, Beckett Hockey and Beckett Football.
A mystery 16th card will be produced in very limited quantities and can be found only at the Beckett Media booth. Get more information about that card — or others in the program — at the company booth during the show.
Here's your final checklist …
Card No. 1 — Mickey Mantle at Beckett booth
Card No. 2 — Johnny Manziel at Blowout Cards
Card No. 3 — Derek Jeter at Dave & Adam's Card World
Card No. 4 — Tony Gwynn at Beckett booth
Card No. 5 — Roberto Clemente at Steel City Collectibles
Card No. 6 — Nolan Ryan at Card World TV
Card No. 7 — Jim Brown at Baseball Card Exchange
Card No. 8 — Wayne Gretzky at Beckett booth
Card No. 9 — Gordie Howe at Sports Cards Direct
Card No. 10 — Mickey Mantle at Historic Autographs
Card No. 11 — Mickey Mantle at SuperBreak
Card No. 12 — Barry Sanders at Beckett booth
Card No. 13 — Cal Ripken Jr. at Chris Potter Sports
Card No. 14 — Willie Mays at Legacy Sportscards
Card No. 15 — Michael Jordan at Beckett booth
Card No. 16 — Bonus card. Collect 'em all and get a mystery player … graded with parallels and as rare as a 1/1.
Chris Olds is the editor of Beckett Baseball and Beckett Sports Card Monthly magazines. Have a comment, question or idea? Send an email to him at colds@beckett.com. Follow him on Twitter by clicking here.