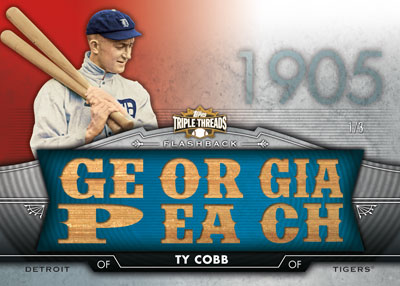 By Chris Olds | Beckett Baseball Editor
The auctions have ended, the numbers have been crunched. The ranges have been tabulated and the OPG has been posted.
The 2012 Topps Triple Threads baseball card set from Topps has arrived on Beckett.com with the newest prospects, some of baseball's hottest rookies and more. Let's take a look inside the numbers crunched by Beckett Baseball Senior Market Analyst Brian Fleischer  — and see even more — after the jump.
Did you miss the recent Box Busters episode? Catch it right here.
Some highlights …
Total value of all priced cards in the product — $93,856.00
Average price of all priced cards in the product — $24.72
Highest priced card? The Topps Triple Threads Relic Autographs Gold #TTAR270-273 Bryce Harper ($300-$400)
Fleischer's Focus: Triple Threads was a monster of a product that has been one of the most heavily broken products of the year. Never a quick and easy product to price, we gathered and analyzed roughly 15,000 secondary market sales over the last month in an effort to provide the most accurate and up to date Triple Threads pricing. Dealers and collectors seem to be having blast breaking – and selling – this year's product, as the data we've gathered indicates that nearly $500,000 has been spent over the last month on Triple Threads secondary market sales.
Olds' Opinion: Triple Threads is a mainstay and really has been each year since its arrival in 2006. Topps has continued to raise the bar on the high-end memorabilia inclusions here, which is what many of us focus on, and those cards do impress. Depending on how you buy, wax or singles, you could have quite a bit of fun with this high-end product — if you can handle the $100-plus per pack cost. (I, myself, go the singles route.)
Chris Olds is the editor of Beckett Baseball magazine. Have a comment, question or idea? Send an email to him at colds@beckett.com. Follow him on Twitter by clicking here.