Beckett.com By the Numbers: 2012 Topps Archives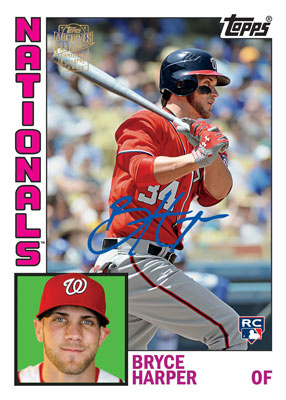 By Chris Olds | Beckett Baseball Editor
The auctions have ended, the numbers have been crunched. The ranges have been tabulated and the OPG has been posted.
The 2012 Topps Archives baseball card set has arrived on Beckett.com with the favorites, autographs and memories in tow. Let's take a look inside the numbers crunched by Beckett Baseball Senior Market Analyst Brian Fleischer  — and see even more — after the jump.
[youtube]http://www.youtube.com/watch?v=7flZEnqZvF0[/youtube]
Did you miss the recent Box Busters episode? Catch it right here.
—
Total value … of all priced cards in product: $7,749.15.
Average price … of all priced cards: $10.69.
Highest-priced cards … autographs of Hank Aaron ($400-$600) and Sandy Koufax ($500-$600)
Other notable cards:

o   Bryce Harper's short-printed Rookie Card – his first.
o   Yu Darvish and Harper autographs.
o   Roberto Clemente's Archives Relics bat card, which based on market information, seems to be a very tough pull.
Fleischer's Focus: Based on the amount of secondary market sales information for the product, collectors are really enjoying the return of the brand. There seem to be a lot of set collectors for the autographs insert set which has driven up even the price of common autographs in the product. For example, an unnumbered Greg Luzinski autograph, in almost any other product, would be a $3-to-$8 card, but in Archives, it is a $6-to-$15 card. So, as you're ripping packs of this product and pull a couple autographs of some common guys from the 1970s and 1980s, don't fret – you may be surprised when you see how much they actually selling for.
Olds' Opinion: In a word, Archives is fun. This one combines a nostalgia trip and includes autographs of players who are known commodities as many of them are players whose careers are long-since finished so you know what you have instead of having to wait and see if someone pans out. The Harper cards are tough pulls, while autographs of guys like Ken Griffey Jr. get the attention of the thirtysomethings who might not have collected in some time. The same goes for the entire product — it's a good way to revisit the past but with today's perks of clean printing quality and high-end inclusions if you get lucky.
Chris Olds is the editor of Beckett Baseball magazine. Have a comment, question or idea? Send an email to him at colds@beckett.com. Follow him on Twitter by clicking here.