Beckett.com By the Numbers: 2011-12 Limited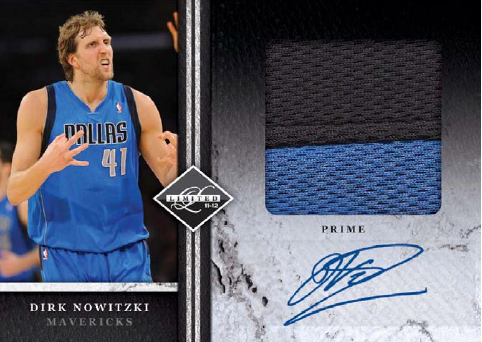 By Chris Olds | Beckett Basketball Editor
The auctions have ended, the numbers have been crunched. The ranges have been tabulated and the OPG has been posted.
The 2011-12 Limited basketball card set has arrived on Beckett.com with the favorites, autographs and memories in tow. Let's take a look inside the numbers crunched by Beckett Basketball Senior Market Analyst Rob Springs — and see even more — after the jump.
[youtube]http://www.youtube.com/watch?v=vuUu4Q1Y4mg[/youtube]
Did you miss the recent Box Busters episode? Catch it right here.
—
Total value … of all priced cards in product: $35,514.
Average price … of all priced cards: $16.50.
Highest cards:
Trophy Case Materials Signatures Prime #1 Derrick Rose/15  $175-$350
Trophy Case Materials Signatures Prime #2 Kobe Bryant/15  $175-$350
Other notable cards:
Retired Numbers Materials Signatures Prime #11 Scottie Pippen/25  $125-$250
2012 Draft Pick Redemptions #1 Anthony Davis EXCH $125-$225
Trios Materials Prime #10 Alonzo Mourning/Glen Rice/Shaquille O'Neal/15  $80-$200
Springs Says:  Does absence make the heart grow fonder?  In a 2011-12 BK world of limited (pun intented) releases and with just Hoops and Past and Present (entry level and new product) on the market, Limited has benefited.  The fact that this is the first very familiar release from Panini has this product heavily broken and the cards selling well and in some cases, above previous value levels from previous Limited basketball releases.  The 2012 Draft Pick Redemptions are also selling stronger than in Past and Present because it appears the cards may be in smaller supply — not confirmed, but possible.
Olds' Opinion: It's familiar, it's got foilboard and it's got nearly everything one would expect to find in a Limited release.
Chris Olds is the editor of Beckett Basketball magazine. Have a comment, question or idea? Send an email to him at colds@beckett.com. Follow him on Twitter by clicking here.