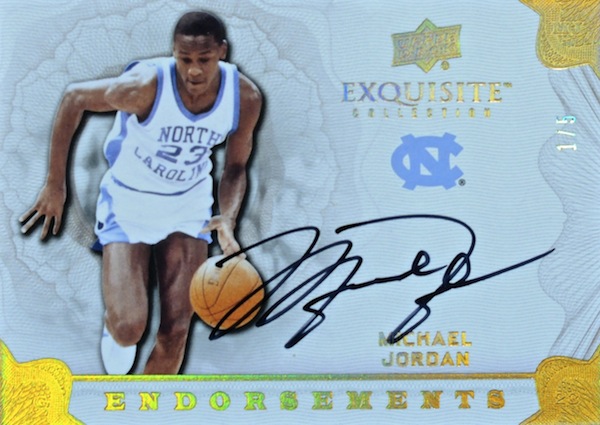 By Chris Olds | Beckett Basketball Editor
The auctions have ended, the numbers have been crunched. The ranges have been tabulated and the OPG has been posted.
The 2011-12 Exquisite Collection basketball card set has arrived on Beckett.com with the favorites, autographs and memories in tow. Let's take a look inside the numbers crunched by Beckett Basketball Senior Market Analyst Rob Springs — and see even more — after the jump.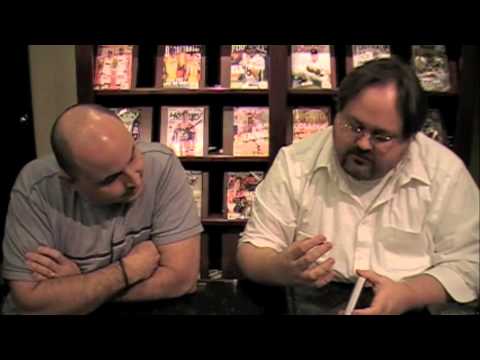 Did you miss the recent Box Busters episode? Catch it right here.
—
Total value: $58,987
Average value: $133.76
Highest card:  2011-12 Exquisite Collection UD Black Dual Patch Autographs #LP2JJ LeBron James/Michael Jordan/23  $800-$1,200
Other notable cards:
— 2011/12 Exquisite Collection Holo Parallel #64 Klay Thompson AU/25  $300-$600
— 2011/12 Exquisite Collection Dimensions #DJN Michael Jordan $400-$800
Springs Says: Exquisite was met with a lot of mixed emotions for collectors. They love the brand and all of the good stuff in it, but some have questioned whether it's truly an Exquisite line with college photos and no memorabilia cards. But it still has a lot of strong sellers with a ton of LeBron James and Michael Jordan autographs (that range in high book value from $650 to $1,200) and plenty of Hall of Famers. As the product dries up, we will see if those values move up like the other Exquisite brands have done in the past. The Dimensions autographs are still pretty cool and despite the lack of serial-numbering are selling well in the secondary market. The draft class autographs (out of 199) and the parallel (out of 25) has some really strong sales and could end up being the sleeper of this product.
Olds' Opinion: Exquisite is the brand that defined high-end in the past so there's an air of superiority that should come with this one — but I'm not sure it feels the same. If you get a big card? Sure, it does. If you get a decent card? Well, it feels a bit more like something good out of a slightly lesser (but still expensive) brand. The dollars spent here aren't very arguable, though, particularly when there are so many Jordan and James autos to be found. The real question in my mind is whether those in-demand autos will continue to be in high demand when there's so many of them. (Jordan signed more than 900 cards for this one.) Could they drop over time and become a way for more collectors to get into that game? Maybe, and that's an interesting thought for a high-end brand.
Chris Olds is the editor of Beckett Basketball magazine. Have a comment, question or idea? Send an email to him at colds@beckett.com. Follow him on Twitter by clicking here.