Beckett Certified Appraisal launches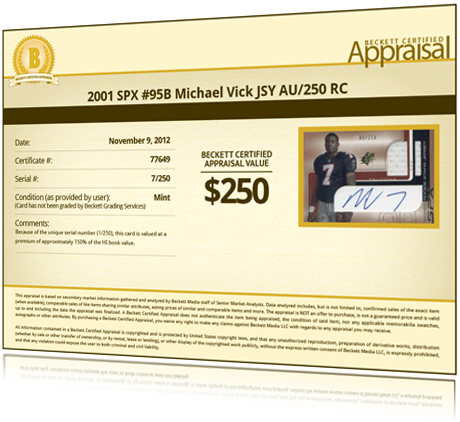 Beckett Media is proud to announce Beckett Certified Appraisal, an exciting new service that will give values to rare and unique cards.
There are cards don't have values in Beckett's price guides based on scarcity, but this new service will have the Beckett Price Guide analysts research sales data and market trends to give values to cards such as those with low print runs, show exclusives or graded cards with a low population report.
Beckett Certified Appraisal will analyze data to get a fair assessment of a card's value.
To take part in the service, customers do not need to send in their cards. They email images and can choose either a one- or five-day service up to five cards starting at $15. Customers will receive a certificate as a PDF file in return.
To learn more about BCA, click on the link.
"We've been asked for years to provide a service that fills the gap for pricing of scarce, low print-run cards and high-end graded cards that carry low populations. Finally, it has arrived!" said Beckett Senior Market Analyst Dan Hitt. "These types of cards are usually beyond the scope of the Beckett Price Guides since they are too unique to price with our standard methodology. However, we have a decades worth of stored market sales data at our disposal to assist with valuations and this will enable us to accurately appraise even the rarest of sports cards."
"Whether it be a 1/1 printing plate, a signed patch card of a superstar serial numbered to three, or a BGS Gem Mint 9.5 with a population of just two, we can now provide collectors with an appraisal valuation," Hitt added.