Beckett by the Numbers: 2012-13 Limited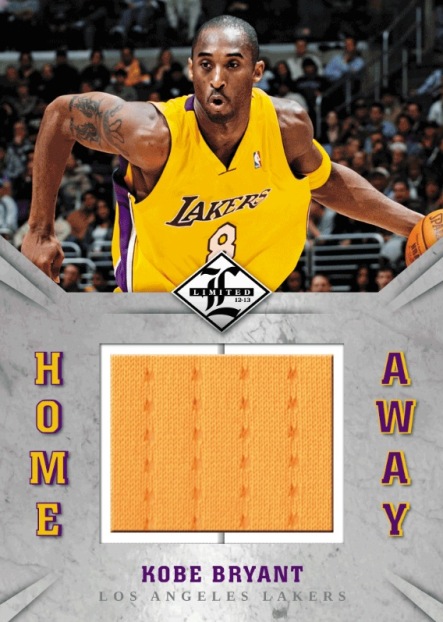 By Chris Olds | Beckett Basketball Editor
The auctions have ended, the numbers have been crunched. The ranges have been tabulated and the Online Price Guide has been posted.
The 2012-13 Limited basketball card set has arrived on Beckett.com with the favorites, autographs and memories in tow. Let's take a look inside the numbers crunched by Beckett Basketball Senior Market Analyst Rob Springs — and see even more — after the jump.
[youtube]http://www.youtube.com/watch?v=pK7zTtl4s0M[/youtube]
Did you miss the recent Box Busters episode? Catch it right here.
—
Total value: $14,864
Average price: $15.01
Highest Card: Limited Monikers Materials Prime #28 Kobe Bryant/25 $150-$300
Other notable cards:
Limited #155 Kyrie Irving AU RC $100-$200
Limited #156 Anthony Davis AU RC $100-$200
Limited Monikers Materials #33 Anfernee Hardaway/49 $50-$125
Springs Says: Limited was restructured for the 2012-13 release featuring a slew of new inserts and new designs.  The Rookie Autographs featured on-card in a die cut acetate design turned out really nice and have seen good sales activity.  The Home and Away Materials "spin jersey" cards have also sold really well, as collectors always seem to dig something new and different (as long as it's well-done).  Most of the Prime Material parallel cards were done in quantities of less than 10, which we have not priced and some of the oversized cards have brought some nice sales.
Olds' Opinion: The new-look Limited, to me, revolves around a few new things — namely the revolving Home and Away Materials cards that take something simple, if not mundane, and makes it new. That's a good thing. The diecut rookie autographs seem to be cards collectors appreciate, though neither gimmick — diecuts or acetates — have really resonated with me. I'm likely in the minority there, of course given the sales of those cards. The key here, though, is that they are mixing it up even on one brand that Panini and past Donruss/Playoff buyers are very comfortable with.
Chris Olds is the editor of Beckett Basketball magazine. Have a comment, question or idea? Send an email to him at colds@beckett.com. Follow him on Twitter by clicking here.