Beckett Business Solutions and eBay open the 2014 Industry Summit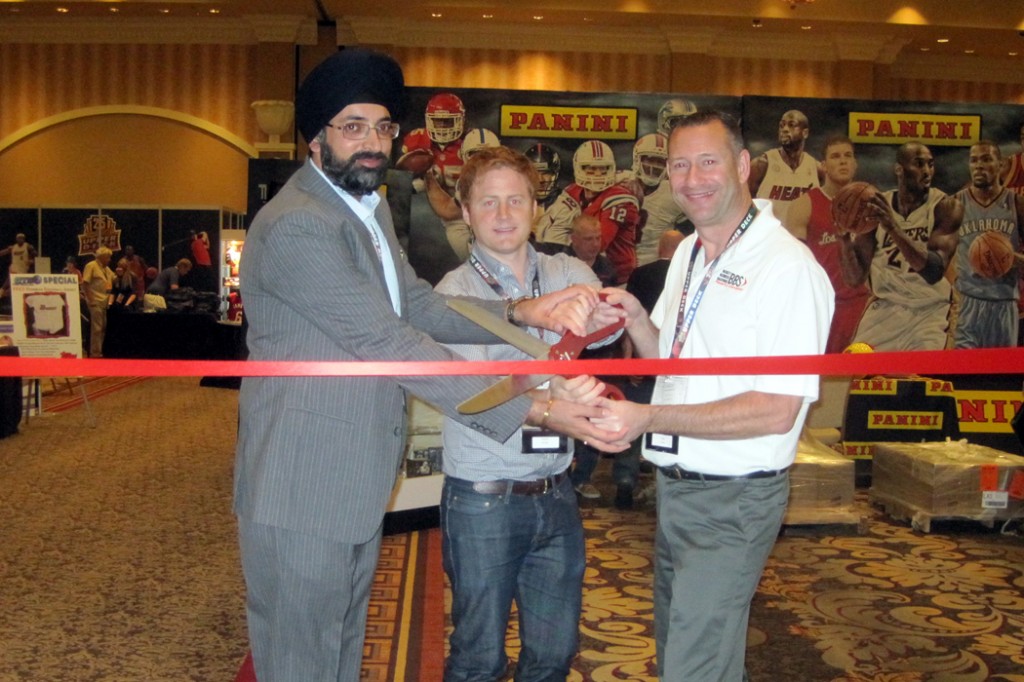 LAS VEGAS – Beckett Business Solutions and eBay opened the 2014 Las Vegas Industry Summit by showing off their newly formed partnership with a ribbon cutting ceremony.
Beckett Business Solutions is a new company to help dealers sell their inventory on eBay, collaborating in a way the online auction company hasn't done before with sports collectibles. Beckett Business Solutions will utilize Beckett's comprehensive database, card values and incorporate a massive image repository.
"I felt like eBay was doing a very good job selling vintage cards, graded cards, but we are trying to update our website and give people better quality images, and get more inventory on the site," said eBay's Austin Vance, category lead for sports memorabilia. "EBay wants to be the place where people could find any card they are looking for and we weren't doing that."
Rob Veres runs Beckett Business Solutions. He's a longtime dealer from Burbank Sports Cards. His industry knowledge helped create a tool that many high-volume dealers could use to sell their sports cards at a pace never seen before.
"We have hundreds of millions of potential collectors in sports fans globally out there that we are not interacting with right now," said Veres, Vice President of Beckett Business Solutions. "Manufacturers provide us with amazing products, but amazing products alone can't sell the cards. We as an industry need to work closer together to ensure we can get these products out to the people.
"Two things that are going to do that are technology and eyeballs. With Beckett Business Solutions, we believe we are bringing both to the counter because we partner with eBay to make listing on eBay far more seamless and profitable for everybody."
Pictured from left to right are Sandeep Dua, President Beckett Media; Austin Vance, Sports Collectibles Category Manager at eBay; and Rob Veres, Vice President Beckett Business Solutions.
To learn more about Beckett Business Solutions: www.beckettbusinesssolutions.com