Hockey Card Stories Book Review
This fall, readers have once again been treated to another great selection of hockey books, but there is one that has been standing out for collectors and that is Ken Reid's Hockey Card Stories.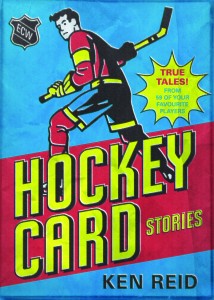 Delivering the tales behind some of the most iconic hockey cards from the 1970s and 1980s, the author takes his audience back to their youth in an entertaining way.
Reid, the co-anchor for Sportsnet Central, is no stranger to collecting as he avidly broke open packs of hockey cards as a youth. Even as a teen, he remained close to the industry as a part-time dealer alongside his brother in their native Nova Scotia. He talked with Beckett Hockey about his roots in the hobby and what inspired the book.
"I always collected hockey cards, going back as far as I can remember. I got in on it before the boom," said Reid. "I always had a ton of cards, and as I got older, I would look at my older cards and they looked a little different than I remember them being from when I was a kid. A haircut might not look as cool as it did back then. I'd notice a uniform was drawn in crayon. I'd go through my cards and get a kick out of them and then I would notice that other people had the same old cards, too. You'd see blogs pop up and I thought it was pretty cool, but I though I'd actually like to talk to the players on the cards and see what they think, because those are the guys that are on them. It's kind of like having your old high school photos circulated around. I got a gig a Sportsnet and I kind of had a platform where people would listen to me and I called a couple players and called up a literary agent and a few years later, we've got Hockey Card Stories. I have always had a passion for hockey cards and pictures are worth 1,000 words, but I'd really like to know the 1,000 words from the guy that is actually on the card."
Almost 60 players were interviewed for this project and ran the gamut from those that had a cup of coffee like Bill Armstrong to Hall of Fame members like Bobby Orr. The players themselves were incredibly receptive to Reid's inquiries and he started the project with a name that is familiar to many in the hobby.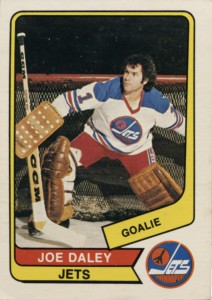 "The first player I called was Joe Daley. I figured Joe would know about his old cards because he runs a card shop in Winnipeg. He was more than receptive to talk right away. He got a kick out of the idea and I chose his old 1976-77 O-Pee-Chee WHA. It's just a great card because Joe's making a save, but it's in a dark arena. He doesn't have a helmet on. He's got a sweet perm and I thought that this is just a fantastic hockey card. He was more than happy to fill me in on it and that started the process."
Among the cards discussed at length are memorable ones such as the 1973-74 O-Pee-Chee of Phil Roberto where he is fighting Billy Smith and the crazy mix-up that saw the rookie cards of Steve Ludzik and Steve Larmer depicting the opposite player. One player's story that particularly stood out for Reid was that of Mike Krushelnyski, who was part of the trade that sent Wayne Gretzky to the Los Angeles Kings. His 1988-89 O-Pee-Chee card is certainly one of the wildest airbrush jobs ever and is a rare one that the player themselves even likes.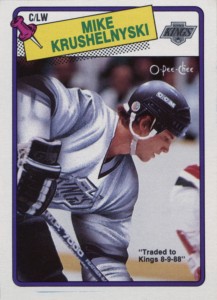 "With Mike Krushelnyski, we just started talking about his 1988-89 O-Pee-Chee card and the next thing I know, he's talking to me about John Candy and Bruce Springsteen. You never know where the conversation is going to go when you just start talking about hockey cards… After talking to Mike Krushelnyski, his 1988-89 has become my all-time favorite airbrushed card – just because Mike loves the card so much. I know a lot of guys talk about their airbrushed cards and that it's a mess and they don't like it, but Krushelnyski loves that thing. That fact that he just embraces it, that says a lot about him and how cool a guy he is. He loves it, therefore I love it. I think it's fantastic and I also got a kick out of the Linseman/Krushelnsyki airbrush from 1984-85 because if you're going to put Ken Linseman on someone's body, you shouldn't pick a guy that is around 6'3″. That was pretty funny. They were traded for each other, so it only makes sense. I call it the 'Picasso of Airbrushes' because you can see the effort that went into it."
Tracking down so many players can prove to be challenging at the easiest of times, but the author stuck to his mission and was able to have some interesting conversations.
"I pretty much found everybody I wanted to find. There were some guys who didn't want to do interviews, but that's fine. There wasn't anyone that totally went missing that I didn't find. The fun part was playing detective and finding out where all these players were… I think that some guys were surprised," he continued. "I don't know if the topic threw them off, but guys were actually really receptive to talk about a hockey card. A lot of guys wouldn't really know their cards all that well, but they'd know them when I brought up the specific ones or send them a picture of it."
One player knew exactly what card was being discussed without much prompting.
"Bryan Watson got a big kick about me calling him. When I told him what I wanted to talk about, he started laughing. I said, 'What's so funny?' and he said, 'It's the middle of the summer and I'm in my pizza shop outside of D.C. and you decided to call me up to talk about hockey cards!' He thought that was pretty funny and I thought that was kind of funny, too."
Reid uncovered some interesting behind-the-scenes details about the photos on some of the cards and broadcasting icon Don Cherry even shared a previously unknown fact about his infamous 1974-75 card.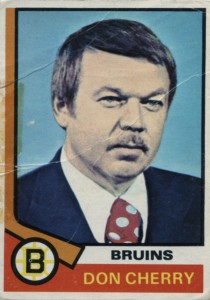 "Don says that O-Pee-Chee airbrushed his tie," noted Reid. "That's what Don says, so I can't believe that anybody would tell Don Cherry how to dress. Apparently the only people that could were the card makers back in the day. Don thought that was hilarious, but then he said that it still looks pretty good."
One of the most fascinating stories is about former Toronto Maple Leafs forward Dave Reid. A collector himself in the past, he spent many years waiting for his first hockey card to hit the shelves. Ultimately, he came out in the 1990-91 sets – months after he had opened a card store of his own!
"Dave's story was fantastic because Dave is a guy, like you and I and the readers of Beckett, that loves hockey cards. Can you imagine being there and waiting and waiting to finally get your rookie card? That would be so painful."
But what is the author's favorite story that he shared?
"That's tough. If I had to narrow things down, I think one of my favorite stories was Craig Fisher, who played just 12 games in the NHL, but really cherished the fact that he had a hockey card. He said he'd made the Philadelphia Flyers in his rookie year and played two games, but he went back to his home and didn't really think of himself as an NHLer and then that summer, he got a knock on the door and it was the Fedex guy. The guy gives him a box and Craig opens it up and it's his hockey card. He's just overwhelmed and he thinks, 'Wow, I'm an NHLer!'"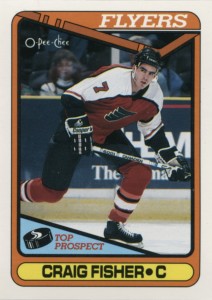 When asked about the possibility of writing a sequel, Reid remained quite open to the idea and even hinted at a card that could make an appearance in those pages.
"I'd love to do one. I'd probably like to get in a few more 1990s cards for a sequel. Of course, a sequel depends on how many I sell and if there is a demand for it. I would love to do one because the first one was a ton of fun and the possibilities are endless.
I love that Upper Deck series where they did the cards called 'Bloodlines'. There was one of Pavel and Valeri Bure rollerblading. I'd love to do that card and one of Lowell MacDonald, who is from around where I was from back in Nova Scotia. There are some great cards out there. You can basically open up a box of 800 and flip through and say 'wow, what's the story behind this card?' I've got a closet full of them, so that's my research area."