Beckett Baseball Card Monthly Hot and Not Lists – December, 1998
Mark McGwire and Sammy Sosa ruled sports — and sports cards — in 1998. How we look back at that summer might be different today, but at the time it was magical. That can't change.
With both sluggers shattering home run records and doing so in dramatic fashion, they're cards were soaring. McGwire's 1985 Topps Rookie Card was fetching hundreds. Prices on the 1990 Leaf Sammy Sosa RC had soared past his crosstown rival, Frank Thomas.
Here's a look back at The Hot List and The Not List from the December, 1998 issue of Beckett Baseball Card Monthly, an evolution of Hot/Cold. We've also included the original notes that went with each name at the time. This magazine would have arrived on shelves shortly after the end of the regular season so the conclusion of the home run chase was still fresh.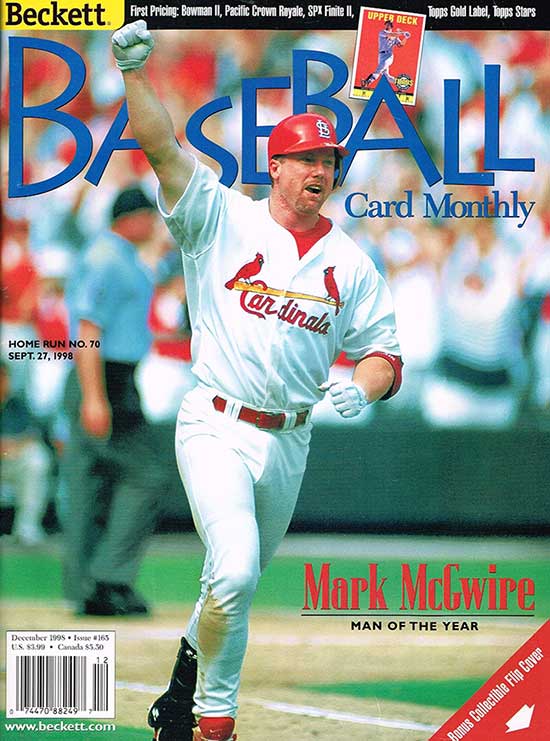 The Hot List
(1) Mark McGwire – There's 70 good reasons why Big Mac belongs here.
(3) Sammy Sosa – Second only to Mac in the hottest of hobby seasons.
(7) Alex Rodriguez – Quietly awe-inspiring.
(2) Ken Griffey Jr. – Just more of the same from Junior — greatness.
(-) Vladimir Guerrero – This guy turns heads, even in Montreal.
(6) Chipper Jones – Atlanta's foundation is built on this corner.
(5) Nomar Garciaparra – MVP rumors have been heard.
(-) Derek Jeter – Stellar year on a stellar team.
(4) Kerry Wood – A little elbow problem won't slow him down.
(-) Juan Gonzalez – The RBI machine who carried Texas into the playoffs.
The Not List
(2) Hideo Nomo – Struggling for playing time on the field and in the hobby.
(5) Cecil Fielder – Cecil spent more time being cut than taking them.
(-) Todd Hundley – A crash-and-burn outfielder being the game's best hitting catcher.
(-) Paul Konerko – An over-hyped Dodger rookie with so much promise they traded him.
(-) Brady Anderson – Did he actually hi 50 homers in a season.
Numbers in parentheses indicate November, 1998 ranking.