Beckett Auctions Secures Selanne Retirement Night Warm-ups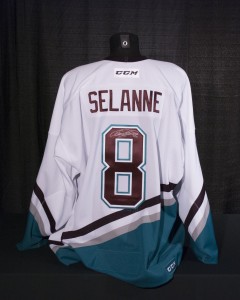 By Stephen Laroche | Beckett Hockey Editor
Beckett Auctions has extended its long-standing relationship with the Anaheim Ducks and is proud to be selling their game-used memorabilia to collectors and fans.
The team recently paid tribute to the on-ice accomplishments of the legendary Teemu Selanne and retired his number prior to a matchup with the current version his original NHL club, the Winnipeg Jets. As the players took to the ice for the pre-game skate that night, they wore special throwback sweaters to recognize his contributions to the game and Beckett is pleased to announce that it will be auctioning these commemorative warm-up jerseys that both teams wore that evening through its Ebay store.
"We are very excited to be able to offer some of the game-worn items from the Teemu Selanne Tribute Night on January 11th," noted Rob Springs of Beckett Auction Services. "These are some unique throwback jerseys and the fact they have been signed by both Selanne and the player that wore the jersey, makes them a truly one of a kind collectible. Our continued relationship with the Anaheim Ducks allows us to be able to offer unique items like these, as well as other game-worn and game-used items from current players."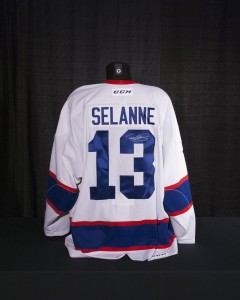 The first group of 17 1992-93 throwback sweaters worn by the Winnipeg Jets went up for bidding on Thursday and were donned by veteran players such as Zach Bogosian and Ondrej Pavelec along with rookies Adam Lowry and Michael Hutchinson.
The Winnipeg jerseys are particularly notable as the 1992-93 campaign marked Selanne's NHL debut and he set a rookie record that year by scoring 76 goals and 132 points. While all of the jerseys feature a Selanne nameplate and the number 13, they do feature a special tag inside that was exclusively created for this event. Additionally, they are signed inside on the tag by Selanne and the player that wore them.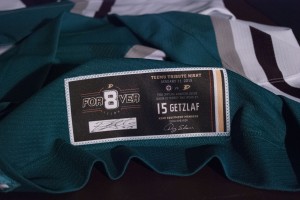 This group of auctions is set to close on Sunday evening and it will be followed by the warm-ups worn by the Anaheim Ducks players. With these sweaters, there will be throwbacks from different eras in franchise history where Selanne starred for the club and they will feature his name and the number eight on the back. Like the Winnipeg jerseys, these will have a special tag sewn in that was autographed by the player that wore it. The auction for the Ducks jerseys will run until the evening of January 25.
Following the retirement ceremony, the Jets and Ducks played a relatively tight game and Anaheim came back from a 4-3 deficit to prevail 5-4 on third period goals from Kyle Palmieri and Rickard Rakell.
"Teemu Tribute Night was a special night for our franchise," said Aaron Teats, Vice President and Chief Marketing Officer for the Anaheim Ducks. "We are excited to team up with Beckett to offer these one-of-a-kind items for hockey fans to enjoy."
Regarded as one of the greatest players in the history of the Anaheim Ducks, Selanne came to the club through a late-season trade in 1995-96 and his offensive prowess instantly helped them become a playoff contender. He often paired up with Paul Kariya to give the Ducks a lethal combo that gave goaltenders nightmares.
Traded to San Jose in 2000-01, he eventually returned to Anaheim as a free agent on August 22, 2005, and remained with the Ducks for the rest of his career. The all-time scoring leader among players born in Finland, he also played a key part in the team's Stanley Cup victory in 2006-07. All told, he scored 684 goals and 1,457 points and is destined for induction into the Hockey Hall of Fame.
Stephen Laroche is the editor of Beckett Hockey and Beckett Basketball magazines. Have a comment, question or idea? Send an e-mail to him at SLaroche@beckett.com. Follow him on Twitter @Stephen_Laroche.