Beckett Auctions lands Texas t-card find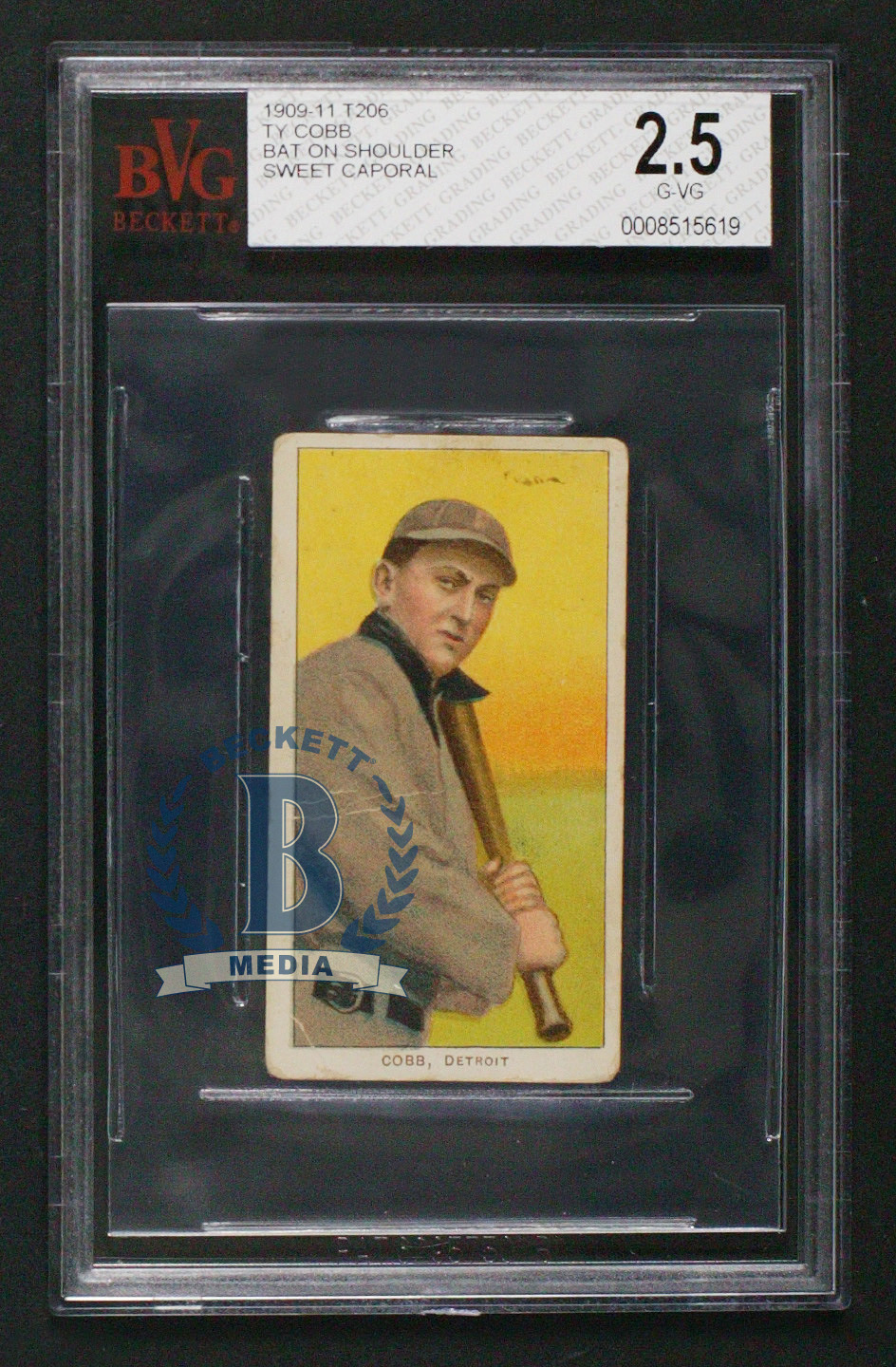 By Chris Olds | Beckett Baseball Editor
A collection of more than 60 rare tobacco and caramel baseball cards has been unearthed by a Texas collector with the cards graded via Beckett Grading Services in advance of a Beckett Auctions sale that launches next month.
The find includes several rare Hindu Red-backed T206 cards along with many big names from baseball's past — many are the only or highest-graded cards to be encapsulated by BGS, the grading division of Beckett Media. Also included in the find are a pair of 1933 Goudey Babe Ruth cards.
"This 'Texas T-Card Find' belonged to the consignors dad's uncle," said Rob Springs, the business lead for Beckett Auctions, the auctions division of Beckett Media. "He was born in the early 1900s and was pretty much a bachelor all his life, so upon his death, all of his collection went to the consignor's dad. He collected all of the cards himself and since he worked for Hershey's, he did a lot of traveling and collecting along the way, which is where they believe a lot of the cards came from."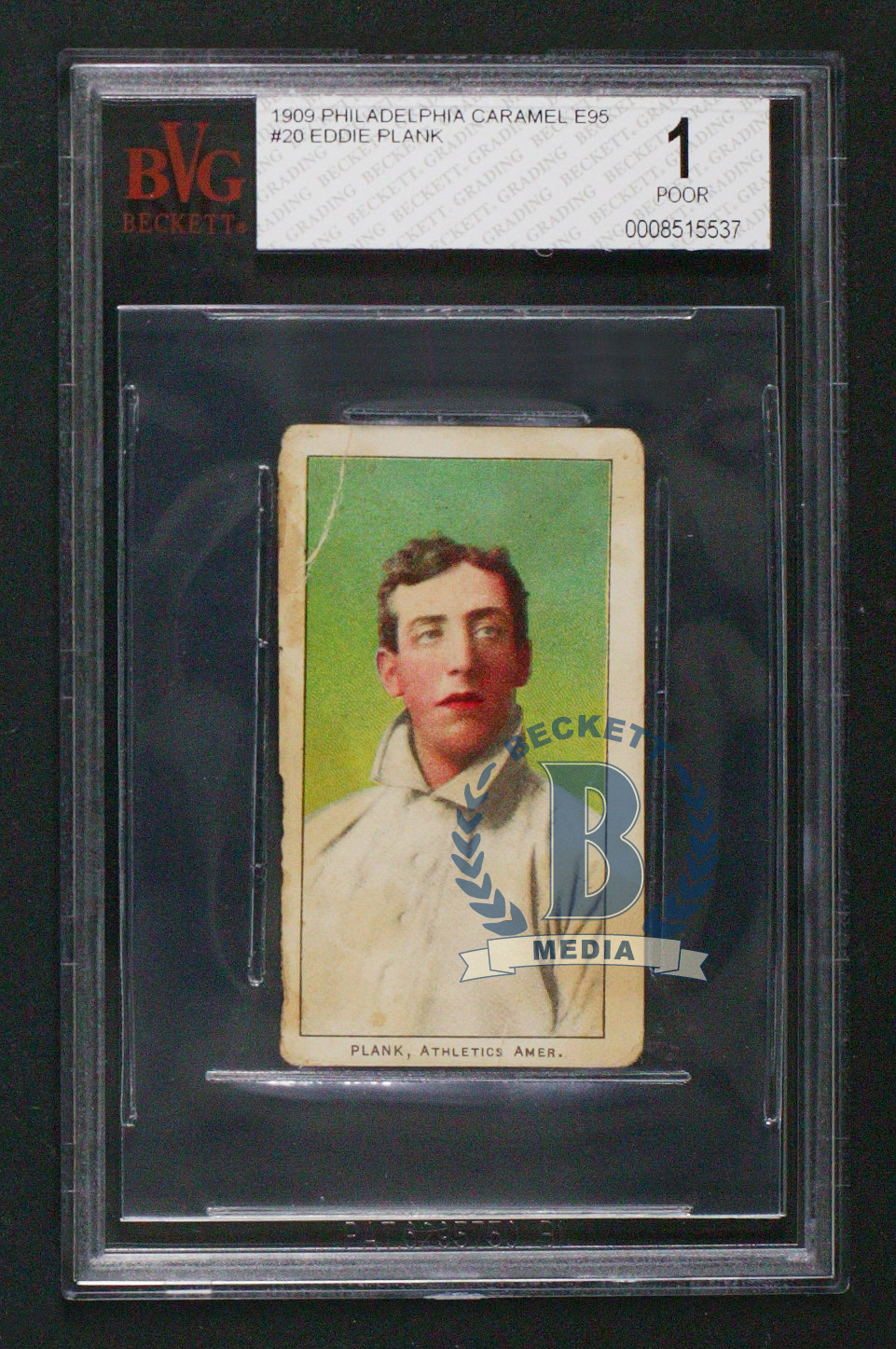 Among them are seven Ty Cobb cards from the T206 and caramel series from 1909-11, a pair of Christy Mathewson cards, four cards of John McGraw and appearances by Cy Young, Chief Bender, Frank Chance, Addie Joss, Eddie Plank and several other legends.
"Part of the greatness of the collection is some of the extremely rare Hindu Red and Hindu Brown T206 backs," Springs said.
A selection of images and a full list of the cards is noted below for the auction, which will launch on March 12.
Chris Olds is the editor of Beckett Baseball and Beckett Sports Card Monthly magazines. Have a comment, question or idea? Send an email to him at colds@beckett.com. Follow him on Twitter by clicking here.
THE TEXAS T-CARD FIND INCLUDES … 
Babe Ruth 1933 Goudey #53 RC – Rookie Card – BVG 2 (Good)
Babe Ruth 1933 Goudey #53 RC – Rookie Card – BVG 1 (Poor)
Ty Cobb 1909-11 American Caramel E90-1 #25 – BVG 1 (Poor)
Ty Cobb 1909-11 T206 Red Portrait – Sweet Caporal Back – BVG 2.5 (G-VG)
Ty Cobb 1909-11 T206 Red Portrait – Old Mill Back – BVG 2.5 (G-VG)
Ty Cobb 1910 Standard Caramel E93 – BVG 1.5 (Fair)
Ty Cobb 1909-11 T206 Bat Off Shoulder – Sweet Caporal Back – BVG 1.5 (Fair)
Ty Cobb 1909-11 T206 Bat On Shoulder – Sweet Caporal Back – BVG 2.5 (G-VG)
Ty Cobb 1909 Philadelphia Caramel E95 – BVG 1 (Poor)
Carl Lundgren 1909-11 T206 Listed with Chicago – El Principe De Gales Back – BVG 1.5 (Fair)
Kid Elberfeld 1909-11 T206 Portrait Washington – Old Mill Back – BVG 2.5 (G-VG)
Christy Mathewson 1909-11 T206 Pitching Dark Cap – Piedmont Back – BVG 3.5 (VG+)
John McGraw 1909-11 T206 Glove on Hip Hindu Red Back BVG 3 (VG) – highest BVG
John McGraw 1909-11 T206 Glove on Hip Hindu Red Back BVG 2 (Good)
Doc Crandall 1909-11 T206 Wearing Cap Hindu Red Back BVG 1.5 (Fair) – Only BVG
Josh Devore 1909-11 T206 Hindu Red Back BVG 2.5 (G-VG) – Only BVG
John Hummel 1909-11 T206 Hindu Red Back BVG 3 (VG) – Only BVG
Rube Geyer 1909-11 T206 Hindu Red Back BVG 3.5 (VG+) – Only BVG
Lee Tannehill 1909-11 T206 Listed as Tannehill Hindu Red Back BVG 1.5 (Fair) – Only BVG
Woodie Thornton 1909-11 T206 Hindu Brown Back – Tough Back – BVG 2.5 (G-VG) – Only BVG
Al Shaw 1909-11 T206 Listed with St. Louis Hindu Brown Back – Tough Back – BVG 4 (VG-EX) – Only BVG
Sid Smith 1909-11 T206 Hindu Brown Back – Tough Back – BVG 1.5 (Fair) – Only BVG
Bobby Wallace 1909-11 T206 Hindu Brown Back – Tough Back – BVG 3 (VG) – Only BVG
Harry Steinfeldt 1909-11 T206 Portrait Hindu Brown Back – Tough Back – BVG 2 (Good) – Only BVG
Admiral Schlei 1909-11 T206 Fielding Hindu Brown Back – Tough Back – BVG 2.5 (G-VG) – Only BVG
Scoops Carey 1909-11 T206 Hindu Brown Back – Tough Back – BVG 3 (VG) – Only BVG
Fielder Jones 1909-11 T206 Hands on Hips Hindu Brown Back – Tough Back – BVG 2.5 (G-VG) – Only BVG
Boss Schmidt 1909-11 T206 Throwing Hindu Brown Back – Tough Back – BVG 1 (Poor) – Only BVG
Tubby Spencer 1909-11 T206 Hindu Brown Back – Tough Back – BVG 3.5 (VG+) – Only BVG
Joe Tinker 1909-11 T206 Portrait Hindu Brown Back – Tough Back – BVG 1.5 (Fair) – Only BVG
Frank Shaughnessy 1909-11 T206 Portrait Hindu Brown Back – Tough Back – BVG 3 (VG) – Only BVG
Frank Schulte 1909-11 T206 Batting Front Pose Hindu Brown Back – Tough Back – BVG 1 (Poor) – Only BVG
Joe Kelley 1909-11 T206 Piedmont Back – BVG 1.5 (Fair)
John McGraw 1909-11 T206 Finger in Air – Piedmont Back – BVG 3 (VG)
Connie Mack 1910 Philadelphia Caramel E96 – BVG 1.5 (Fair)
Eddie Collins 1909-11 T206 Listed with Philadelphia – Sweet Caporal Back – BVG 1.5 (Fair)
Sam Crawford 1909-11 T206 with Bat – Sweet Caporal Back – BVG 2 (Good)
Johnny Evers 1909-11 T206 Chicago Down Shirt – Sweet Caporal Back – BVG 1 (Poor)
Hughie Jennings 1909-11 T206 Portrait – Piedmont Back – BVG 1.5 (Fair)
Hughie Jennings 1909-11 T206 One Hand Showing – Piedmont Back – BVG 3 (VG)
Eddie Collins 1909-11 T206 Listed with Philadelphia – Old Mill Back – BVG 2.5 (G-VG)
Rube Waddell 1909-11 T206 Portrait – Old Mill Back – BVG 3 (VG)
Chief Bender 1909-11 T206 Pitching with Trees – Piedmont Back – BVG 1.5 (Fair)
Frank Chance 1909-11 T206 Yellow Portrait – Sweet Caporal Back – BVG 4.5 (VG-EX+)
Hughie Jennings 1909-11 T206 Both Hands in Air – Piedmont Back – BVG 3.5 (VG+)
Christy Matthewson 1909-11 American Caramel E90-1 – BVG 1.5 (Fair)
John McGraw 1909-11 T206 Glove on Hip – Piedmont Back – BVG 1.5 (Fair)
Walter Johnson 1909-11 T206 Hands at Chest – Piedmont Back – BVG 1.5 (Fair)
Cy Young 1909-11 T206 Glove Showing – Piedmont Back – BVG 1.5 (Fair)
Johnny Evers 1909-11 T206 Chicago Down Shirt – Piedmont Back – BVG 3 (VG)
Hughie Jennings 1909-11 T206 One Hand Showing – Sweet Caporal Back – BVG 3 (VG)
Joe Tinker 1909-11 T206 Bat Off Shoulder – Sweet Caporal Back – BVG 2.5 (G-VG)
Hal Chase 1909-11 T206 Holding Cup – Piedmont Back – BVG 1 (Poor)
Clark Griffith 1909-11 T206 Portrait – Old Mill Back – BVG 2 (Good)
Sam Crawford 1909-11 T206 with Bat – Piedmont Back – BVG 2.5 (G-VG)
Addie Joss 1909-11 T206 Pitching – Piedmont Back – BVG 1.5 (Fair)
Addie Joss 1909-11 T206 Pitching – Piedmont Back – BVG 2.5 (G-VG)
Joe Kelley 1909-11 T206 Piedmont Back – BVG 2.5 (G-VG)
Johnny Evers 1909-11 T206 Chicago Down Shirt – Piedmont Back – BVG 1.5 (Fair)
Eddie Plank 1909 Philadelphia Caramel E95 – BVG 1 (Poor)
Joe Tinker 1909-11 T206 Hanks on Knees – Sweet Caporal Back – BVG 1.5 (Fair)
Hal Chase 1909-11 T206 Throwing Dark Cap – Sweet Caporal Back – BVG 1.5 (Fair)
Rube Marquard 1909-11 T206 Hands at Side – Old Mill Back – BVG 1 (Poor)
Nap Lajoie 1909-11 T206 Throwing – Old Mill Back – BVG 3 (VG)
Hal Chase 1909-11 American Caramel E90-1 – BVG 1.5 (Fair)
Joe Tinker 1909-11 American Caramel E90-1 – BVG 1.5 (Fair)
Hal Chase 1909-11 T206 Portrait – Pink Background – Piedmont Back – BVG 1.5 (Fair)