Beckett Auctions Celebrates Legends of Baseball in October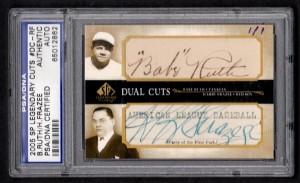 For enthusiasts of fine sports memorabilia, there is nothing to get one's blood flowing like a chance to own something rare and special. Beckett Auctions is almost ready to let the bidding begin on its October event and there will be something for everyone to consider.
Starting today, collectors have an opportunity to take their shot at acquiring some prime pieces. This month, we are celebrating baseball's greatest legends and the treasures are something to behold – including a jaw-dropping 2005 SP Legendary Cuts card featuring cut signatures from the iconic Babe Ruth and Boston Red Sox owner Harry Frazee that pays tribute to one of the most lopsided trades in baseball history.
With the recent landmark $1 million sale of a contract bearing the signatures of both these baseball legends, this card is certain to get a lot of attention from bidders.
What are some of the other fantastic highlights of the October auction? Take a look after the jump.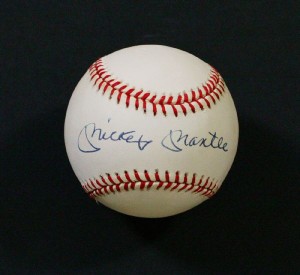 The rest of the lineup is certain to capture the attention of many collectors. There will be over 90 different autographed baseballs from some of the greatest players of all-time like Hank Aaron, Mickey Mantle and Willie Mays to go along with more than 70 lots of autographed baseball cards in both raw and graded condition. Some of the names available include legend such as Nolan Ryan and Jim Thorpe along with more modern names like Mike Trout and Yu Darvish.
Not limited to just baseball, collectors can also expect to be able to bid on quality items from other sports.
The auction will run through Oct. 19,  and for a complete look at all the items up for bidding, please take a look at our catalog. New users are encouraged to register here.