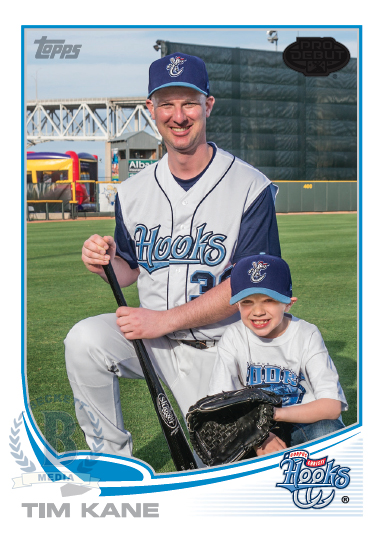 By Chris Olds | Beckett Baseball Editor | Commentary & Opinion
When Texas-based journalist Josh Trudell took a recent assignment for Beckett Media, there were plenty of potential highlights for a guy who, deep down, is a passionate baseball fan.
(Trust me … he's a Red Sox fan.)
But one extra perk of the job? Well, it just resonated more than documenting the experience of watching a dad be a minor leaguer for a day. You see, while Trudell's story and photos will appear in an upcoming issue of Beckett Sports Card Monthly there was something else about that day's work that will be special for other reasons long after the freelance money is spent and the magazines have come and gone from the racks.
One of Trudell's photographs will be used on an upcoming Topps baseball card — on Tim Kane's memento of his experience becoming a member of the Corpus Christi Hooks. It's a card Kane shares with his 8-year-old son, Peyton, and it will be coming soon in packs of 2013 Topps Pro Debut.
"My father and I, like Tim and Peyton, collected cards together – our biggest prize was a rookie Nolan Ryan 1968 Topps card that I still have," said Trudell, a 1999 Northeastern University graduate. "Dad passed away three years ago, but I think he would have been just as excited about this as I am."
—
Last month, Trudell spent the day watching Kane's experiences as the winner of the Topps "Make Your Pro Debut" contest, meaning he was there when Kane signed his one-day contract — with Ryan also on hand. The Hall of Famer was there  to sign the document and talk some baseball.
"I couldn't say yes fast enough when Beckett asked if I wanted to follow Tim, [his wife] Dani and Peyton through the Topps Pro Debut Day in Corpus Christi," Trudell said. "I photograph a wide range of things, from landscapes to outdoors action sports. For me, a big baseball fan, this was nirvana — a chance to get a behind-the-scenes look at a team owned by a baseball legend."
Trudell said the experience was what he expected — and more.
"The joy of Tim and Peyton was palpable all day – at times, it was hard to tell which one was the 8-year-old. It made the whole day a really fun shoot. Seeing Tim's awe when he met Nolan Ryan and his grin when he saw his jersey was priceless."
The photograph on Kane's card wasn't a guarantee by any means, though he knew it would be a possibility. Trudell is seeing it for the first time now.
"I knew there was the possibility they would want to use one of my images for a card," he said. "I didn't quite believe it, though, until I got the confirmation e-mail."
Look for much more on Kane's day with the Hooks in the upcoming Families Issue of Beckett Sports Card Monthly.
Chris Olds is the editor of Beckett Baseball magazine. Have a comment, question or idea? Send an email to him at colds@beckett.com. Follow him on Twitter by clicking here.