2016-17 Panini Immaculate Collection Basketball Checklist and Team Set Lists
Just when you thought it was safe to call an end to the last season of basketball cards, Panini America comes through with another release that is slated to begin before the next campaign starts – 2016-17 Panini Immaculate Collection Basketball.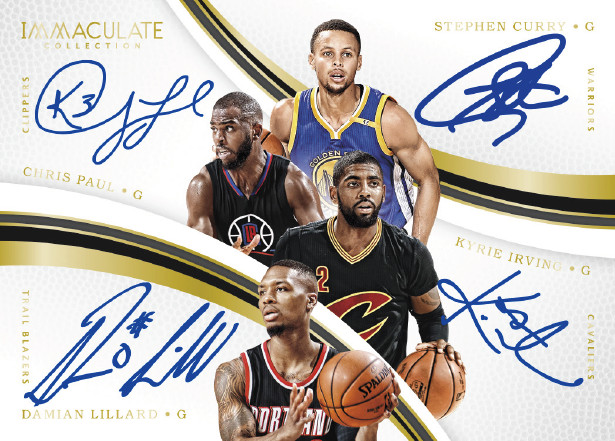 A super premium release with five autographs or memorabilia cards per box, there is plenty to get excited about in the form of cards signed by multiple players and swatches that include cover shoe pieces and the prized Logoman patch.
Base Set and Parallels
One of the cards inside each box of 2016-17 Panini Immaculate Collection Basketball is either a base set card or parallel. The shell set has a total of 100 cards. Completing the base set are 39 Rookie Patch Autographs with premium swatches along with on-card ink. All are numbered to 99 copies.
Vets have a few parallel levels. Blue are the most common with 35 numbered copies. Others include Red (/25), Gold (/10) and Platinum (1/1). Finally, there's Emerald. Limited to 5 copies each, these are exclusive to special 1st Off the Line boxes sold direct by Panini to arrive a few days before the official release date.
Rookie Patch Autographs also have parallels with increasingly smaller print runs and more impressive jersey pieces.
Autographs and Memorabilia
Dual, Triple, and Quad Autographs combine players based on such common ground as teams, country of origin, or draft class. Milestones is all about individual player accomplishments and will appeal to those who appreciate the history of the game. They create for some interesting groups of players covering the past several decades.
On the memorabilia side, there are some interesting concepts that Immaculate has become known for over the years. Expect to find some one-of-one sweetness with Nameplate Nobility, which allows a collector to potentially spell out a player's last name from the back of their jersey. It gets even better with Logoman, which are one-of-ones as well and are some of the most coveted cards for any player collector.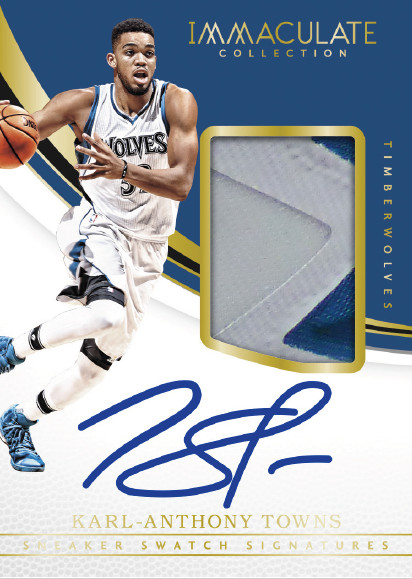 Previous Immaculate releases have featured pieces of game-used shoes. 2016-17 Panini Immaculate Basketball has a couple of new twists beginning with Sneaker Swatches. Sneak Peek returns with giant show pieces. New for this season are Laces and Tongues, which take from distinct and easily recognizable parts of sneakers.
Several autographed memorabilia collections also in 2016-17 Panini Immaculate Collection Basketball. Sneaker Swatch Signatures takes a hunk of a player's shoe and matches it up with their ink. One-of-one Dual Rookie Logoman Autographs put two iconic patch pieces together with signatures of two different freshmen.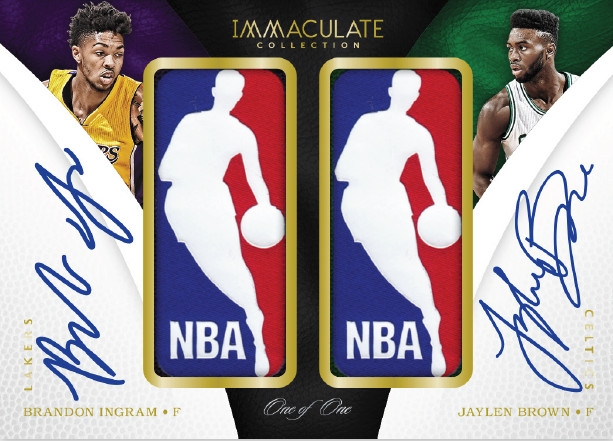 2016-17 Panini Immaculate Collection Basketball at a glance:
Packs per box: 1
Cards per pack: 6
Boxes per case: 5
Set size: 139 cards
Release date: October 4, 2017
What to expect in a hobby box:
– Five autograph or memorabilia cards
– One base card or parallel
2016-17 Panini Immaculate Basketball Checklist
Base
Autographs
Memorabilia
Team Sets
Stephen Laroche can be found on Twitter @Stephen_Laroche.