Beating the odds: Hockey cards give ailing man a lift
Richard Huffman doesn't normally show off his dance moves, but when he pulled a redemption card out of a Parkhurst Champions pack, he couldn't help but get down.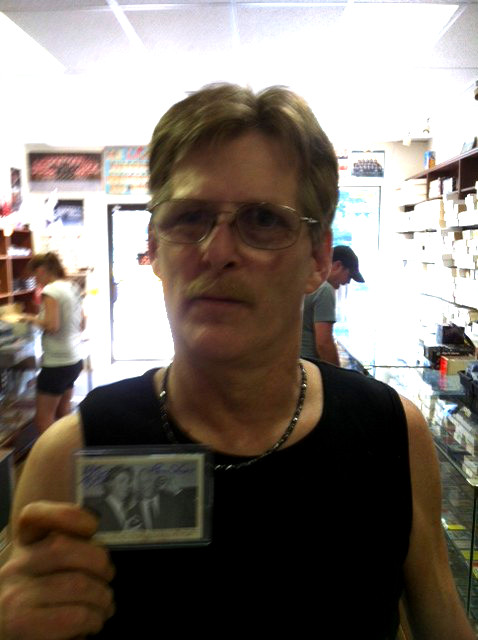 The redemption was good for a 2011-12 Parkhurst Champions Autographs Wayne Gretzky/Gordie Howe wire image.
A thrilling card for sure – one that books for $600 – but in that moment, it wasn't about the amazing pull for Huffman or Scott McCharles, the owner of Stadium Sports Card in Blenheim, Ontario. McCharles could only be happy for his friend.
In many ways, the hobby is what keeps Huffman going.
"The hockey cards at least keep him among friends," McCharles said. "When he pulled that card, he got the color back in his face. He even did a little happy dance kind of thing."
Huffman was told 12 years ago he had just months to live, diagnosed with a form of vasculitis, an inflammatory destruction of the blood vessels. This leads to other diseases such as emphysema, which Huffman suffers from.
As Huffman, 52, puts it: "It affects your body and kills everything slowly."
He suffered for about a year before he was diagnosed with a strain of vasculitis in 2000 at a clinic in the United States. He's gone through chemotherapy, blood transfusions and a regimen of pills.
"When I was first told I was going to die, I was a basket case," said Huffman, who sounds as though he's constantly out of breath.
But a 4-year-old boy changed his outlook on life.
While Huffman did chemo treatments, he sat next to a boy doing the same. Despite his situation, the little boy never seemed sad.
"He always had a smile on his face," Huffman said. "He loved talking baseball with me. I thought 'Why is this boy so happy?'" I realized then what I had and it made me feel good about my life."
The Gretzky/Howe autograph card, which Huffman has in-hand, is part of the reason why he thinks the disease hasn't fully affected him yet.
Two of his favorite things in the world are his four children and hockey cards. He sells many of his cards – although not the Gretzky and Howe just yet – to get money for his children such as a getting a car for his son and grandchild or raising money to send one of his daughters to the university.
"I'm going to share what I have. It makes me feel good," Huffman said. "The longest person that ever lived with vasculitis is 27 years. I am going to beat that."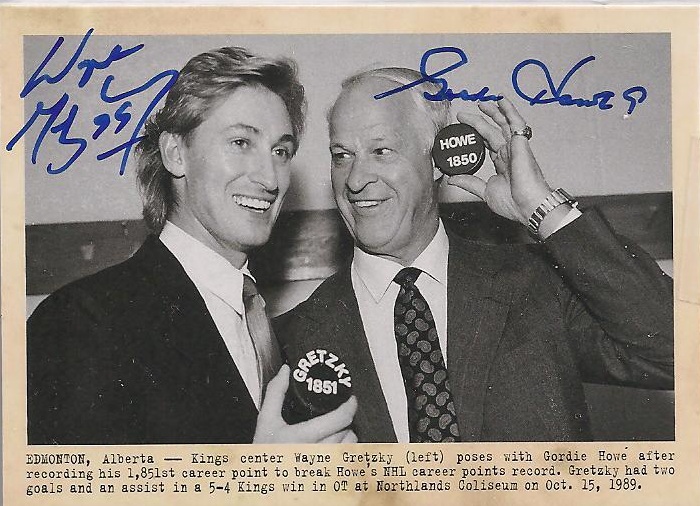 Huffman visits Stadium Sports Cards as often as he can. It's located about a half hour's drive from his town of Tilbury, Ontario.
But because of his sickness, that usually means he can only get there once a week in the cool months and maybe once a month in the summer months.
However, Huffman has to visit the card shop. Huffman looks forward to talking about cards and the camaraderie with McCharles and his friends.
"Hockey cards make a big difference in my life," Huffman said. "It may sound boring to some people, but if you're a natural hobbyist, it's an incredible feeling to pull that one card. Not too many people get that chance. That's what I look forward to."
McCharles describes his store as a simple place where friends gather to talk sports, cards and life. About eight to 10 men will hang out at the shop on the weekend, and maybe some weeknights.
This isn't his day job – McCharles works in law enforcement – but it is a gratifying place.
"When I see a guy like that have the experience and the highlight of his day is coming to my store … that is humbling, incredibly humbling," McCharles said. "Here's a guy who almost lost everything in his life."
Huffman began collecting cards many, many years ago. He shared it with his son, who didn't seem to catch the bug. Huffman took time away from collecting, but decided to get back into in 2007 when it was recommended he get a hobby to fight off depression.
The advice worked even though his first dip back into the collecting pool didn't go well.
He went to a local shop and busted plenty of boxes there. However, Huffman says the shop owner took his redemption cards and sold them for himself.
"You don't do that to people," Huffman said. "I was probably one of his best customers. But I'm glad he ripped me off. That's when I started going to Scott's store. For the amount of money I lost, I gained a great friend. A good person."
McCharles feels the same way. He likes cards, but he doesn't have the shop just so he could be around cardboard.
It's for people like Huffman who get small joys in life from a simple card pull. For people like Huffman who have become great friends.
"The only thing I want to collect is friends. That's what the hobby is," McCharles said. "And if you get a cool card, that's good. I like showing them off every now and again."